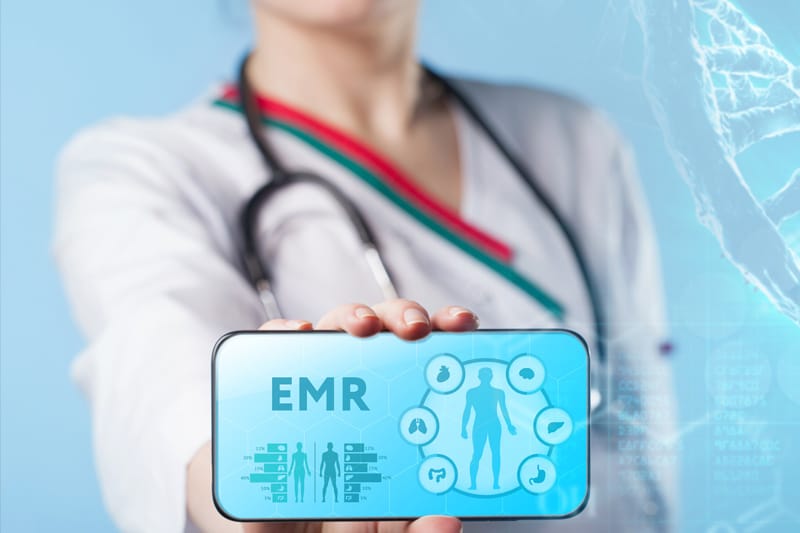 EMR or electronic medical record is the digitized version of paper records that stores all data related to a patient's care under a particular doctor, such as demographics, progress notes, problems, medications and vital signs, past medical history, immunizations, laboratory data, and radiology reports. EHR-integrated medical transcription services can help physicians complete their day-to-day documentation tasks easily and thus improve overall clinical productivity. According to a report from Mordor Intelligence, the electronic medical records market is expected to register a CAGR of 7.5 % during the forecast period (2021-2026).The COVID pandemic is putting healthcare systems under strain worldwide and forcing hospitals and other medical facilities to scramble to make sure that data can be shared effectively.
Some of the key factors driving the market growth include
initiatives by the governments
technological advancements
low maintenance and wider accessibility
rising need for an integrated healthcare system
big data trends in the healthcare industry
technological advancements in the field of data storage
EMR systems are becoming increasingly popular, as the healthcare industry is moving toward digitization. A lot of government initiatives, such as encouraging physicians to adopt electronic health records, investing in training healthcare information technology workers, and establishing regional extension centers to provide technical and other advice, are triggering the market's growth. The increasing volume of data and growing demand for cloud storage due to COVID-19 are also expected to augment the demand globally.
However, factors like data privacy concerns, high initial investment, shortage of properly trained staff and inter-operability issues are the primary restraints in the growth of the electronic medical records market.
The market is segmented on the basis of Component, End User, Application, Type, Mode of Delivery, and Geography.
By component, the market is divided into Hardware, Software, and Services. End users of this market are Hospital-based EMR and Physician-based EMR. On the basis of application, the market is segmented into Cardiology, Neurology, Radiology, Oncology, and Other Applications. Types of EMRs are – Traditional EMRs, Speech enabled EMRs, Interoperable EMRs, and Others.
Geographically, the market is divided into North America (United States, Canada, Mexico), Europe (Germany, United Kingdom, France, Italy, Spain, Rest of Europe), Asia-Pacific (China, Japan, India, Australia, South Korea, Rest of Asia-Pacific), Middle East and Africa (GCC, South Africa, Rest of Middle East and Africa), and South America (Brazil, Argentina, Rest of South America).
North America dominates the market and is expected to do the same in the forecast period. In the North America region, governments have advised hospitals and clinics to change conventional medical records into electronic format for better storage of patient data. Some of the factors driving market growth in the North America region during the forecast period are technological advancements, high investments in healthcare by the government and private sector, and the presence of key market players. Most hospitals and clinics in the U.S. region have widely implemented EHR solutions, due to stringent regulatory norms. Canada and the United States are the leading countries in this region that have implemented EHR systems. Asia Pacific is growing at the highest CAGR over 2021- 2026.
EMR delivery modes include Cloud Based and On-premise Model. Here, the cloud-based segment is expected to hold a major market share in the market. Unlike the client server-based systems, installation cost is lower for cloud-based systems. Key factors that are driving the cloud segment growth include rise in number of benefits, such as low licensing and start-up cost, low cost of maintenance and infrastructure requirements, and wider accessibility. This system also provides enhanced productivity and faster and smoother implementation. Cloud-based model makes the software extremely flexible, regarding scalability. It also simplifies and consolidates storage resources to reduce costs and enhance workflow. Cloud infrastructure also guarantees true disaster-recovery and business continuity solutions, to enhance the quality of patient care.
Major market players in the global electronic health records market are actively participating in the development of new platforms for patient records. Some of the market players are McKesson Corporation, Allscripts Healthcare Solutions, Inc., Cerner Corporation, NextGen Healthcare, Inc., Greenway Health, LLC and others.
With the increasing adoption of digitized patient records, accurate transcripts of physicians' dictation are also important. Practices can take support from experienced medical transcription companies to get EHR-integrated and HIPAA adherent services.