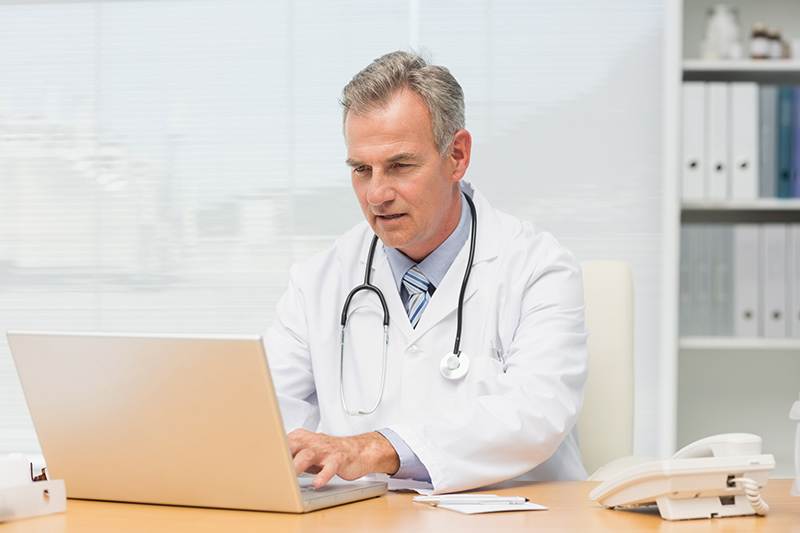 The terms electronic medical record (EMR) and electronic health record (EHR) are used interchangeably. Both store patient data and physicians rely on medical transcription service providers to ensure accurate and timely documentation in these systems. However, while they have other common features, an EHR and an EMR mean different things and serve different purposes. Understanding the differences are between these two types of medical software is important for healthcare providers which application to choose and how it will affect their organization.
Electronic Medical Record
The Office of the National Coordinator for Health Information Technology (ONC) defines EMRs as digital versions of the paper charts in clinician offices, clinics, and hospitals. They contain the patient's medical and treatment history collected within a single healthcare organization. Typically, the EMR remains in that organization and is used by its clinicians. EMRs are not shared outside the organization. Providers use the EMR for diagnosis and treatment. Medical transcription services integrated with EMRs promote complete and accurate documentation of a patient's medical history, tests, diagnosis and treatment in the system, which is crucial for appropriate care throughout the healthcare organization.
EMRs improve health care quality by helping physicians to monitor and improve overall quality of care within the practice/organization by
Tracking data over time
Identifying patients for preventive visits and screenings
Monitoring patients for vaccinations and testing
Improving care quality by increasing accuracy, efficiency, and accountability
If a patient switches physicians or seeks care from an outside specialist, the information in the patient's EMR may have to be printed out and sent to them by mail.
Electronic Health Record
According to the ONC, "Electronic health records (EHRs) are built to go beyond standard clinical data collected in a provider's office and are inclusive of a broader view of a patient's care. EHRs contain information from all the clinicians involved in a patient's care and all authorized clinicians involved in a patient's care can access the information to provide care to that patient".
So while EHRs perform all the functions of EMRs, they are all-inclusive, much more complex, and reach out beyond the health organization that originally collects and compiles the information. EHR data can be created, managed, and accessed by authorized clinicians and staff across more than one healthcare organization as well as by patients themselves. EHRs:
Focus on the total health of the patient by going beyond standard clinical data collected in the provider's office
Provide broader view on a patient's care
Allow the patient's medical record to follow them to other healthcare providers, specialists, practices, hospitals, nursing homes, including across states
Allows clinicians access to a broader range of patient data than EMRs

A fully functional EHR can provide all members of the patient's team with instant access to the latest information. The advantages of EHRs are:

They allow for more coordinated, patient-centered care
If the patient has a life threatening condition, appropriate care can be provided, even if the patient is unconscious.
Patients can access their own record and track their tests results over the last year, which can promote medication adherence and help them maintain lifestyle changes.
Clinician notes from the patient's hospital stay, discharge instructions and guidance on follow-up care allow the patient to move smoothly from one care setting to another.
A fully integrated EHR includes practice management, medical billing and assimilates with pharmacy, labs, radiology, etc.

Well-designed EHRs and EMRs are backbone of the healthcare system, and outsourcing medical transcription is a viable strategy to ensure accurate electronic documentation. In a general practice where important information has to be shared with other healthcare stakeholders, an EHR would be the appropriate choice. On the other hand, an EMR would be the best option for a speciality practice to provide personalized healthcare for each patient's needs.

Specialty EMRs feature customized templates. For instance in a cardiology practice, specialized cardiology EMR software along with cardiology transcription services can improve healthcare delivery. Partnering with a professional medical transcription company in the USA specialized in cardiology transcription can ensure error-free documentation.

To sum up, EHRs go a lot further than EMRs. Though they are different concepts, both are essential to meet the nation's goals of improving patient safety, and the quality and efficiency of patient care, and to reduce healthcare delivery costs, according to Dave Garets and Mike Davis, the authors of a 2006 HIMSS Analytics white paper (www.ehrintelligence.com).

They noted that EMR is the foundation on which EHR interoperability is built. "The EMR is the legal record created in hospitals and ambulatory environments that is the source of data for the EHR," they wrote. "The EHR represents the ability to easily share medical information among stakeholders and to have a patient's information follow him or her through the various modalities of care engaged by that individual. Stakeholders are composed of patients/consumers, healthcare providers, employers, and/or payers/insurers, including the government."