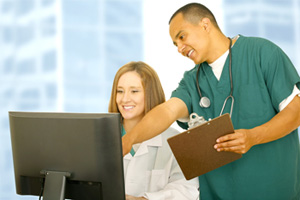 The US healthcare system is undergoing a massive transformation as paper-based medical charts give way to electronic health records (EHR). After nearly 25 years of using paper charts, physicians have widely started accepting the use of Electronic Health Records (EHR). A new report from The Centers for Disease Control and Prevention (CDC) states that the EHR adoption among office-based doctors has registered an increase to 78 percent in 2013 when compared to just 35 percent in 2007. The new findings are based on the National Ambulatory Medical Care Survey, which the CDC sends to non-federal, office-based physicians across the country.
The widespread adoption of Electronic Health Records (EHR) is expected to improve the quality of health care while reducing total healthcare costs. With the transition to the digitized record system, hospitals and physicians can provide more information to patients, reduce mistakes, and prevent hospital readmissions.
The increased rate of adoption of EHR technology has been the result of the passage of the Health Information Technology for Economic and Clinical Health (HITECH) Act. The HITECH Act authorized federal incentive programs to healthcare providers for the "meaningful use" of EHRs. The prospect of a five-year Medicaid or Medicare bonus contributed significantly towards the rapid implementation of this technology. The federal incentive program backed by the Centers for Medicare & Medicaid Services has certainly generated wide scope and interest in implementing EHR particularly among primary care physicians as the number of primary care doctors utilizing this technology reported a huge increase in the year 2010.
However, the transition in to EMR is equal among practitioners. According to the CDC's report, about 40% of practices use the software for recording basic things such as recording patient histories and records, patient demographics and maintaining records of patient tests and prescriptions. Only 23.5% had fully functional software with the ability to order tests and send prescriptions electronically. Also, hospitals have been quicker in adopting Electronic health records than physician's offices.
Medical practices that fail to comply with federal requirements and demonstrate such 'meaningful use' by the end of 2015 will face increasing penalties on their Medicaid and Medicare payments.
Though electronic health records have several advantages, implementation poses difficulties. Physicians are finding that they cannot provide patients the attention they deserve as they need to focus on entering data into the system during the encounter. Many rely on EMR-medical transcription integration. The physician uploads the dictation onto the medical transcription company's secure server and these notes are directly entered into the EMR by the transcriptionists. This ensures the rapid production of quality transcripts and patient charting directly to the EMR, providing the physicians with more time and enhancing their patient evaluation capabilities.