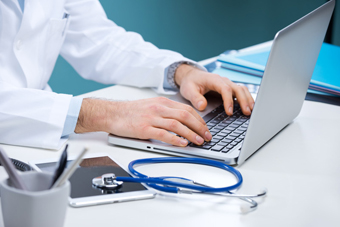 Recent healthcare reforms including the Affordable Care Act (ACA) and the American Recovery and Reinvestment Act (ARRA), has brought in several new effects in the exam room – especially the way in which physicians, patients and allied healthcare professionals interact.
The recent regulations from the ARRA particularly, federal incentive programs to healthcare providers for the "meaningful use" of electronic health records (EHRs) and penalties (for those failing to comply with the same) have generated widespread and strong responses from several practicing physicians. When compared to medical records maintained as paper charts, electronic medical recordscan be more easily accessed by physicians to evaluate a patient's medical history. This system allows hospitals to store and retrieve comprehensive patient information to be used by healthcare providers or sometimes patients (during a patient hospitalization across settings). Additionally, these can also help hospitals monitor, improve and report data on healthcare quality and safety. The Centers for Medicare and Medicaid Services (CMS) calls EHRs, "the next step in continued progress of health care".
A new study reports that access to EHR in acute care situations may influence the care given to that patient and in certain other cases, failure to review the same could negatively impact the medical management. The study was conducted by three neuroradiologists at Froedtert& the Medical College Froedtert Hospital and the key findings were reported in the May 2014 edition of Health Affairs.
As part of the study, 2,000 head CT scans that had been ordered by emergency department physicians were analyzed. For each exam, the neuroradiologists analyzed the key medical information generated by the emergency department physicians against the additional details retrieved by interpreting radiologists. The key findings of the study are mentioned below –
In several cases, the additional information in the EHR would have a considerable impact on the interpretations of the head CT scans.
For about 9% of cases, the neuroradiologists predicted that the interpretation would have "very likely been adversely effected (if the EMR data were not available).
For about 22% of cases, the additional clinical data found in the EHR was "possibly" having a major impact on the interpretation of the head CT scans.
The above study represents the role of EHRs in delivering quality patient care and physician professional satisfaction.
Even though electronic health records possess numerous benefits, actual implementation may involve certain problems. There are reports showing that with the use of this system physicians are not able to dedicate adequate care and attention to patients as they need to devote extra time in entering patient data in to this system. Moreover, the implementation of this system is significantly expensive and requires constant updating of software. Hence, as a possible solution many medical practices opt for EMR – medical transcription integration. This approach enables physicians to upload the dictation to medical transcription company's server and these notes are directly entered into EMR by the skilled transcriptionists.