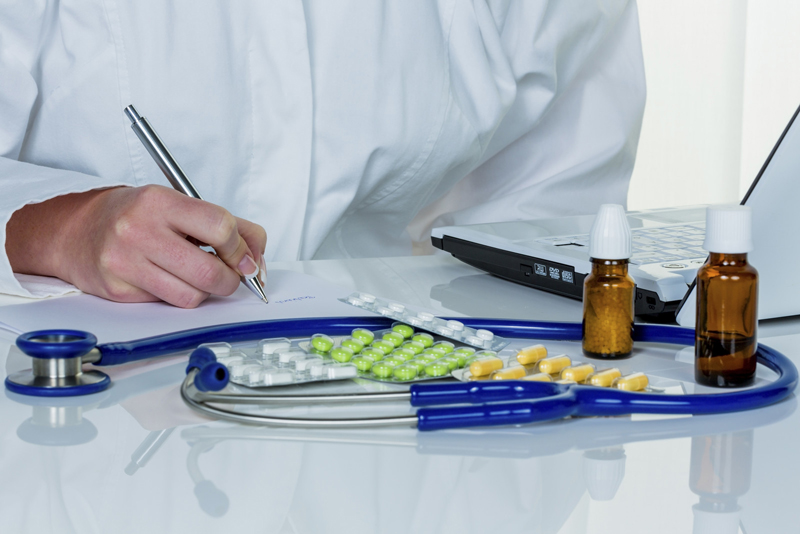 Medications are an essential component of care. Medical transcription outsourcing helps providers maintain clear and concise documentation of the medication process in patient records. Complete, accurate medication documentation is essential for proper clinical decision-making and to prevent adverse events. However, while physicians are taught to prescribe medications, they receive no clear guidance on "deprescribing" unnecessary medications.
Deprescribing is defined as "adjusting medications down to the minimum effective dosage or stopping them when a patient's health status changes in a way that medication burden or potential for harm outweighs the benefit of the medication" (www.aafp.com). Physicians understand deprescribing but guidelines typically include recommendations for initiating medications, but not stopping them. As a result, polypharmacy – the concurrent use of multiple medications by a patient – is high and increasing across the country. Many recent studies stress the need for reducing inappropriate polypharmacy to improve patient safety and quality of care.
Polypharmacy – An Increasing Medical Burden
Older people and those with multiple chronic diseases are at a higher risk of polypharmacy and potentially inappropriate medications. A paper published in Science Direct lists the factors that increase the risk of polypharmacy as:
Increasing age
Increased intake of over-the-counter medications in addition to prescription medications
Use of supplements or herbal options
Multiple hospitalizations or emergency room visits
Treatment by multiple providers
Multiple medications pose a cost burden for the patient as well as the nation at large. It puts patients at increased risk for adverse drug-to-drug interactions, falls, hospitalizations, psychological distress, malnutrition, nursing home placement, pneumonia, and death.
Report: 5 Medications that can be Deprescribed
Physicians put a patient on a medication to see whether it will help with certain symptoms, but then the medication may be never stopped. According to a recent article in MD Linx, there are five common medications that physicians should consider describing: proton pump indicators (PPIs), statins, antibiotics, antimuscarinic medications for overactive bladder, and benzodiazepines. The article cites the findings of various studies to support the case for deprescribing these drugs.
PPIs: Purchased over the counter, PPIs are widely prescribed and often used for much longer than the 2 weeks for which they are needed. Though they are generally considered safe, PPIs are associated with serious adverse events such as cardiovascular disease (CVD), pneumonia, osteoporotic fractures, Clostridioides difficile infections, acute kidney injury, chronic kidney disease, dementia, upper gastrointestinal cancer, and death.
Statins: Statins are one of the most commonly prescribed drugs for lowering cholesterol levels in blood and reducing risk of heart disease. However, recent research shows that some patients only achieved very small reductions in risk of CVD by taking statins. The researchers suggest that physicians should weigh the potential risks and benefits of taking statins daily before prescribing the medication.
Antibiotics: According to the CDC, at least 30% of the estimated 154 million antibiotic prescriptions written each year in US outpatient settings are unnecessary. Antibiotics aim to fight infections, but overuse and misuse of antibiotics have led to the development of antibiotic-resistant pathogens. Risks of over prescribing also include increased disease severity and length, health complications, increased healthcare costs, re-hospitalization, and medical treatment for health problems that could have resolved on their own.
Antimuscarinic medications for overactive bladder (OAB): Antimuscarinic agents are widely used to treat urinary dysfunction in patients with OAB but come with many adverse effects, including cognitive impairments and death. Moreover, a study published in The Pharmaceutical Journal found that a major reason for patients not restarting treatment was that they experienced no difference in symptoms on or off treatment.
Benzodiazepines: According to a recently published study, 30.6 million adults (12.6 percent) use benzodiazepine. Of this 12.6 percent, 10.4 was prescribed and 2.2 percent was misuse. Overall, misuse accounted for 17.2 percent of use. The MD Linx article points out that 5.3 million Americans take benzodiazepines in a way not prescribed by their physicians and that benzodiazepine-related deaths increased from 135 in 1999 to 11,500 in 2017.
Reducing Inappropriate Polypharmacy
The focus of deprescribing is to reduce or stop medications that no longer benefit the patient. This should be done when a patient's health status changes in a way that the medications' potential for harm is greater than the benefit the medication offers. A January 2019 AAFP article outlined ways to start deprescibing for a patient:
Identify the medications that are potentially harmful to the patient
Determine if the medication can be reduced or stopped
Initiate conversations with the patient to help them understand the benefits of stopping the inappropriate medication/s
Routinely check if the medication is responsible for causing falls, or other adverse events
Setting up alerts for legacy prescribing in the prescription system to prevent legacy drugs from being continued beyond their intended duration
Plan drug tapering and withdrawal
Monitor and support the patient in case of adverse withdrawal events
The goals of deprescribing should be prevent disease from getting worse or causing withdrawal effects, reduce medication burden, better control chronic conditions and improve quality of life. As physicians focus on the development of interventions to reduce inappropriate polypharmacy, medical transcription companies can help with their EHR-related documentation tasks. Proper documentation of medication management in patient progress notes is an essential step towards improving patient safety.