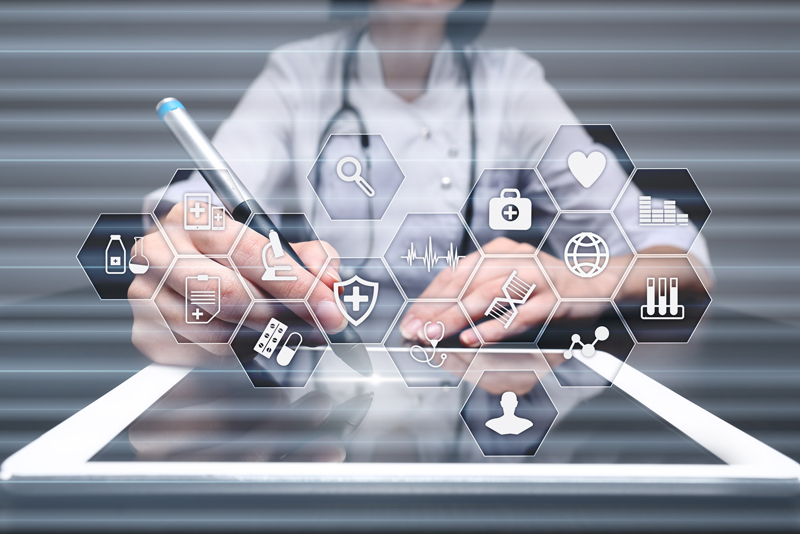 The introduction of Electronic Health Records (EHR) created the common belief that medical transcription will be wiped out from the medical industry very soon. However, medical transcription exists and continues to grow as members of the medical community are likely to use dictation and transcription in the future as well. Many providers outsource the transcription tasks to medical transcription companies to ensure accuracy and completeness of the documentation.
In spite of the many benefits the EHR system promises, one of its major disadvantages is that physicians have to spend more hours on computers to create patient records themselves, and spend less hours with the patients. As a result, doctors quickly become frustrated and experience burnout. This could affect the quality of patient care, reduce face-to-face consultation time, and lead to poor performance of the physicians.
A practical solution is the use of medical transcription. Even in this EHR era, medical transcription plays an important role in the medical industry. Several industry experts are of the opinion that nearly 50% to 80% of EHR implementation is a failure. Even though many believed that the integration of EHRs into the health care system will completely digitize the processes and put an end to transcription, the reality is that transcription services are still in considerable demand. Let us look at some statistics.
According to the Bureau of Labor Statistics, in 2016 there were approximately 57,400 medical transcriptionists or health care documentation specialists in the United States. The reports also show a 3% decline from 2016 through 2026. But healthcare providers will continue to hire medical transcription solutions as a part of revenue cycle management and also to document medical records effectively.
Cost reduction considerations: According to a recent report by Becker's Health IT & CIO, in Buffalo, New York–based Catholic Health is investing more than $100 million in a project to implement Epic EHR. The project is targeted to take around 18 months. So, if healthcare units purchase these expensive projects there will be a rising need to curb expense and they will associate with reliable medical transcription vendors for lower line rate and tighter turnaround times.
To facilitate accurate documentation: To make the medical documentation process easier, the EHR system uses cookie-cutter templates, drop-down lists, and check boxes. The reality is that healthcare providers are expected to spend considerable time learning the integrated features of an EMR which may include any or all of the previously mentioned templates, drop-down lists, and seemingly endless screens of check boxes, as well as learn how to properly dictate. All these documentation tasks must be done at the time of the consultation and it leads to poor patient – doctor communication, lower quality patient care and poor performance by the physicians. This is a frustrating task for healthcare professionals. Reports have emerged in which physicians express a diminished enthusiasm for their profession, noting that administrative tasks were less about patient relationships and more about coding, billing, reimbursement, and compliance.
The Medscape Annual Survey 2017 indicated that 51% of physicians had frequent or constant feelings of burnout, the Medscape's National Physicians Burnout & Depression Report 2018 showed 56% of the physicians saying documentation burdens contribute to burnout, and 24% blamed increased computerization of EHR work. So this shows that EHR affects the productivity of the physicians.
Speech Recognition and Medical Transcription
90% of hospitals plan to expand their use of speech recognition technology. Speech recognition works in two ways for documentation – back-end speech recognition and front-end speech recognition. In back-end speech recognition, the physician dictates, the audio is converted to text, and a trained medical transcriptionist edits the resulting document whereas in front-end speech recognition the dictator dictates directly into free-text fields and edits the transcription with no intervention necessary by the medical transcriptionist.
A report published in JAMA Network Open named "Analysis of Errors in Dictated Clinical Documents Assisted by Speech Recognition Software and Professional Transcriptionists," found that the error rate reached 7.4 percent when documentation was generated by speech recognition software. The study included 217 documents dictated by 144 different physicians during the period Jan 1 2016 to Dec 31, at healthcare organizations that used Dragon Medical 360 | eScription by Nuance. Around 121 physicians' specialities were known and there was a total of 35 specialities- 37.2% surgeons, 24.8% internists, and 38% other specialties. There was more than 7 percent error rate in documents that went through speech recognition software. A minor error in medical documentation poses significant risk to the safety of the patient and it also affects reimbursements. Dictators with different accents or dialects and those who mumble or dictate quickly will likely produce a report that requires thorough editing. According to a study "Error Rates in Physician Dictation: Quality Assurance and Medical Record Production," published in the International Journal of Health Care Quality Assurance, the physician-as-editor model does not always take the time to edit and proofread their dictation.
So, from all the above aspects we can understand that medical transcription is still relevant in the healthcare industry. Speech recognition can be unreliable and requires supervision and intervention; it will not eliminate the need for skilled medical transcriptionists and health care documentation specialists.
In order to obtain error-free medical records, a blended approach of medical transcription and EHR system is the ideal option. Physicians can easily dictate their notes and then send them to skilled medical transcriptionists who transcribe the audio into accurate transcripts which are later integrated into the physicians' EHRs. A reliable provider of US based medical transcription services uses HL- 7 interface to provide EHR-integrated medical transcription to healthcare providers.