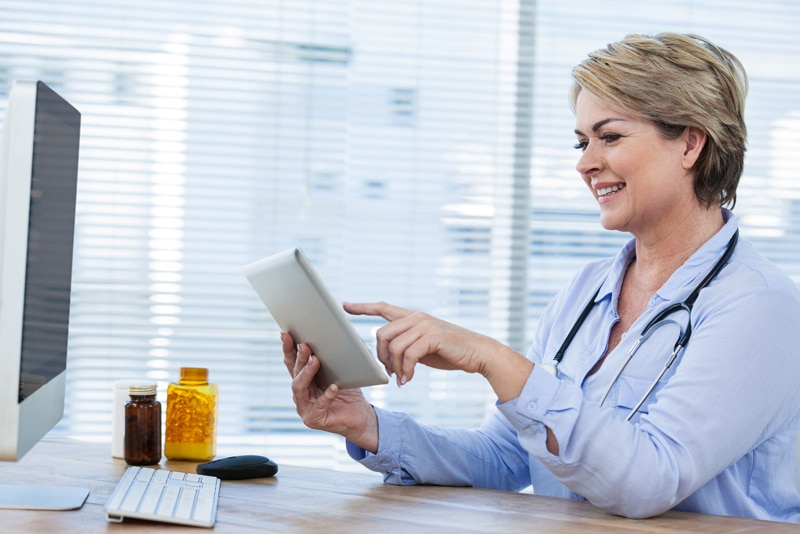 Today, the widespread adoption of telemedicine is improving the delivery of medical care and patients' health and well-being. Medical transcription companies help providers document virtual encounters, including information about the visit, the history, review of systems, physician notes or any information used in medical decision making. Other forms of electronic communication that physicians and patients use include email, patient portals, texting, and messaging applications. The American College of Physicians (ACP) recently published a position paper which states that while e-communication offers many benefits, it must be used "thoughtfully and effectively to ensure standards of ethics and professionalism are met and trust in physicians is maintained".
The ACP's recommendations for e-communication to maintain strong and trusted patient-physician relationships and expectations focuses on email, patient portals, texting and messaging applications. The position paper "American College of Physicians Ethical Guidance for Electronic Patient-Physician Communication: Aligning Expectations," was published in the Journal of General Internal Medicine. The guidance in the paper includes the following:
Electronic communication can supplement in-person interactions between patient and physician but should not take the place of in-person communications.
Electronic communication should only take place after discussion with the patient about expectations and appropriate uses, and with the patient's consent.
Electronic communication with patients should occur through a method that is patient-centered and secure such as patient-portals.
All electronic communications should be documented in the medical record.
Electronic communication between patients and their physicians, if done with attention to ethical and other concerns, may help improve patient care, patient satisfaction, and clinical outcomes.
Physicians and institutions should use electronic communication to promote health equity and proactively address the socioeconomic and demographic factors that may lead to disparities in uptake and utilization.
Physicians, institutions and patients should recognize and address increased workload associated with management of electronic communication and implications for physician well-being.
The guidance does not look into telemedicine, telephone, video, or other applications; or communication between clinicians, but notes that "with changing technologies some recommendations may need to be revisited".
With the COVID-19 pandemic, the spotlight is on telemedicine and it's important to look at physicians' ethical obligations to patients as they use advanced communication technology. Telemedicine is transforming patient-centered care in the current situation where physical distancing is advised and the patient is unable to attend a healthcare facility in person. Telemedicine offers a wide range options with services for primary care consultations, prescribing, mental health treatment, speech and physical therapy, and even some emergency services. By facilitating communications between members of the care team, telemedicine platforms also improve coordination of care. However, it's crucial for providers to remember their ethical responsibilities towards their patients. Physicians should maintain the same standards of professionalism that are expected with in-person consultations and also keep the following ethical considerations in mind:
Patient privacy: The confidentiality, privacy, security and integrity of the clinical information collected and transmitted during a telemedicine consultation should be protected in accordance with HIPAA. Other entities, such as medical transcription service providers and other related business associates must also be HIPAA compliant. With asynchronous communication, patients may be apprehensive about who exactly will be responding and sharing their personal medical information. Physicians must ensure that the telemedicine platform used for consultations is designed to prevent unauthorized access and to secure and protect data security. Practices need to have robust privacy and security protocols in place for their telemedicine program and patients should be informed about this.
Informed consent: Patients should be notified about the benefits, risks and inherent limitations of e-communication and be given the opportunity to accept or decline the use of the technology before privileged information is transmitted. Patients should be educated about the features of telemedicine technologies, how they will be used in their care and what will be expected of them when using these technologies.
Technical competencies and communication skills: Telehealth communication competencies are essential for the success of remote consultations. Health care professionals need to ensure that they have the competency to use telemedicine platforms effectively. Studies have identified the following aspects as important for establishing a therapeutic relationship or 'telepresence, according to www.ausmed.com:
Pre-interactional preparation
Verbal communication and telemedicine etiquette
Non-verbal communication
Environmental considerations, and
Operational training.
When they cannot personally conduct a physical examination, clinicians must ensure that they have the information they need to make well-informed clinical recommendations using telemedicine (www.aao.org).
Additionally, the Code of Medical Ethics Opinion 1.2,12 states that all physicians who participate in telehealth/telemedicine have an ethical responsibility to uphold fundamental fiduciary obligations by disclosing any financial or other interests the physician has in the telehealth/telemedicine application or service and taking steps to manage or eliminate conflicts of interests.
Providers also have the obligation to ensure continuity of care and advise the patient on next steps after the consult ends. To ensure continuity of care and facilitate referral to other providers, clinicians should record and preserve all clinical data obtained during the remote consultation. Outsourcing medical transcription to an experienced service provider can ensure error-free documentation of telemedicine consultations.