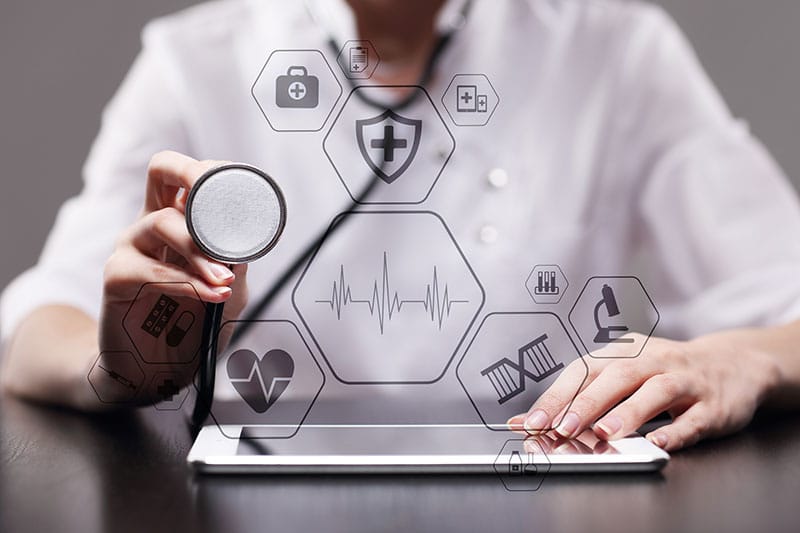 Orthopedics is one of the most complex medical specialties. From knee and hip replacements to sprains and fractures, orthopedic doctors provide treatment for a wide range of problems related to the musculoskeletal system. Other orthopedic surgeries are also becoming more frequent with an ageing population. This calls for accurate medical transcripts for orthopedics, and electronic health record software is now available to support your specialty. This specialty EMR provides a specific set of clinical documentation requirements when it comes to EHR software.
It has customized templates, reducing data entry and documentation responsibilities, and allowing physicians to spend more time treating and caring for patients. EHR-integrated medical transcription provided by medical transcription services ensures accurate clinical documentation and also helps physicians to interact more with patients and focus more on improved patient care.
A specialty electronic health records platform created by practicing orthopedic surgeons for practicing orthopedic surgeons would be the most ideal option. It would intuitively adapt to your particular style of practice, remember your preferences, and facilitate clinical cooperation to streamline your entire process.
Advantages of Specialty-specific EHR for Orthopedics
Includes orthopedic specific plan and other requirements: There is no such thing as a one-size-fits-all solution when it comes to an orthopedic EMR system. You can better analyze the EMR system that meets your needs after taking the pulse of your practice and identifying the clinical, financial, and operational areas that need to be enhanced and implement an effective growth strategy. For instance, using software developed for family physicians is probably not the ideal choice for your orthopedic practice. You should look into orthopedic EMR software.
Typically, advanced orthopedic EMR systems are developed to think like orthopedic surgeons. The software or digital assistant provides orthopedicians with a list of chief complaints, thousands of diagnoses with ICD-10 codes, and a number of treatment plans and procedures right out of the box.
Improves accessibility and mobility: With a secure internet connection, you may view your patients' records from practically anywhere at any time using a cloud-based EMR system. Even when you're not at work, it gives you more mobility and accessibility. Pocket digital assistants and software allow you to access your EMR system while on the go. Even when you're not at work, it gives you more mobility and accessibility.
Better efficiency: Technology helps to improve the efficiency of any organization. Specialty EHR, with its adaptive learning, understands your personal style of practice remembering your preferences and assisting in clinical collaboration, streamlining your procedure. Based on the exam, orthopedic electronic health record systems will recognize the most common diagnoses and the specific way in which you usually treat these diagnoses. For example, when a physician does a knee exam, the electronic medical assistant (EMA) will fill the 10 most typically treated knee diagnoses based on the choices of the specific provider.
EMA recalls the frequent diagnosis-specific observations if the physician selects a knee arthritis impression. The system will also display the physician's preferred treatment plans for knee arthritis, such as steroid injections, surgical discussion, prescriptions, and physical therapy. EMA adjusts to each provider's preferences on the fly, making it easy to adapt to your clinic. EMA is equipped with built-in ICD-10 orthopedic codes gathered during the patient contact, which can help automate notes and billing.
Access to all-in-one orthopedic software: When it comes to orthopedic software, there are so many choices that you can't go wrong. For your EMR system, practice management, revenue cycle management, billing, and even analytics, you might choose a different vendor. Different vendors can be used, but managing multiple points of contact, implementations, and bridges can quickly become a nightmare, resulting in extra labor, increased costs, and confusion. There are orthopedic software solutions that are all-in-one and can help you streamline your practice. This creates a one-stop shop for orthopedic software that is fully integrated.
Helps to provide value-based medicine: Specialty-specific EHR such as orthopedic EHR can help simplify processes related to the Merit-based Incentive Payment System (MIPS). It helps track your projected Composite Score and has built-in analytics and benchmarking reports to simplify data submission. Advanced technology assists in obtaining appropriate reimbursement for services provided.
Participates with specialized health registries: In the age of value-based medicine, the opportunity to conveniently join in orthopedic-specific health registries becomes invaluable. Having access to such specialist health registries can help you comply with MIPS and receive extra points, which can help you avoid penalties and income loss. It may even boost your earnings by providing incentives for upward changes. With just a few clicks, you may join specialist registries and begin using them.
Use the power of healthcare analytics: With technology you can dive into data like you never could with a paper chart. Invest in an EMR system for orthopedics that captures organized and usable data at the point of care. This data should be collected without the need for additional personnel or time; it should be seamlessly integrated into your orthopedic EMR system, allowing your present team to work more efficiently. Actionable data can be used for a variety of objectives, including billing accuracy, group analytics, and research. Access to Analytics allows for near-real-time comparative benchmarking of individual clinician and practice performance, as well as identifying areas where you may be falling short of other orthopedic surgeons. Having this information can help you in strategizing and identifying areas where you shine and grow.
Provides an experienced support team: Whether it's your first day or you've been a client for a long time, the customer care team should enhance your experience and assist you in using best practices and the latest features. Access to a variety of training choices, a knowledge base, and the ability to contact a responsive support team during business hours all work together to help you get the most out of your orthopedic EMR system.
Helps to build trust with your patients: Using cutting-edge technologies can set you apart from other orthopedic practices. You want your patients to advocate for you and your office in the age of social media and online reviews, so give them more reasons to do so. Patient engagement technologies can help you strengthen and establish trust with your patients, offering them a better office experience and the opportunity to be more involved in their own treatment.
Using EHR software for orthopedics will increase your staff's productivity and speed up workflow, from diagnosing and treating muscle injuries to supporting patients with difficulties with the torso, spine, skull, hip, knees, shoulders, and extremities. In addition, your clinic will be required to set up and supervise ongoing physical therapy sessions on a regular basis. This means you'll be able to spend more time on actual patient care and free up staff resources so you can see more patients each day. Specialty-specific EHR helps to have a robust orthopedic practice management system that helps to more efficiently and effectively manage the workflow in your medical practice. A reliable orthopedic medical transcription company provides EHR-integrated medical transcription facility that helps physicians to have an accurate EHR and also focus on patient care.