This is an update to the blog: "Key Features of a Good Medical Transcription Company"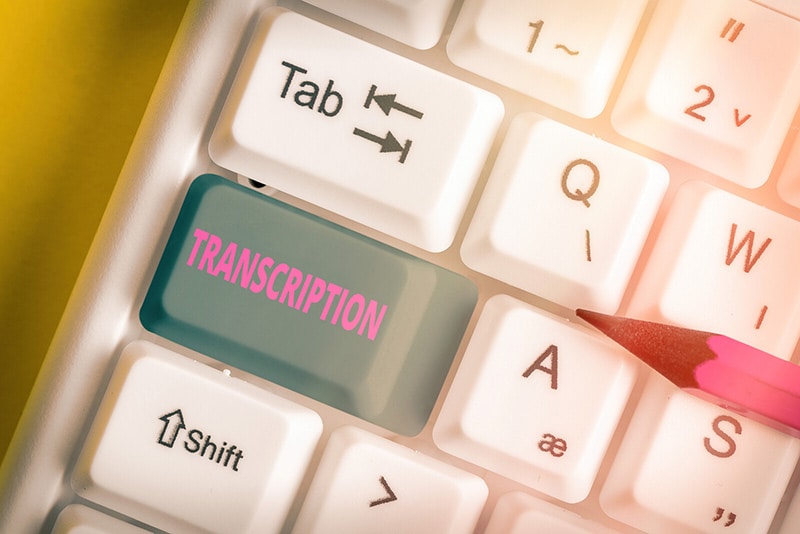 For any medical specialty, voice dictations or audio recordings created by physicians, nurse practitioners or other healthcare providers need to be converted into accurate transcripts. While physicians require medical transcripts for treatment purposes and future reference, insurers require them to review claims. Maintaining an in-house transcription team can be quite expensive for medical practices, in addition to having to manage staff's time, HIPAA compliance, technology, administration, turnaround time, and more. This is why busy practices rely on medical transcription outsourcing. With a reliable medical transcription company, practices can get accurate transcripts in short turnaround time while they focus on delivering quality patient care.
Medical Transcription Services vs. Voice Recognition Software – Which Works Best
Many practices are now using voice recognition software that makes documentation much easier. Physicians speak into a recording device in the software which then converts the physician's speech into written text. Even though speech recognition software offers many advantages over traditional documentation such as reduced turnaround time and less costs, it has certain disadvantages. Accuracy of the software cannot be predicted and often the dictating physician has to review and edit the transcribed text to get reliable documentation, which is quite time consuming. Outsourcing transcription is a practical way to overcome these challenges.
Professional medical transcription companies are technically advanced and provide EHR-integrated medical transcription services. They have efficient and skilled professionals and resources to provide superior quality medical transcription services for all specialties. Experienced medical transcriptionists edit and proofread the transcripts generated by speech recognition software and deliver error-free EHR-integrated medical documentation. By partnering with a medical transcription company, physicians can spend their valuable time focusing the patient, while getting their dictation transcribed accurately and promptly.
Marketprimes recently reported that the global medical transcription services market that was valued at 5759.7 Million USD in 2019 is expected to showcase a year over year growth rate of 5.3 % during 2019-2025, subsequently generating around 7071.5 Million USD by 2025.
Here's what an experienced medical transcription company can offer:
Accuracy
Professional medical transcription companies are well aware of the fact that practices require error-free medical records to treat patients better, to get appropriate reimbursement from payers, and for legal purposes. Even a minor error in patient records can lead to wrong treatment decisions that could endanger patient's lives. These records are also necessary to submit the claims to insurance companies and any mistakes can result in claim denials or delays or even denials. Medical records serve as crucial evidence in medical malpractice, personal injury, civil suits or criminal cases, and it is critical for the practices to maintain accurate patient records, which proves that the right treatment was provided to the patient.
Reliable medical transcription service providers have multi-level of quality assurance processes in place to ensure transcript accuracy. Before they are delivered to the physician, the transcripts are put through strict quality checks by experienced editors, proofreaders and subject matter experts.
Fast Turnaround Times
Experienced companies make sure they can meet even the most demanding deadlines – STAT or immediate requirements, practices can decide how quickly they want transcripts back. They deliver the transcripts in custom turnaround time (anywhere from 24 hours or less). Many firms also offer real-time transcription from voice to text that quickens the process of medical documentation and improves the efficiency of physicians and other medical staffs.
Expert Resources
Professional firms employ certified and trained medical transcriptionists. These experts are familiar with even difficult medical terminologies and conditions. They will be well trained in
understanding different accents
providing transcripts for a broad range of medical specialties and sub-specialties including family practice, physical therapy or others
HIPAA Compliant
Reliable medical transcription companies strictly comply with HIPAA guidelines and standards and ensure that patient health information they handle is safe and secure. To protect patient data, their servers and computers will be protected by 128 bit encryption and their staff will be provided training on HIPAA and PHI regulations. Files that are received from exterior sources and transferred will be encrypted.
Free Trial
Instead of just boasting about their service features, leading medical transcription companies offer a free trial, so that practice can be convinced of their excellent service, professionalism, quick turnaround times, and competitive rates.
Want proof of medical transcription quality? Get a no-obligation Free Trial from MOS Medical Transcription Services today!
Professional firms also offer flexible dictation options, EMR integration, electronic signatures, real-time transcription progress reports, secure file transmission options and more. By outsourcing medical transcription tasks to such companies, physicians can save time, maximize cash flow, improve overall efficiency, save costs in training and managing in-house staff, meet industry compliance standards, focus on providing quality patient care and improve report accuracy.