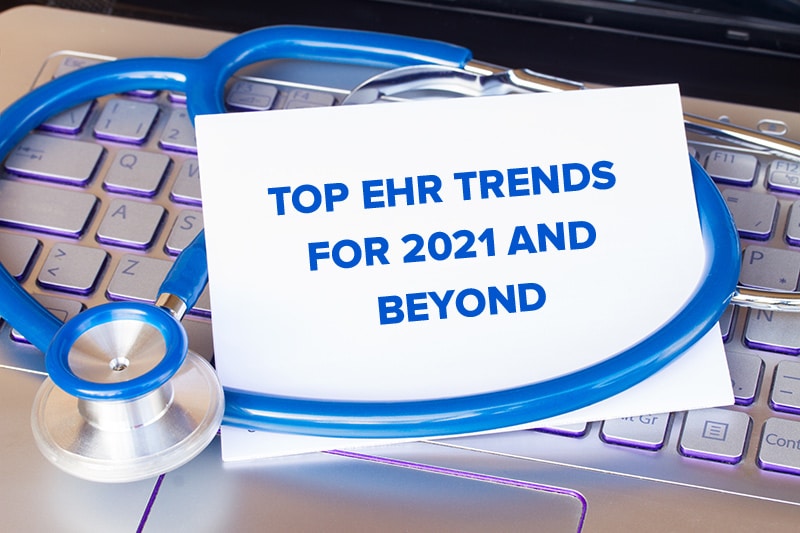 Electronic health records (EHRs) have come a long way since they were introduced and are continuing to evolve with flexible functionalities that improve the clinical decision-making process. Medical transcription services allow healthcare providers to manage the record keeping process and save time to focus on patient care. According to recent reports, with significant enhancements in health information technology, EHRs are poised play an even more influential role in healthcare. Here are seven major EHR trends to watch out for in 2021 and beyond.
Voice Recognition and Natural Language Processing: Voice recognition tools are mainly used to dictate reports and clinical notes into the EHR, making clinician interactions with the system less stressful. Voice assistants make it easier for clinicians to connect with patients, search a patient's medical history and place orders using the EHR. Speech-to-text applications depend on natural language processing (NLP) to turn sound into text. Leading EHR manufacturer Epic says that, in future, their EHR voice assistant will also be able to write the clinician's note and close the visit (www.beckershospitalreview.com).
Focus on Reducing Errors: In their 2020 report, the ECRI Institute identified several EHR related errors. One was the high number of alarms, alerts, and notifications that can overwhelm clinicians. This creates the potential for significant events to go unnoticed and unaddressed. Medication timing errors are another issue. Configuration and usability issues within the EHR can lead to mismatch between the order generated by the software and the prescribed medication administration time, the report noted. It's obvious that providers will be looking to address such technology concerns to reduce errors and ensure patients safety.
Advanced Data Analytics: Each patient's digital record includes demographics, medical history, allergies, laboratory test results, etc. EHR data analytics provide managers with timely information needed to generate customized reports. With technology advancing at a rapid rate, the possibilities of how healthcare analytics can be used is expanding. The future of healthcare analytics depends on using technologies such as artificial intelligence, machine learning and natural language processing for greater impact.
Increasing Patient Engagement: Patient engagement has always been a concern and the pandemic highlighted its importance like never before. According to a recent beckershospitalreview.com report, one of the several patents Allscripts has secured is for an app connecting EHRs to other wellness apps and supporting patient engagement through goal tracking. EHRs are being used to send text message appointment reminders to patients, which lowers cancellation rates quite significantly.
Cloud-Based Initiatives: Leading EHR companies are working with big tech to promote cloud-based initiatives. For instance, Medtech teamed up with Google Cloud in December 2020 to deploy a new cloud-based, subscription model EHR platform. An extension of Medtech's cloud-based Expanse EHR, the new Cloud Platform comes with many new capabilities including a virtual care feature that provides new and existing patients with access to urgent virtual care through the provider's website.
Blockchain: EHRs contain critical and highly sensitive private information for diagnosis and treatment in healthcare. Benefits of EHRs range from supporting medical prescriptions, improving disease management, and reducing severe medication errors. The sharing of healthcare data is essential for improving the quality of healthcare services. However, EHRs have interoperability issues. A recent study published in the Health Informatics Journal reported that blockchain could transform the way patient's electronic health records are shared and stored by securing it over a decentralized peer-to-peer network. It has the potential to provide a new model for health information exchange (HIE) by making EHRs more efficient and secure.
Readying for 5G: Healthcare organizations and systems are increasingly implementing telehealth and IoT devices. The healthcare industry must embrace 5G to take advantage of the next generation of internet speed and the value it offers for telehealth and other wireless clinical applications that are transforming healthcare delivery. Next generation connectivity will provide efficacy and efficiency for several healthcare applications such as improving data management, better handling of large imaging files, remote patient monitoring and virtual care, and more.
Even as technology-driven initiatives like natural language processing (NLP) and speech recognition (SR) are incorporated into EHR systems, medical transcription outsourcing will continue to be relevant to ensure accurate documentation. While these new technologies can save time spent on EHR data entry tasks and reduce physician stress, research shows that medical transcriptionist review of SR-generated documents improves the quality of medical records, reduces errors and improves patient safety.