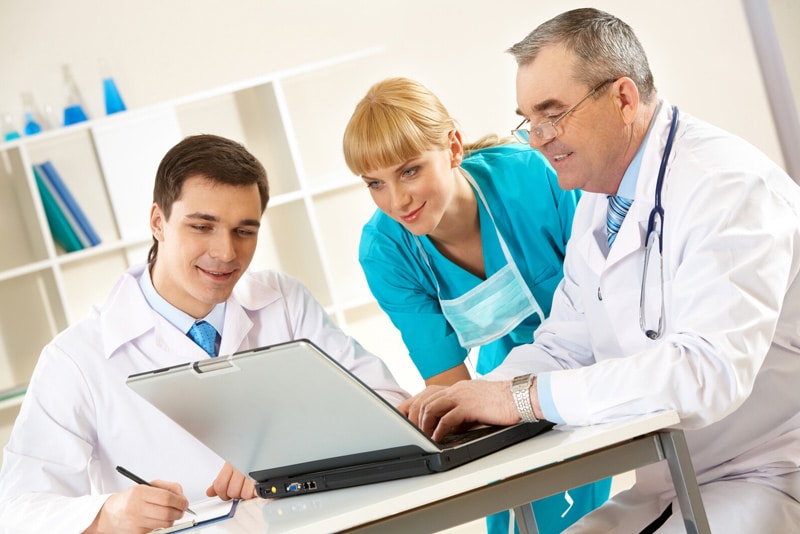 Accurate and timely clinical documentation is paramount to quality care and patient safety. Even with the widespread adoption of electronic health records and speech recognition technology, medical transcription services continue to be relevant to create error-free patient records. Many US physicians use dictation services supported by SR technology and professional medical transcriptionists. Researchers found that errors in dictated clinical documents reduced following manual review by a professional medical transcriptionist.
EHR clinical documentation is a time-consuming task and is a key factor in physician stress and burnout. The introduction of speech recognition (SR), the automatic conversion of voice into text, in the 1980s has eased the task. There are two types of SR: back-end and front-end.
Back-end SR converts dictation into electronic text, which is then edited by a medical transcriptionist (MT) and then sent back to the clinician for review and a signature.
In front-end SR, the physician dictates directly into the EHR free-text fields. The audio is captured by the software and converted into text. The clinician self-edits and signs the notes, which immediately become part of the patient's record.
A 2018 study that analyzed the quality of SR-assisted documentation found that seven in 100 words in SR-generated documents had errors. The study, published in JAMA Network Open, examined 217 documents dictated between January 1 and December 31, 2016 from hospitals at 2 health care organizations in the US.
Of the 217 notes collected, there were 83 office notes, 75 discharge summaries, and 59 operative notes dictated by 144 physicians using SR technology. The researchers noted the errors contained in the SR engine–generated document, the medical transcriptionist-edited document, and the physician's signed note. The original audio recordings and medical record review were used to create a criterion standard and each document was compared with this criterion. The study found that:
The SR software generated document had an error rate of 7.4%
This error rate fell to 0.4% after review by a professional medical transcriptionist
The error rate was 0.3% in final version of the document signed by physician
Of the errors at each stage, 15.8%, 26.9%, and 25.9% involved clinical information and 5.7%, 8.9%, and 6.4% were clinically important, respectively
Surgeons' SR notes had lower than average error rates (6.0%) than SR notes of other physicians (8.1%).
The study authors referenced a study in Australia that analyzed the type and prevalence of errors in documents created using a front-end SR system and those created using a keyboard and mouse. In this case too, the researchers found more errors in SR-generated notes.
The key takeaways of the study:
The error rate of more than 7% observed in SR-created clinical documents show the importance of manual editing and review by a medical transcription service provider.
As most errors are corrected before the physician signs the notes establish the importance of manual review, quality assurance, and auditing.
Though SR is rising in popularity, back-end SR systems continue to be used in many US health care institutions, and studies have demonstrated the significant productivity enhancements associated with these systems.
Many medical errors occur due to communication failures. Accurate, complete, legible, and readily accessible clinical documentation is critical to communicate the patient's diagnosis and treatment and facilitate care coordination by the healthcare team. Documentation errors can put patients at significant risk of harm. Studies have found that EHR data entry mistakes or inputting incorrect information in the EHR is a major reason for medical malpractice. With the increasing adoption of SR technology for clinical documentation, hospitals need to better understand how it can be used safely and efficiently. While such technologies can save time and reduce physician stress, they eliminate the quality assurance that medical transcription outsourcing offers. SR technology can help generate clinical documentation but not replace the valuable manual work done by skilled medical transcriptionists.