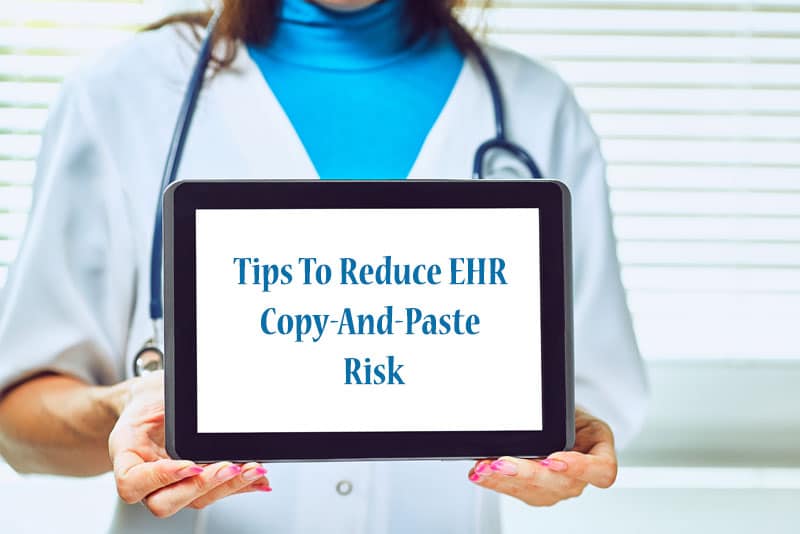 The electronic health record (EHR) is built to allow physicians to maintain accurate patient charts and access evidence-based tools to make decisions about a patient's care. Medical transcription service providers reduce physician documentation burden and stress by ensuring well-formatted, edited EHR reports and notes. EHRs come with many features to ease electronic documentation and the copy-and-paste function is a widely used 'workaround'.
However, experience shows that this functionality has the potential to lead to over-documentation that can compromise quality of care, patient safety, compliance, and reimbursement. A recent ICD-10 article reported on how the use of flawed progress notes for decision making led to a young patient's death from bilateral pulmonary embolisis.
An American Medical Association (AMA) Board of Trustees report specified that the copy and paste function is "intended to reduce the time required for clinical documentation. Experts recommend that the use of this tool should be permitted only in the presence of strong technical and administrative controls that include organizational policies and procedures, user training and education, and ongoing monitoring (AHIMA). Before discussing the solutions, let's take a look at the benefits and risks of the EHR copy/paste functionality.
EHR copy-and-paste Function – Benefits and Risks
Control-C and Control-V are two simple computer shortcuts. Physicians and other EHR users consider copy-and-paste in medical documentation as a practical way to duplicate all or sections of detailed narrative information such as text, images, and other data within or between documents. Mindful use of this simple tool saves valuable time and offers convenience, legibility, improved efficiency in data capture, consistency, and completeness. On the other hand, copying and pasting medical notes, if done improperly, can lead to numerous inadvertent errors with risks for patient safety:
Affect communication among medical care team members
Carrying forward inaccurate, irrelevant, or obsolete clinical information
Repeated information
False information
Missing important information
Unnecessarily lengthy/internally inconsistent progress notes
Difficulty in identifying current information
Inability to identify the author of the documentation and its purpose
Coding errors
Compliance risks such as duplicate or fraudulent medical claims
One study found that the use of copy-paste varied among specialties: 19.5% of endocrinology notes contained copy/pasted material compared to 8.2% of primary care notes and 1.9% of cardiology notes. AHIMA has cautioned that users should weigh the efficiency and time savings benefits of the copy/paste functionality against the potential for creating inaccurate, fraudulent, or unwieldy documentation.
How to Reduce Risks of Copy-Paste
Following best practice guidelines regarding the EHR copy and paste functionality is essential to help ensure high quality clinical documentation and health information integrity. Here are 12 strategies that can help practices reduce risks of copy-paste in the EHR:
Have a comprehensive policy and procedure in place for the appropriate use of the copy and paste function.
Determine what portions of the record should be copied and pasted. For instance, copy-paste can be used legitimately to save time and to avoid retyping information such as patient demographics that remains unchanged from one encounter to the next.
Make providers aware about the significance of verifying the accuracy of the copied and pasted information and correctly describes the patient's current condition.
Document history of the present illness based upon the patient's description during that visit.
Review the medical, social, or family history from a previous note with the patient to confirm it is relevant to the current appointment.
Make sure that the source of information which has been copied and pasted can be readily recognized and validated, and is available for review in the future. This could also discourage copying.
Ensure that the diagnoses documented in the assessment are only those addressed at that visit. Avoid copying all the diagnoses in the problem list as some may have been addressed or are not the reason for this particular encounter.
Set up a mechanism to make copy and paste material easily seen.
Ensure that the origin of copy and paste material is readily available; this will make the original author and the credibility and timeliness of the information easily identifiable.
Educate providers about patient safety risks associated with the inappropriate use of this function as well as the importance of adhering to all regulatory, legal, and compliance guidelines.
Verify copied and pasted information prior to final submission in order to ensure its accuracy, reliability, and appropriateness.
Implement an audit policy to monitor, measure, and assess physician and staff use of copy-paste.
A study published in Medicine in January 2022 found that appropriate policies to restrict the use of copying and pasting can lead to improvements in inpatient healthcare quality.  Audit trails can help detect the improper or unsafe use of the function and also help identify appropriate and effective ways to reuse correct and current information, when applicable, to promote patient safety. Practices can also work with their EHR vendor to make modifications in the software, such as disabling the copy and paste function in designated fields, to promote compliance with established policies.
Role of Medical Transcription Services
Relying on information that is inaccurate, out of date or from a wrong source negatively impacts patient care and safety. Physicians need to strictly avoid overuse of the copy-and-paste function to meet timeline goals. They must perform clear history taking and physical examinations with accurate adjustments and optimal treatments. Partnering with a experienced medical transcription company can ensure error-free documentation of patient encounters. Outsourcing companies provide exemplary solutions for all specialties, ranging from family practice medical transcription services to cardiology and endocrinology transcription services, and more.