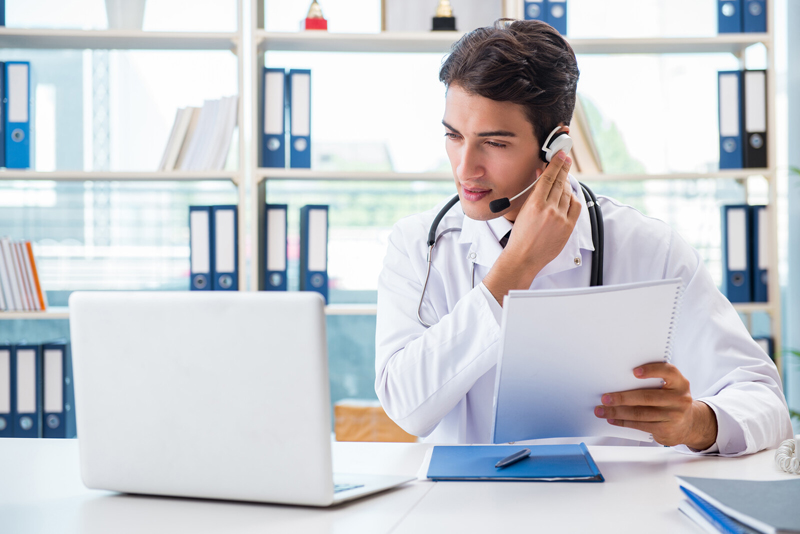 U.S. coronavirus cases have reached 1000 at the time of this writing (March 11), leading authorities to limit public interaction and urge students to take classes online. Infectious disease specialists are staying prepared and vigilant to manage people with suspected exposure, while researchers are working round-the-clock to find drugs or vaccines to treat or prevent COVID-19. As the battle against the spread of the outbreak intensifies, some EHR vendors have updated their software to screen and support patients with 2019-nCoV. US based medical transcription companies are ensuring that frontline clinicians tackling COVID-19 get the efficient documentation support they require.
The healthcare industry is looking to telehealth to fight the spread of COVID-19. On February 25, Dr. Nancy Messonnier, director of the National Center for Immunization and Respiratory Diseases at the Centers for Disease Control and Prevention (CDC), recommended telehealth as a feasible option to triage and treat low-risk patients to reduce risks of transmission. However, Messonnier urged Congress to ensure that telehealth is a viable option for all seniors, since the fatality rate for older patients is significantly higher (www.modernhealthcare.com). First week of March, Congress passed a coronavirus response bill that will allow Medicare reimbursement for telehealth services to treat older adults at home.
COVD-19 poses serious risks for seniors, including death. A study of patients in Wuhan, where this infectious disease originated revealed that elderly patients are more likely to develop acute respiratory distress syndrome (ARDS), which causes severe breathing problems. The researchers also reported that patients who get ARDS are likely to be older and usually have other illnesses like diabetes, heart disease, and kidney disease (www.forbes.com). In fact, the CDC's March 3 update recommended that individuals age 65 or older think about the actions they can take to reduce their exposure. Older adults do not have the immune tolerance that younger people have. Restricting face-to-face contact or social distancing has been recommended to prevent COVID-19 spread in communities.
Modern Healthcare lists many ways how telehealthis a practical option to help prevent the spread of coronavirus, and especially help seniors:
24X7 access to care: With telehealth, patients can access care quickly round the clock, without having to make a trip to the doctor's office. Though there is no specific medication for the coronavirus, clinicians can use telehealth to provide patients with advice on self-care and also keep them under observation at home.
Ensures patients stay at home: By keeping patients at home, telehealth visits minimize community exposure. Patients who identified as at risk can avoid contact with other patients in waiting rooms and also the physicians who treat them. Video visits even allow providers to work safely from home.
Helps reserve in-person care for high-need patients: Telehealth will allow healthcare providers to focus on triaging and screening exponentially more patients with telehealth vs. an in-person visit. This will enable them to identify the critical cases that require attention in brick-and-mortar settings.
Allows patients to access infectious disease specialists: With telehealth, patients, especially those in rural areas, can get the specialized care they need from infectious disease experts across the country.
The coronavirus response bill that Congress passed authorizes about $500 million to allow for Medicare providers to administer telehealth services. In addition to providers, payers and vendors are also using telehealth to expand access to care (mhealthintelligence.com). Blue Cross Blue Shield Association (BCBSA) BCBS will expand access to telehealth and nurse-provider hotlines. Spectrum Health has announced free virtual screenings for individuals in Michigan who are experiencing possible COVID-19 symptoms, which will help determine those who need further evaluation Bright. md's free COVID-19 evaluation and screening tool is available to all hospitals in the US. The tool will enable patients to access to advice from home, 24 hours a day, so that they can stay quarantined. If it finds that the patient has COVID-19, the software will direct the individual to care. Older people and those with severe chronic medical conditions have been advised to stay home as much as possible. Leading EHR vendor Epic says that their software is equipped with various tools to help treat and prevent the spread of COVID-19. Epic EHRs facilitate electronic visits, MyChart messages or video visit functions that allow patients to virtually connect with clinicians without going to the hospital and potentially infecting others.
As healthcare industry puts in its best efforts to combat COVID-19 with the support of the federal government, infectious disease medical transcription service providers will remain committed to providing accurate and timely support for proper management of medical records.