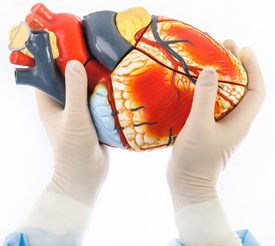 Modern electronic documentation tools are designed to better equip physicians and medical transcription companies to improve the quality and the efficacy of medical documentation, and enhance communication between all healthcare providers. However, EurekAlert reports that a new study published in JAMA Cardiology found that atrial fibrillation risk prediction algorithms failed to work properly when applied to electronic medical records (EMRs).
Atrial fibrillation, also called AFib or AF, is irregular and often rapid heart rate which can increase a person's risk of stroke, heart failure and other heart-related complications. According to the U.S. Centers for Disease Control and Prevention, up to 6.1 million people in the United States have AF and that the condition contributes to about 130,000 deaths each year.
Although AF itself is usually not life-threatening, it is nevertheless a serious medical condition that could require emergency treatment.Early identification of patients at risk for atrial fibrillation can reduce complications.
Given that EMRs are a powerful tool in medical practice, the cardiology team at the University of Illinois Hospital & Health Sciences System worked with other experts to find out if a widely accepted AF risk prediction model would work when applied to the electronic medical record. The team found that the algorithm could not accurately predict the incidence of AF when applied to the EMRs of a large group of patients. The key points of the research are as follows:
The study was based on the medical records of patients who as of December 2005 did not have AF but returned for follow-up care at least three times within the next two years.
EMR was used to follow the subjects' health for five years to see how many developed atrial fibrillation
The Cohorts for Heart and Aging Research in Genomic Epidemiology (CHARGE) AF risk model, when applied to the EMR, under predicted the incidence of atrial fibrillation among low-risk subjects and over predicted the incidence among high-risk subjects.
The researchers concluded that accurate risk prediction is possible only by developing AF algorithms that work when applied to EMR. This would allow the development of customized preventive strategies.
The study suggests the model's failure to accurately predict atrial fibrillation may be due to varying baseline features of the prospective and EMR cohorts and an "indication bias," wherein people who developed AF possibly had more clinical interactions than those who did not.
The researchers also highlighted inconsistent EMR data-entry procedures as a limitation of the study. It has been found that physicians are likely to make mistakes when entering data in the electronic record's customizable documentation applications, leading to an inaccurate picture of the patient's condition at admission and over time. Outsourcing medical transcription is a widely recommended strategy to ensure documentation integrity. EMR-integrated medical transcription services can ensure the accuracy of the health record and prevent issues that could compromise patient care,quality reporting, and research.