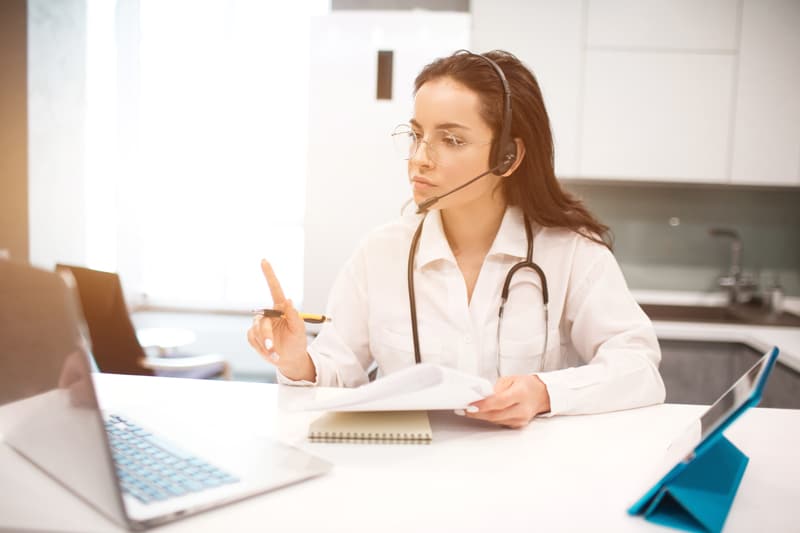 Electronic Health Records (EHR) completely changed the landscape of healthcare industry and the way how physicians treat patients. Today, around 95 percent of hospitals and medical practices use EHRs to ensure a uniform way of storing medical records and to provide quality care. The systems provide patient access to their medical records, which allows patients and their families to take charge of their own health. Companies offering medical transcription services can build HL7 integrations for any EMR system.
With the outbreak of COVID 19, the use of telehealth has surged. Telehealth helps physicians provide best care to remote patients and also maintain social distancing. It also makes it easier for more people to access medical care, especially patients who are unable to see their doctors as often as they need to, such as those with restricted mobility, the elderly, rural patients who don't have a medical facility in their vicinity. In these difficult times, when the number of patients is increasing rapidly, hospitals are integrating EHR systems with teleheatlh platforms to provide quality patient care.
Before COVID-19 struck, not many patients were using telehealth. One EHR network experienced a 3400 percent increase in daily telehealth visits during mid Febuary and late April, when patient volume started rising rapidly due to the pandemic. Dr Dillon Miller, medical director of Blue Ridge Medical Group, and his team decided immediately that telehealth would be a major component during the outbreak and for a certain amount of time, it was the primary source of interacting with patients.
The telehealth experience is very similar to the virtual patient visit. Dr. Miller was conducting consultations with tools like Skype or Facetime. But he wanted a technology that had EHR embedded with it. Later, they stated using Athenahealth's telehealth solutions, which allowed the front office to get the patient checked in easily and was simple for the nurse to manage. Miller found this technology to be a useful option that could be used lifelong.
EHR and Telemedicine
While there are many benefits to telemedicine, having the right EHR software in place is essential for maximizing those benefits. An EHR system allows medical staff to stay organized and keep patient data secure.
When a physicians consults a patient during via telehealth, they have to access to the patient's health records to properly diagnose and assess the patient's symptoms and provide efficient care. Integrating telehealth technology within the practice's EHR system helps physicians to access the patient's health records. Using audio or video consultations directly from existing EHR systems creates a seamless, simplified virtual care workflow, just like the face-to-face patient doctor encounter.This system helps patients understand their diagnoses and they can also see a summary of their visit along with the rest of their medical history, helping to provide context for any new information once the patient is finished with their telehealth visit.
A combined approach of both EHR and telehealth helps healthcare providers as well as medical facilities to provide seamless patient care. It also eases the flow of information, reduces the chances of error when updating a patient's records, improves patient outcomes, and simplifies the billing process. Providers looking to implement a telehealth system should look for a platform that integrates with their current EHR system.
Providing the right care at the right time is very important and with EHR integrated telehealth, healthcare providers can provide quality patient care, especially during COVID-19 crisis. Today, many healthcare organizations opt for medical transcription services that can interface with their EHR system.