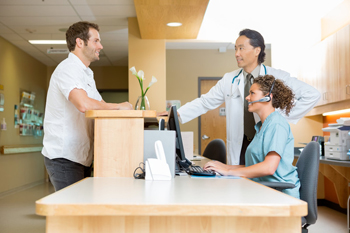 As electronic medical records and secure online portals grow, patients are gaining ready access not only to laboratory findings but also to clinicians' notes. Certain health care providers with EHR systems give their patients direct access to their health information online, which enables patients to keep better track of their care, and get their questions answered immediately, rather than having to wait hours or days for a returned phone call. Quick and easy communication between patients and physicians can also help the latter identify symptoms earlier.
The Washington Post recently reported on an experimental program at Beth Israel Deaconess Medical Center's pilot project aimed at providing behavioral health patients electronic access to their therapy notes. From March 1, this Boston healthcare center began providing patients with electronic access to their mental health notes written by their psychiatrists, psychologists and social workers.
All 15 clinicians in the hospital's psychiatry department are participating. Ten percent of their patients (350 people) were offered access to their notes. These patients can access the encryption-protected notes through a secure portal and can read them on their home computers.
According to an article published in the Journal of the American Medical Association (JAMA), primary care patients report that reading their doctors' notes brings many benefits including greater control over their health care. Though they do worry about EHR and loss of privacy, they thoroughly support making their records more available to them and even to their families.
The pilot project at Beth Israel has urged a debate among mental health professionals as to whether patients should be given electronic access to their psychiatry notes. Some clinicians are wary about the effects that this could have on patients and lead them to misinterpret the notes and believe that their therapist has judged them unfairly. However, supporters of the idea argue that sharing these notes would provide many benefits:
Reduces the stigma and isolation of mental illness
Boosts patients' self-image
Empowers patients to change their behaviors in positive ways
Beth Israel has made outpatient medical notes available since July 2013 and all except a few of the hospital's 800 doctors use the system. The physicians who participated in the program did not see many changes in their workflow because they were not overwhelmed with questions from their patients. Moreover, when it comes to documentation, professional psychiatry transcription services can always provide the necessary support.