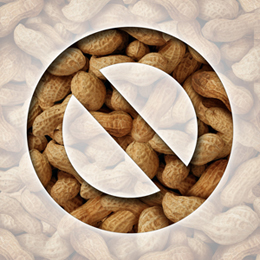 A study conducted by a group of New York researchers found that 1.4% of children in the U.S. had peanut allergy in 2010, up from 0.4% in 1997. The study also showed that the percentage of children with allergies to peanuts or tree nuts increased to 2.1% in 2008 from 0.6% in 1997, while it remained at 1.3% in case of adults. The researchers surveyed around 5,300 households and discovered more than three million Americans report to allergy to peanuts and tree nuts and that it was increasingly reported among children during the decade ending in 2010.
Allergy to peanuts can prove fatal and everything that the child eats needs to be closely monitored. The child's first contact with peanuts can cause itchiness, swelling of the tongue and throat, constraint of the airway, an abrupt drop in blood pressure, rapid heart rate, fainting, nausea and vomiting. Even inhaling peanut dust can have a grave reaction.
The above-mentioned study emphasizes that better treatment and prevention strategies are needed to deal with the increasing incidence of peanut allergies. This seems to suggest that clean living and intake of more medications make the immune systems more prone to attack harmless proteins in foods, pollens and animal dander. The lead author of the study has also opined that the increase in peanut allergies can be related to the way peanuts are processed. Roasting peanuts in peanut butter will change the sugar and make the harmless protein more stable for digestion and increase its susceptibility to attack by the immune system.
A recent study conducted by a group of Cambridge based researchers revealed that oral immunotherapy is very effective for peanut allergies in children. The study found up to 91 percent of children aged 7 to 16 were able to safely ingest around five peanuts a day after six months of oral immunotherapy, far more than they could prior to the treatment. However, it has not been proved how long the protection will last without continued immunotherapy and further studies are needed before clinical application. Previous studies showed that early exposure of infants to peanut allergies could sensitize them and lead to serious allergy and pregnant and nursing women were advised to avoid taking peanuts. However a recent study published in JAMA Journal reported that highest consumption of peanuts or tree nuts or both by nonallergic mothers during pregnancy can lower the risk of the child developing a nut allergy.
With peanut allergies on rise, pediatricians and allergists have their hands full. In addition to providing quality care, they need manage their documentation tasks. In this context, allergy and immunology transcription services can be of great assistance, allowing these specialists to devote more time to treatment.