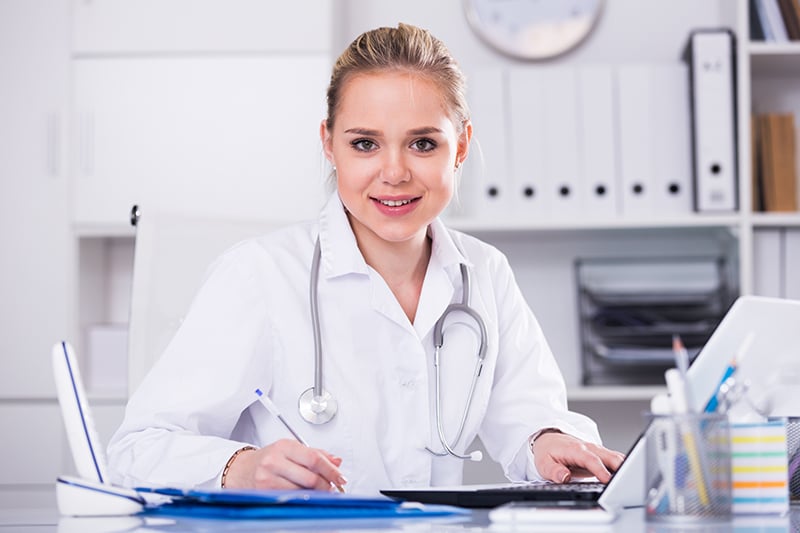 Digital technologies are transforming the way the world operates. Electronic health records (EHRs) have all but replaced paper records in modern healthcare organizations, and revolutionized the way patient data is collected, stored, managed and exchanged. Most providers outsource medical transcription to input the medical and treatment histories of patients into the electronic chart. EHRs are much more than a storehouse of clinical data. A good electronic health record would have components that drive better value-based care, interoperability, and much more.
How EHRs benefit Patients and Healthcare Providers
EHR systems offer many benefits for both patients and healthcare providers. The EHR improves communication between patients and physicians. Patients receive personalized notifications for appointments, follow-up visits and immunizations via the user-friendly patient portal. By scheduling appointment efficiently, EHRs cut down on patient wait times. Patients can view and track their medical information, prescriptions, and physician's notes all in one place, which improves patient engagement and enables them to make faster decisions.
By proving a greater and more seamless flow of information, EHRs allow physicians to provide seamless care. Up-to-date information recorded in a patient's EHR using medical transcription services can be easily shared with other providers and specialists involved the patient's care. EHRs come equipped with many features to reduce errors and enhance care quality, such as e-prescriptions and decision-making support tools to prevent adverse events associated with drug allergies and negative drug interactions. With digital medical records, physicians can view lab results, provide consultations, and monitor patients remotely. EHRs also allow providers to manage billing and other administrative tasks.
Components of an EHR System 
To function effectively, EHRs are equipped with certain components, functionalities and features. In fact, EHR developers are constantly looking to upgrade the design and features of their systems. The essential components of an EHR system are as follows:
Patient demographics and health data: EHRs are designed to enable the identification of individual patients in clinical work flows:

Demographic information and patient identifiers -The patient demographic information that EHRs contain include age, gender, and ethnicity/race.  Demographic data are often used to match patient records across data sources. EHRs also contain patient identifiers which include the patient's full name, date of birth, contact information such as address and phone numbers, name and contact information of close relatives, emergency contact details, and other personal information considered necessary for healthcare delivery.
Diagnoses: Diagnosis is often considered a key variable to evaluate a patient for inclusion in a registry, an essential tool for public health surveillance, research, and understanding rare diseases. EHRs problem lists are designed to provide clinicians with a brief summary of the patient's active diagnoses and key health issues.
Genetic information: EHRs collect and protect genomic data. individual's genetic data is used to predict a response to particular drug treatments.
Vital signs: Vital signs are an important facet of diagnosis and patient care. The Vitals tab in EHRs include all types of vitals measurements: temperature, pulse, respiration, blood pressure, and pulse oximetry, and much more. Vital signs are usually the first indication of a change in the patient's health status and provide a baseline to determine the treatment plan's effectiveness.
Medications: EHRs contain two types of medication information: medication history and prescribed medications (including route, dose, and day supply).
Chronic diseases and allergies: EHRs contain chronic disease data which can support more timely, actionable, and sustainable surveillance. Proper allergy documentation can enable clinical decisions to prevent adverse events.
Lab test results and radiology information: EHRs provide critical lab values and radiology data. The system allows clinicians to identify the necessary lab tests and order them electronically. By collecting and displaying lab results in meaningful ways, the EHR alerts clinicians to results that are outside normal ranges.
Immunization dates: The immunization record contains the complete timeline of the vaccines a patient received. Accurate immunization records are important for work, school enrollment, travel etc. The EHR Immunization records module makes it easier to document and track immunizations by showing when to schedule shots to protect against certain diseases.
E-Prescriptions: The electronic prescription component in the EHR allows physicians to prescribe medications more easily. E-prescribing allows providers to send patient prescriptions electronically to the pharmacy. E-prescribing has been found to reduce paperwork and the associated errors, increase efficiency, and save healthcare costs. Patients can collect the order when it is ready.
Laboratory interface: Lab interfaces allow providers to order lab tests directly from the EHR and seamlessly receive the results in the system. Today's EHR vendors support a number of lab interfaces. Some offer results management in the form of viewing an electronic copy of the actual lab report results along with additional details, or visualizing the results in a table or graphical format. Some systems allow providers to review and share results with patients.
Billing: EHRs come with a billing functionality. Billing can be made more convenient by linking the EHR with billing software or integrating the account management function in the EHR system. Most systems provide a batch export of the physician's daily encounters, and medical coders and billers can translate the information into accurate claims.
Appointment scheduling: This component should enable patient to view the physicians' working schedule, choose the right specialist, and schedule an appointment. Ideally, the appointment scheduling system should allow the front office to see all encounters for all providers in the facility as well as understand the patient load for any given provider.
Clinical decision support: As explained above, EHRs make available vast amounts of patient data and other information in a single, digitally searchable, electronic location. By presenting information and images that can be searched, reviewed, and compared. EHRs support clinical decision making.
Electronic communication: EHRs allow clinics, laboratories, and pharmacies and physicians to share information including patient information and research results. For instance, providers need to request and share data for referrals. EHRs allow patient information to be securely shared with another healthcare professional. This can be done in via email or direct messaging. Physicians can analyze the information communicated by the EHR, evaluate chronic diseases, past illnesses, and genetic predispositions, and determine the best treatment for the patient.
Reporting: EHRs feature built-in reporting tools. They provide reports on patient data and billing and physician-specific activities. Customized reporting capabilities can promote efficient workflow and intelligent insights. When a provider opens a patient chart, the EHR will store each command as a reportable action. With the large types and amounts of data it stores, the EHR can provide reports on patient health history, treatment history, biometric data, symptoms, and lifestyle choices, and create a comprehensive summary of patients' health status.
Population Health Management: The goal of Population Health Management (PHM) is to improve the health outcomes of a group of individuals by analyzing patient data in actionable patient records. PHM aims to develop new strategies to improve patient outcomes. The data gathered by the EHR system help providers ensure better patient outcomes and pursue Population Health Management. Advanced EHR systems support various PHM modules.
EHR systems offer multiple advantages including standardization of patient records in a legible format. They can increase patient safety, decrease medication errors, enhance and speed up communication, and improve the quality of patient care. However, to succeed with these goals, providers need to ensure accurate and timely EHR documentation. A medical transcription company that provides EHR transcriptions can ensure that clinical narratives are captured correctly and to meet providers' specific requirements. This will allow providers to maintain error-free medical records and improve care delivery.