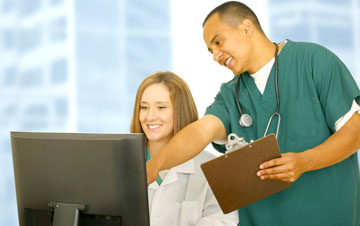 A new study has found that a customized emergency department (ED) provider electronic documentation system which replaced paper documentation impeded operational performance and increased ED length of stay (LOS). The American College of Emergency Physicians (ACEP) stresses the need for high-quality emergency department (ED) medical records to improve patient care. The ACEP strongly recommends that emergency physicians should have the same access to dictation and medical transcription services as provided to other hospital medical staff.
According to the Centers for Disease Control and Prevention, approximately 20% of U.S. adults seek health care at the emergency room (ER) each year, and there has not been much variation in this percentage in the last decade. The number of ED visits in the United States annually is estimated to be 136.3 million, with injury-related visits at 40.2 million. On study estimated that the average time spent waiting in the ED before seeing a physician, nurse practitioner or physician assistant is 24 minutes.
Emergency department mean length of stay per patient measured from the patient's arrival to departure is considered a measure of crowding. It is also generally considered a key process marker for performance improvement and clinical and operational efficiency. From the patient's point of view, total LOS and long wait times to see a physician or for test results would seem to indicate that the ED is busy and crowded. A study published in the West Journal of Emergency Medicine in 2012 reported that the key factors associated with LOS include hospital occupancy and the number of hospital admissions that originate in the ED. This is especially applicable to ED patients who are admitted to the ICU.
The recent study, which was published in the Annals of Emergency Medicine and reported on in AMA Wire, found that custom implementation of an EHR system led to increases in overall and discharge length of stay (LOS) in the ED. This has important implications considering that federal government incentives have helped more than double the implementation of EHRs in EDs, according to the National Center for Health Statistics.
The researchers asked physicians to provide input with design, testing and implementation of the custom electronic documentation system. They found: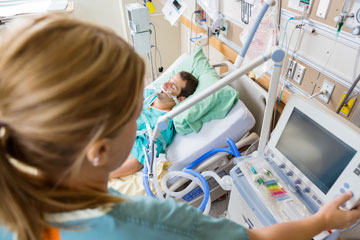 A 6.3-minute rise in LOS for patients treated and released
A 5.1-minute increase for discharged patients
There was no statistically significant change in time to disposition or LOS for admitted patients.
The team said that when the small increase in LOS was extrapolated to the entire department, it would result in an "additional six minutes per patient encounter which would add more than 16 hours per day for an ED serving 165 patients per day".
AMA Wire cites the study's lead author as saying, "The emergency department is a fluid and highly dynamic environment, with high volume, sick patients and frequent distractions and interruptions." He noted that though EHR implementation can provide value in the emergency setting, the environment in EDs is especially vulnerable to changes that impact operational efficiency.
The researchers concluded that:
A custom-designed electronic provider documentation may negatively affect ED throughput.
The increases in LOS could lead to decreased patient satisfaction and delays in care for conditions that are time-sensitive.
New interventions are needed to alleviate the effect of electronic provider documentation on ED efficiency.
A change to ED workflow that has a small effect for each individual patient could easily create a large ripple effect in ED flow and efficiency as a whole.
A high-quality, successfully implemented ED medical record is one that accurately captures the process of evaluation, management, medical decision making, and disposition related to a patient encounter. A CDC study published in 2016 reported that seriousness of the medical problem was the reason for the most recent ER visit for 77% of adults aged 18-64. In this context, it is critical that EHRs in emergency departments function efficiently to improve provider documentation efficiency, optimize care, and reduce LOS.
According to the researchers, a valuable area of future research would be strategies to mitigate these effects, such as reducing documentation requirements or adding clinical staff, scribes, or voice recognition. Efficient EHR-integrated medical transcription services can also play a key role in improving documentation efficiency in the ED. In the face of a changing reimbursement and regulatory climate, providers need to implement steps for decreasing length of stay (LOS). A reliable medical transcription company would take care of ED documentation tasks, while emergency physicians take steps to provide timely, quality care.