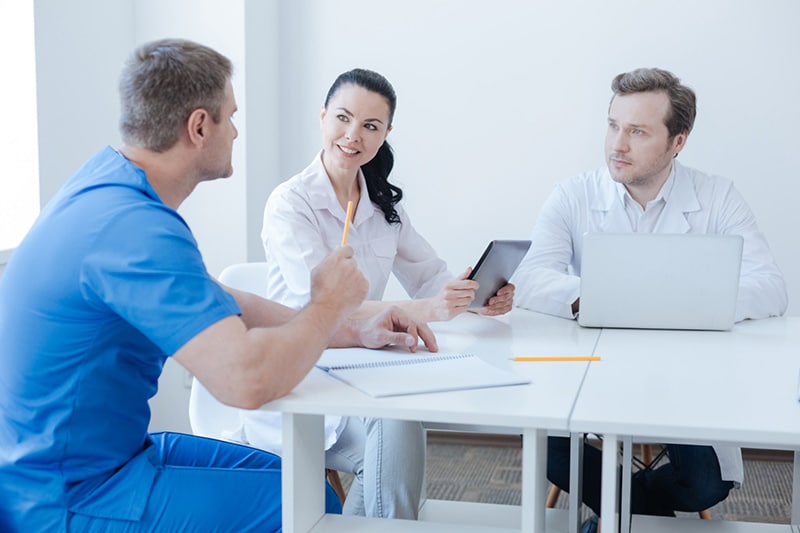 Speech recognition technology (SRT) converts the spoken word to text and helps physicians to improve productivity and turnaround time. SRT is widely used in Electronic Health Record (EHR) systems of healthcare organizations and medical practices. As it eliminates the need to use the keyboard, SRT simplifies and speeds up tasks like searches, queries, and even form-filling. Medical transcription services have evolved to include SRT editing which involves identifying errors in physicians' SRT-draft documents.
In Front End SRT, the physician dictates directly into the machine and the words are automatically transcribed and displayed on the screen in real-time. Errors can be corrected and the document can be finalized and signed immediately by the physician. The main drawback of this method is that takes up a lot of the physician's time. In Back End SRT, the speech-to- text conversion takes place after the dictation is complete. The software converts the digital voice files into a text document and this is sent to a medical transcription company for proofreading and editing. The transcriptionist has to listen to the voice file to identify errors in the draft document. With Back End SRT, the physician is freed of this task.
The goal of speech recognition software is to enable accurate, faster and more cost- effective healthcare delivery and documentation than handwritten notes or medical transcriptionists. However, in reality, speech recognition technology has fallen short of its potential, according to an article published in the Journal of AHIMA in 2020. The article cites a 2017 study published in Jama Network Open which found that SRT-generated documents did not provide the promised accuracy. The researchers found that editing, and review by healthcare documentation specialists and healthcare providers was crucial for SR generated clinical notes.
The study was based on 217 randomly selected medical reports of different types that had been dictated by 144 physicians from two different healthcare facilities using SRT. The error rate in the documents was:
7.4% in in SRT generated reports
0.4% after reports were reviewed by medical transcriptionist, and
0.3% in the final version signed by the dictating physicians
SRT made errors in the prescribed doses of medicine, medication names, numbers, and even medical conditions. There were also word deletions, omissions and misinterpretations.
The researchers pointed out that though the error rate is a little lower after clinician review, requiring clinicians to review notes rather than allowing medical transcriptionists to assist with review may further increase administrative burden.
"Clinicians face pressure to decrease documentation time and often only superficially review their notes before signing them," wrote researchers. "Fully shifting the editing responsibility from transcriptionists to clinicians may lead to increased documentation errors if clinicians are unable to adequately review their notes," they explained.
Other common SRT transcription errors include spelling, grammar, word substitution, homophones, incorrect tense, punctuation mistakes, incomplete phrases, and age/gender mismatching. Oftentimes, SRT cannot recognize heavy accents and multiple speakers.
Completed and signed medical reports are regarded as legal documents. Therefore, before signing, the document should be carefully proofread by an experienced medical transcription service provider or healthcare documentation specialist, and finally reviewed by the physician. Not having documentation quality assurance practices in place can lead to malpractice suits and heavy penalties. Experts also highlight the importance of investigating clinicians' satisfaction with SR technology, its ability to fit in with clinicians' workflows, and its impact on documentation quality and efficiency compared with other documentation methods (beckershospitalreview.com).
Organizations that utilize SRT should implement proper policies and procedures to ensure that SRT-generated clinical documents are proofread and reviewed. An ideal option would be to have a reliable medical transcription company check the accuracy, completeness and format of EHR documents transcribed by the software before they are reviewed and signed by the clinician.