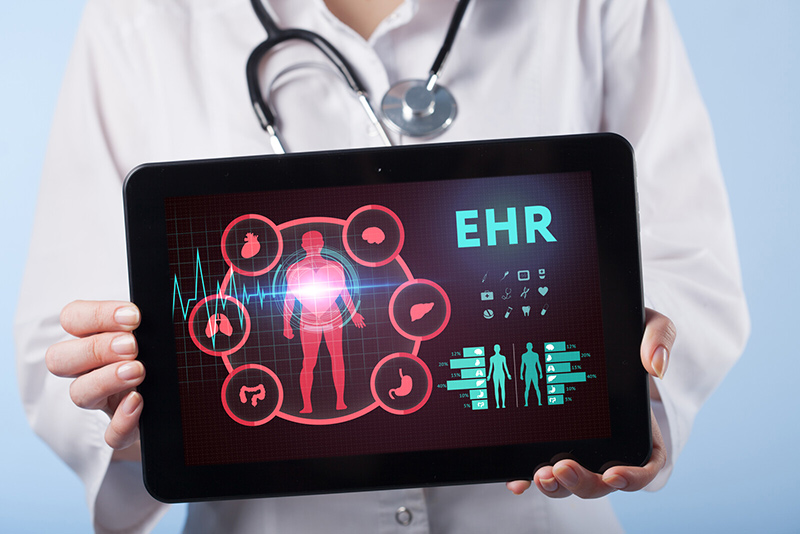 Electronic Health Records (EHRs) were introduced with the objective of standardizing patient data and ensuring better access to it. The process of EHR documentation is simple and easy – just click, input data and save. However, in reality, users don't find EHR documentation quick and easy. With EHR system, physicians are forced to spend their valuable time on the computer capturing patient's medical information and tend to miss out opportunities to engage with patients during the office visit. Studies have shown that physicians spend one third their time in exam room looking at the computer screen. Medical transcription services are a practical solution to this problem. Healthcare units now address EHR-related data entry issues with EHR-integrated medical transcription solutions.
Issue with Adopting EHRs
The Electronic Medical Records (EMR) Mandate requires all healthcare providers to convert all medical charts to a digital format. But it took a long time for healthcare provider to implement EHR system. This was mainly due to cost involved in EHR adoption. In 2009, the Harvard School of Public Health published a study on why hospitals in the U.S. were slow to adopt EHR technology. The study concluded that less than 2% of surveyed hospitals had implemented a comprehensive EHR system. According to The Office of the National Coordinator for Health Information Technology, in 2017, around 95 percent of hospitals used a certified EHR system. Almost all large and medium-sized hospitals had implemented an EHR, with small, rural hospitals at 93 percent.
After the implementation of EHR system, physicians were forced to spend more time on documenting medical records and this led to physician burnout. Stanford Medicine published a study in 2018 which reported that 74% of surveyed physicians said that using the EHR system had increased daily hours worked. Around 69% said that using an EHR platform takes valuable time away from seeing patients.
Another concern in the implementation of EHR is data input. Patient are concerned about how and when their medical records are shared. The issue of how and who enters data into an EHR is an overriding issue. Inputting data into EHR is a tedious task for healthcare providers. Both physicians and patients say that when doctors spend more time during an exam entering data into a computer or portable device, neither are satisfied with the outcome. This has led to many physicians hiring virtual scribes to input patient data into their EHR system. The adoption of speech recognition technology allowed recorded conversations to be automatically documented and inputted into the EHR. But due to the complex terminologies used in healthcare, this often led to errors.
The current solution is the balanced approach which involves EHR-integrated medical transcription services. Practitioners record conversations of their patient interaction and have the audio files converted to written format by a medical transcription company. Skilled documentation specialists are trained workers who can capture accurate information without any errors or duplication. With accurate medical records, patient safety, reimbursements and risk management goals are all met which improves the efficiency of the organization. So, from a practical point of view, medical transcription plays a vital role in EHR documentation.
Not all medical transcription providers are the same, so it is important to choose a reliable service. The medical transcription service company must be HIPAA compliant and can ensure error-free and timely clinical documentation.