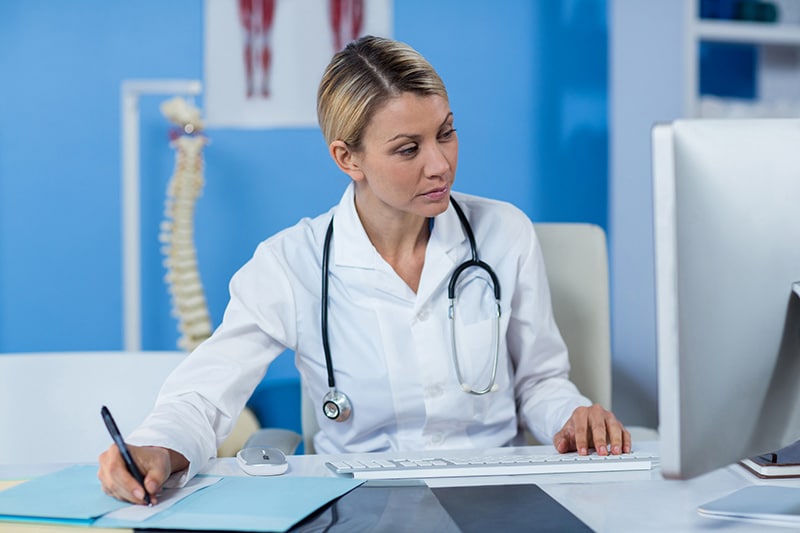 The occupation of medical transcriptionists as defined by the U.S. Bureau of Labor Statistics (BLS), is to "transcribe medical reports recorded by physicians and other healthcare practitioners using various electronic devices, covering office visits, emergency room visits, diagnostic imaging studies, operations, chart reviews, and final summaries. Transcribe dictated reports and translate abbreviations into fully understandable form. Edit as necessary and return reports in either printed or electronic form for review and signature, or correction". Medical transcription services have come a long way since their inception. The earliest records were surgery notes on papyrus in 1600 BC, according to Mobius MD. The 21st century sees medical transcriptionists playing a key role in the healthcare system by supporting physicians in the creation of electronic health records (EHRs).
Prior to the 1960s, physicians made their own notes on patient encounters, tests and operations. With the establishment of hospitals and other medical facilities in the early 20th century, a more formal method of creating patient records became necessary. The first medical note-takers were stenographers or medical secretaries who took physician dictation in shorthand and type out the notes on typewriters. The paper documents, which included handwritten notes and typed reports, were stored in individualized folders in filing cabinets. When a particular patient's record was required, it would have to be located and delivered to the requesting physician.
The next phase in the history of medical transcription began when audio devices such as the portable recorder and tape cassette entered the scene. This laid the foundation for medical transcription as a formal profession. With audio devices, medical transcriptionists could record physician dictation and transcribe it at a later time.
The introduction of word processing machines in the 1970s improved transcription accuracy and speed. Advancements in technology transformed medical transcription as well. Dictation technology progressed from micro-cassettes to digital recorders to voice recognition. In 1978, the American Association for Medical Transcription (AAMT), now known as the Association for Healthcare Documentation Integrity (AHDI), was established as part of an effort to achieve recognition for and support the medical transcription profession. In 1999, the U.S. Department of Labor awarded medical transcriptionists their own job classification.
In the meanwhile, things changed dramatically with the advent of the internet. Physician dictation could now be sent via the web to medical transcription companies in other locations, either in the country or abroad, for transcription. The files were uploaded to and downloaded from an FTP server by medical transcriptionist and the healthcare provider.
In 2015, the introduction of electronic health records (EHRs) transformed the way clinical documentation is created. To ease documentation, EHRs come with cookie-cutter templates, drop-down lists, and check boxes that the physician can to document interactions and care at the patient encounter. With front-end speech recognition, providers need to edit/proofread their results to ensure the templated information is entered correctly and dictated text is accurately recognized by the technology. In other words, rather than easing things for the physician, the EHR made documentation more complex and physicians found it difficult to manage data entry with the patient sitting in front of them.
With physician stress and patient safety concerns associated with EHR usability issues, medical transcription outsourcing saw an uptick in dictation volumes as physicians turned to these clinical documentation specialists for support for editing and proofreading transcribed documents. Moreover, medical transcription software can safely and directly create an interface with the EHR. This allows the software to interpret data more effectively and eliminate any static information. With EHR implementation, the medical transcription process is required to comply with HL7 data requirements, which has increased the demand for advanced dictation software with speech recognition capabilities for more efficient data transfer.
Experience shows that speech recognition assisted clinical documentation comes with a higher rate of errors than records created with the help of medical transcriptionists. The technology's ability to transcribe unfamiliar words and homophones such as their/there, terms, drug names, and phrases is limited. Also, the software tends to find it difficult to interpret different accents or dialects and dictation that lacks clarity. This means that the report generated will usually have errors and need substantial editing. With their busy schedules, physicians hardly have time to review their dictations. Fortunately, they can rely on an experienced medical transcription company to handle this task efficiently and in fast turnaround time.
To conclude in the words of Gary David, PhD in a For the Record Q&A: "Transforming dictated voice files into complete healthcare documentation is an amazing skill that involves a range of competencies. Ultimately, doctors do not generate revenue; documents generate revenue. When reimbursement occurs, it is based on the documents. When audits occur, they are based on the documents. Coding is done on the documents. Without quality documents, this process can break down".