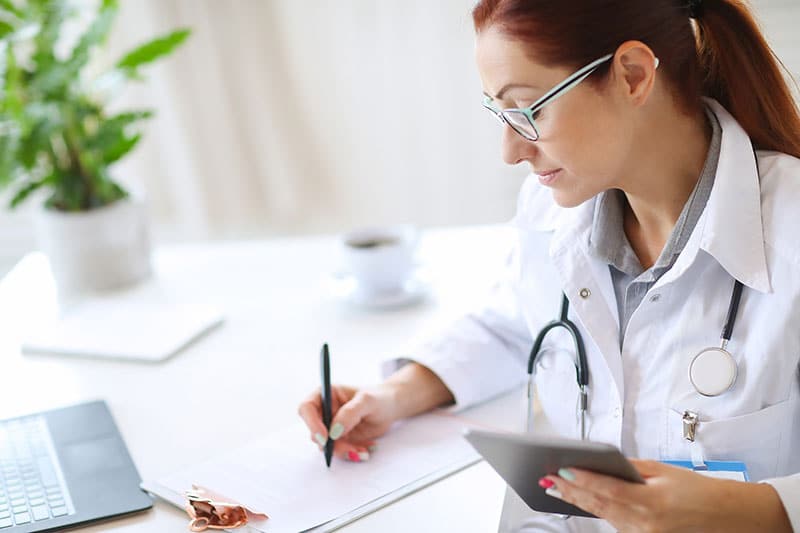 Consistent, accurate, complete and up-to-date medical records are vital for proper health care delivery and continuity of care, as well as for insurance, legal, and other purposes. The healthcare provider's responsibility includes managing the records of current patients as well as retaining old records to meet potential needs, and providing HIPAA-compliant remote access to patient information by a third party vendor like a medical transcription company.
Basic Functions Of The EHR
EHRs contain extensive information generated as a result of patient care:
Patient demographics
Progress notes
Vital signs
Medical histories
Diagnoses
Medications
Immunization dates
Allergies
Radiology images
Lab and test results
Administrative and billing data
An EHR contains information from all clinicians involved in a patient's care and is designed to allow access to this information by physicians, healthcare facilities, and other organizations – such as laboratories, specialists, medical imaging facilities, pharmacies, emergency facilities, and school and workplace clinics. Today, patients too can access their medical records. Medical transcription outsourcing plays a key role in helping healthcare professionals maintain good electronic health records (EHRs).
Management Of Medical Records – Key Considerations
Proper medical record-keeping is a vital part of maintaining professional values and standards.
Legibility: All entries, whether digital or handwritten, must be legible and allow for a meaningful review by another provider involved in the patient's care. Physicians need to be especially vigilant about this as some template based EHR systems can create a lot of irrelevant data that can be hard to interpret. A new study published in Sage Journals suggests that personalized readability formats (PRFs) could improve readability of medical passages in EHRs by 15% while maintaining comprehension.
Date and Signature: All entries in the medical record should be authenticated by the provider along with the date and time. The signatures can be handwritten or an electronic signature, but should be legible. CMS also instructs that late signatures should not be added to the medical record, unless they occur from the delay caused waiting for transcription to be complete. Medical record entries completed by a scribe or medical transcription service provider must be signed and dated by the treating physician's/non-physician's (NPP).
Timely Entries: All services provided to beneficiaries are expected to be documented in the medical records in a timely manner. CMS guidance on this is as follows: "The service should be documented during, or as soon as practicable after it is provided in order to maintain an accurate medical record."
Confidentiality: The American Medical Association clearly states that physicians have an ethical obligation to manage medical records appropriately in keeping with the professional responsibility to safeguard the confidentiality of patients' personal information. Compliance implies adhering to HIPAA security measures which include:


Establishing a clear policy prohibiting access to patients' medical records by unauthorized personnel
Limiting access to facilities where records are stored
Identifying and proactively protecting patient records against anticipated security threats
Training the organization/practice workforce on medical records security procedures
Implementing technological security tools for protecting electronic health information

Record Retention: Facilities should use medical considerations to determine how long records have to be retained. For instance, immunization records should be kept indefinitely as also records of key health events, conditions or interventions that can impact the patient's care in the future.

Make Medical Records Available: Medical records should be made available as requested or authorized by the patient or the patient's designated representative and also to other physicians involved in the patient's care, and the succeeding physician or authorized individual when the physician discontinues his or her practice. HIPAA permits covered entities to share protected health information (PHI) with third-party vendors such as independent medical transcriptionists, pharmacy benefits managers, claims processors, consultants, and other organizations called business associates (BAs). However, when outsourcing medical transcription or administrative work, it is critical for healthcare entities to choose a BA that meets HIPAA regulations.
Corrections and Amendments to Records: If an error is made in a medical record entry, the mistake should be handled in the right way. Physicians need to know what they can and cannot do with regard to making changes in the EHR. The original entry must not be deleted, and it should be possible to access the inaccurate information. The reason for the correction must be indicated, and the amendment must be dated and signed by the person who made the changes. Click here to learn about best practices for amending EHR documentation.
The best way to maintain complete, accurate and concise medical records is to document the patient encounter in real-time, or shortly afterward.