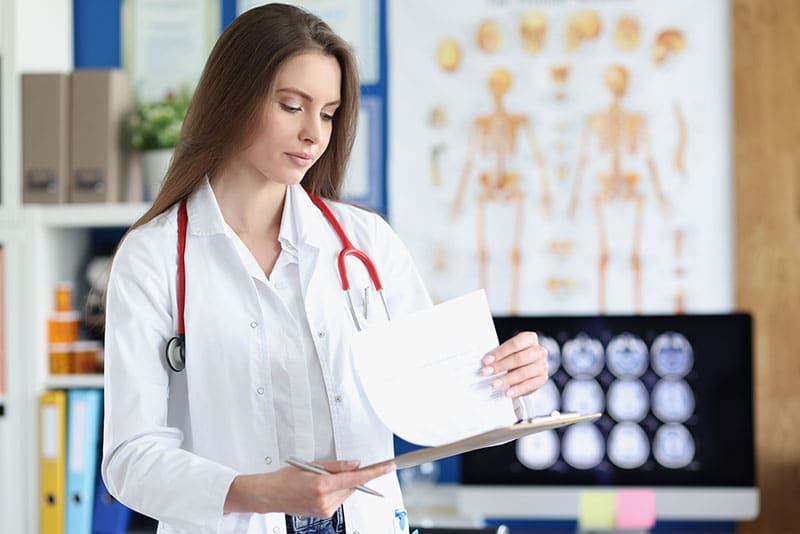 The history and physical (H&P) is one of the most important notes that medical transcription companies help family practice physicians include in the electronic health record (EHR). The H&P is critical for the physician to postulate the diagnosis when seeing the patient for the first time and order investigations to confirm it. Subsequent visits may only require a review of the medical history and updates to it. The H&P to provide medical authorization for surgery must be completed and documented at least a week before the scheduled operation. If emergency surgery is needed, the surgeon should have the document in hand before the patient reaches the operating room.
Medical history typically includes the following:
Presenting complaint and history of presenting complaint, including tests, treatment and referrals
Past medical history – diseases and illnesses treated in the past
Past surgical history – operations undergone including complications and/or trauma
Family medical history – chiefly of parents, siblings and children – which can be a genetic predisposition to a particular disease
Social history – alcohol, smoking, recreational drug use, accommodation and living arrangements, marital status, baseline functioning, occupation, and so on
Allergies, and current or past medications.
Review of systems: respiratory, cardiovascular, gastrointestinal, musculoskeletal, genitourinary, and nervous system
The history is the key component of patient assessment and regarded as the most important part of the patient-physician interaction. Generally, the history alone can provide most of the information about the patient. Diligent history-taking at a clinical encounter could help prevent patients from re-presenting with disastrous outcomes caused by missed diagnoses.
Tips to Improve Patient History-taking
Here are some expert tips to improve patient history-taking:
Build Rapport with the Patient and Communicate Well: The main goal of taking the history is to identify the patient's problem and care priorities so that proper interventions can be recommended. "A good history is one which reveals the patient's ideas, concerns and expectations as well as any accompanying diagnosis", notes an article on www.patient.info. To get the patient talking, the healthcare provider needs to make them feel comfortable by building rapport with them. For instance, asking patients about social history aspects like work or lifestyle can help build understanding. Telling the patient about the purpose of the conversation would encourage them to provide focused information. When patients are at ease, they are likely to provide important information. A good history is one that throws light on the patient's ideas, worries and expectations along with any associated diagnosis.
Allow the Patient to Speak Initially: A 1984 study revealed that interrupting the patient early in the encounter and then reverting to closed questions often led to nondisclosure of relevant details by the patient (onthewards.org). It was found that when patients could complete their opening statement, more medical issues came to light. Letting the patient speak would make them feel that they have been heard and make it easier for the physician to move on to getting the history. The physician should ask the patient about their key concern so that it can be addressed.
Listen: Actively listen to the patient's story. Instead of asking a barrage of questions to obtain information about the patient's condition, physicians need to listen attentively to what the patient has to say. This can help the physician better understand the patient's experience of the illness and related matters.
Get the Basic Information: This includes past medical history, medications, allergies, medications, and information about chronic conditions like diabetes and any complications. Additional details like the treating physician, last encounter and how well the condition is controlled should be included. Ethnicity, developmental history, pregnancy and fertility, travel history, etc. can provide important clues for diagnosis. For instance, the history of patients with fever and acute respiratory illness or other symptoms of COVID-19, should include information regarding travel history or exposure to a person who recently returned from a country or state experiencing active local transmission.
Be Flexible: Start with social history and past medical history before going into the history of presenting complaint, recommends an on the wards report. Knowing these earlier aspects of the history are important for establishing the probability of a condition before the investigation. It can also help with questions about the presenting condition and to make decisions about the testing.
Understand your Cognitive Biases: History taking is prone to cognitive biases such as Overconfidence, lower tolerance to risk, confirmation bias, anchoring bias, and information and availability biases. These 'traps' can lead to incorrect diagnosis and affect medical decision making. Physicians need to be aware of their cognitive biases and work to minimize bias-related errors.
Summarize the Information: Summarizing what the patient has said will help you better retain the information in your memory and ensure that you have understood it and the sequence of events.
Access to reliable family practice medical transcription services is important for physicians to maintain accurate patient records. Expert transcriptionists will format H&P reports and headings as required by the facility they are working for.
Experience how we can streamline your documentation process, saving you time and ensuring accuracy.
Disclaimer – The content in this blog that is provided by Managed Outsource Solutions (MOS) is only for informational purposes and should not be seen as professional medical advice. MOS is only passing on information that is already published and does not accept any responsibility for any loss which may occur due to reliance on information contained in this blog.