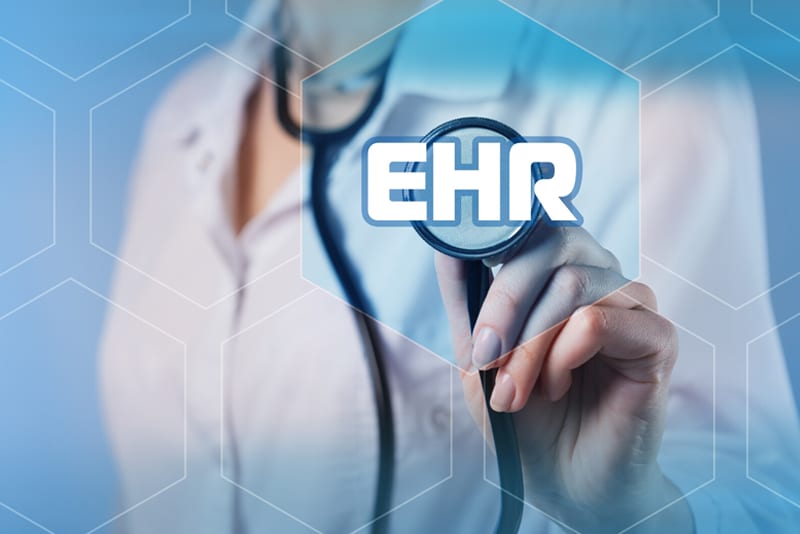 Electronic health record (EHR) systems have made it easier for medical practices to store and manage patient information. Outsourcing medical transcription allows physicians and their staff to focus on patient care rather than managing burdensome EHR documentation tasks. There are two types of EHR systems: on-premise and cloud-based. On-premise or server-based EHR systems store patient data within the practice's personal server. In a cloud-based EHR system, data is stored on off-site servers and accessed through the web. 2018 Black Book survey found that 30% of practices with more than 11 clinicians are looking to replace their EHR system by 2021, and 93% are focusing on cloud-based mobile solutions. Amidst the pandemic, efficient transition to cloud computing could protect patient data, say IT experts (www.hitconsultant.net). Let's look at the key advantages of implementing cloud-based EHR systems in medical practices.
Seamless integration and data sharing: Cloud-based interoperability allows seamless integration and data sharing which streamlines the healthcare process, improves care coordination, and optimizes health outcomes, notes a recent Physicians Practice report. Physicians need to share clinical data with labs, referring physicians, and payers and doing this manually can difficult and time-consuming. Cloud-based interoperability allows all parties to connect and share healthcare information efficiently and securely to improve the patient experience. A 2019 PointClickCare reported that 49 percent of acute care providers and 31 percent of post-acute care providers had limited patient data sharing access. Cloud-based EHRs could address this challenge (www.ehrintelligence.com).
Promotes data security: Patient data security is a critical element in EHR adoption. As patient health information (PHI) is shared between applications, providers and patients, it must be easily accessible and shareable, and also safe. Experts point out that cloud-based EHRs are more secure than in-house EHRs which are inherently vulnerable to data breaches. Poor security can be the result of the software itself or due to the lack of good practices by users. UChicago Voices reported 2,181 healthcare data breaches involving more than 500 records during 2009-2017. Experts say cloud-based EHRs are more secure than in-house EHRs. In a 2017 guide on cloud computing in healthcare, Cloud Standards Customer Council (CSCC) authors explained that cloud services are maintained by expert professional staff and come with sophisticated security controls, including data encryption and fine-grained access controls and access logging (www.ehrintelligence.com).
Saves money and boosts revenue: Experts say that a cloud-based EHR system can also improve a practice's bottom line. First, it comes with significant up-front savings as implementation is far less expensive than client-server systems. As the EHR system is maintained by a Service (SAAS) provider, the practice does not have to spend time or money on server installation, maintenance or updates. Next, as Physicians Practice notes, adopting cloud-based interoperability allows practices to offer patients various payment options and methods, which speeds up collections and boosts patient satisfaction. Adopting interoperability and accompanying standards will help physicians connect with multiple payers more efficiently, and improve claims payment and revenue.
Greater flexibility: A cloud-based EHR system is scalable, allowing growing practices to easily add on physicians, users, and locations. As a HIT Consultant report points out, cloud-based solutions can generate more power as necessary to handle additional traffic, and cut it during downtimes so that providers do not have to pay for unused capacity.
Benefits public health: Relying on outdated communication technology like fax machines is a major barrier to communication and collaboration in healthcare. The COVID-19 pandemic highlighted the significance of cloud-based EHR interoperability for physicians to identify a lab and order lab tests in a timely manner, according to Physicians Practice. By enabling a nation wide lab network, cloud-based interoperability improves the coordination of testing and provides physicians with improved ways to find a lab, order a test, get the results, and provide care for patients who test positive.
Adopting a cloud-based EHR can create more patient-centered healthcare system and safeguard data. With accurate and timely medical transcription services and a cloud-based EHR, physicians can share medical records easily, and improve communication and compliance. Interoperability also supports telehealth, which has gained immense significance during the COVID-19 healthcare crisis.