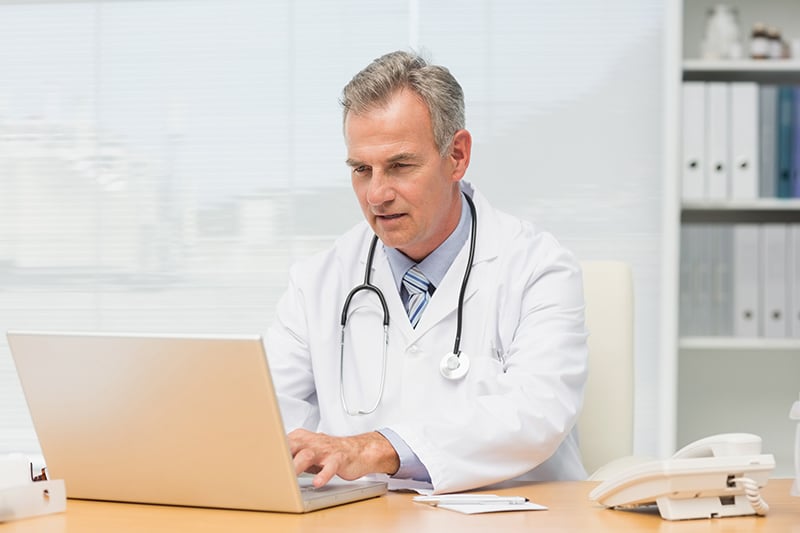 Ambulatory EHRs help in the faster exchange of healthcare details and enhances communication among healthcare providers. EHR systems are used in outpatient and inpatient settings. Ambulatory settings require the EHR to access crucial patient data from different providers and labs. EHR-integrated medical transcription services ensure accurate clinical documentation and helps ambulatory physicians focus on delivering quality care.
Ambulatory EHRs support outpatient healthcare needs such as office visits and ongoing prescriptions. These EHR systems make it easy for physicians to track patient records and long-term care. They can collect detailed, specific information about each patient, and ensure complete and accurate health records.
Key Factors Driving Ambulatory EHR Market Growth
According to a Markets and Markets research report, the global ambulatory EHR market size is projected to reach USD 6.8 billion by 2025 from USD 5.2 billion in 2020, at a CAGR of 5.7% during the forecast period.
Growth in the global ambulatory EHR market can primarily be attributed to factors such as
increasing adoption of EHR solutions coupled with incentives and payment adjustments
government support for the adoption of EHR solutions
increasing number of outpatient care centers
growing patient volume due to the global outbreak of COVID-19, and
the need to curtail healthcare costs
However, market growth is limited by factors such as reluctance to adopt EHR solutions in developing countries, heavy infrastructure investment, and the high cost of deployment.
The report segments the market on the basis of deployment, application, practice size, end user, and region.
By deployment, the market is segmented in to cloud-based and on-premise solutions. The cloud-based solutions segment is projected to grow at the highest CAGR during the forecast period, mainly owing to its advantages including flexibility and cost reductions in healthcare delivery.
By application, the market is segmented into Practice Management, Patient Management, e-Prescribing, Referral Management, Population Health Management, Decision Support, and Health Analytics.
By practice size, the market includes Large Practices, Small-to-Medium-sized Practices, and Solo Practices. The large practice segment commanded the largest share of the market in 2019, owing to factors such as the availability of capital investments, the ability to handle productivity challenges that are created by new EHR adoption, and the ability to choose among vendors. However, small-to-medium-sized practices are expected to register the highest CAGR between 2020 and 2025, owing to extensive funding provided by the Regional Exchange Centers (REC) to support small-to-medium-sized practices in the adoption of EHR.
End-users of the market include Hospital-Owned Ambulatory Centers and Independent Centers. Geographically, the market is divided in to North America (US, Canada), Europe (Germany, UK, France, Italy, Spain, Rest of Europe), Asia Pacific (Japan, China, India, Rest of Asia-Pacific), Latin America, and Middle East & Africa. The Asia Pacific region is expected to show the highest growth rate during the forecast period, due to factors such as increasing incidences of chronic diseases, the rising geriatric population, growing demand for advanced healthcare systems due to increasing per capita disposable incomes in the region and growing awareness of EHR solutions among healthcare providers.
Key Players Competing in the Ambulatory EHR Market
Some of the key players competing in the ambulatory EHR market are Epic Systems Corporation (US), Cerner Corporation (US), Allscripts Healthcare Solutions (US), Medical Information Technology, Inc. (MEDITECH, US), CPSI (US), NextGen Healthcare Information Systems, LLC (US), eClinicalWorks (US), athenahealth, Inc. (US), Modernizing Medicine, Inc. (US), Medical Transcription Billing Corporation (MTBC, US), Amazing Charts, LLC (US), Greenway Health (US), eMDs, Inc. (US), NetSmart Technologies (US), and CureMD (US). Players adopt diverse growth strategies such as partnerships, agreements, collaborations, new product launches, and acquisitions to increase their presence in the global ambulatory EHR market.
Physicians can ensure error-free EHR-integrated medical documentation with support from an experienced medical transcription company in the USA.