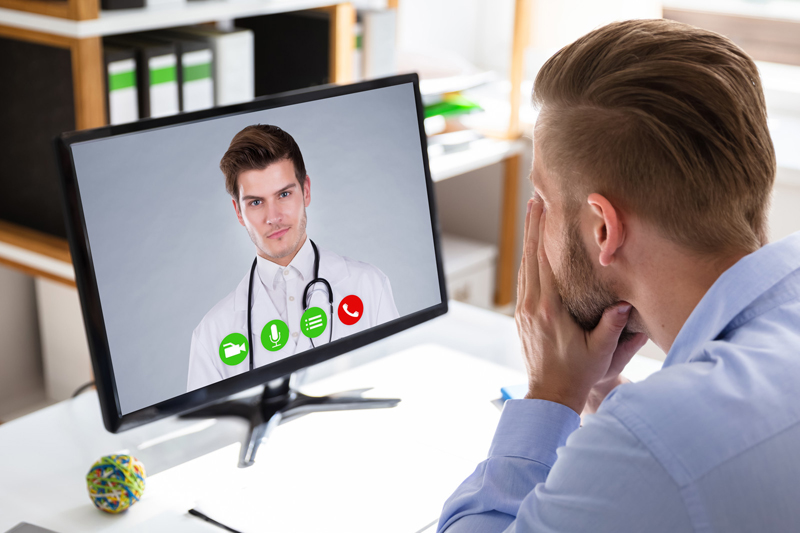 Telemedicine or remote video consultation is helping people get the care they need as they stay at home during the COVD-19 driven lockdown. Telehealth interventions are found to produce positive patient outcomes when used for monitoring chronic conditions, communication, counseling, and psychotherapy. Outsourcing medical transcription enables healthcare providers to ensure accurate documentation of these virtual visits. According to recent reports, teletherapy is experiencing a surge since the pandemic lockdown (www.physicianspractice.com). A subset of telemedicine, teletherapy or telepsychiatry involves the delivery of mental health therapy services via live video conferencing.
Teletherapy includes psychiatric evaluations, therapy (individual therapy, group therapy, family therapy), patient education and medication management. It can involve direct interaction between a psychiatrist and the patient or psychiatrists assisting primary care physicians by providing mental health care consultation and expertise.
Natural and man-made disasters and epidemics impact nearly every aspect of our lives, but the toll they take on mental health is extremely powerful and can last for a long time after the events. The COVID-19 pandemic and social distancing requirements can induce a range of mental health issues, from worry and stress among people in general to the worsening of psychological problems among those who already have mental illness. In fact, according to recent research published in The Lancet, quarantine is associated with post-traumatic stress disorder symptoms, confusion and anger, and some studies suggest these effects are long-lasting.
Though telemental health had witnessed a significant expansion from 2017 to 2019, providers were reluctant to adopt online audio/video consultations due to uncertainty regarding state-to-state disparities and differences in reimbursement (www.psychiatrictimes.com). During the current pandemic, changes to federal and state legislation and regulations have greatly increased the availability of and access to telemental health services. A Psychiatric Times article outlined the recent measures to support expansion of telemental health services while the nationwide public health emergency remains in effect:
Waiving of penalties for HIPAA violations against health care providers that serve patients via common communications technologies such as FaceTime or Skype.
Prescribers practicing via telehealth can prescribe controlled substances to patients without a prior face-to-face exam.
Greater flexibility in providing pharmacotherapy for opioid use disorder, which allows patients up to a month's supply of doses of take-home medication, and waiving requirements for written patient consent forms.
Approval of Section 1135 waivers for states, which allow out-of-state providers to temporarily provide care for their Medicaid patients.
Waiving copayments (copays) for telehealth by private payers in some states.
Medicare reimbursement for office, hospital, and other visits furnished via telehealth across the country and including in patient's places of residence.
Reimbursement for telehelth services at the same rates as face-to-face encounters.
Telepsychiatry has the potential capacity and flexibility to reach people, who, in normal circumstances, don't receive the mental health care they require. Per Mental Health America, millions of Americans are deprived of access to care. There are various barriers to adequate care access – from long working hours, child-care issues and lack of access to reliable transportation, to clinician shortages, fragmented care, and societal stigma.
Video-based telepsychiatry allows providers to meet more people in their own time and deliver convenient, affordable and readily-accessible mental health care. The key benefits of audio and video-based consultations are:
Improves access to mental health specialty in rural areas, which may otherwise be left out
Brings care to wherever the patient is located
Improves care outcomes by helping to integrate behavioral health care and primary care
Reduces emergency room visits
Supports timely interventions
Improves continuity of care and follow-up
Reduce the need for taking time off work, child care, etc., to keep appointments
Addresses issues such as lack of transportation or the need for long drives to access appointments
Reduces stigma
Patients also comfortable with telemental health consults and more found to be more willing to open up the comfort of their home or a convenient local facility, notes the American Psychiatry Association. According to a Washington Post article, therapists find that they can be more direct in their manner when providing virtual care than they would in an office setting.
It remains to be seen whether the temporary changes to teletherapy driven by the current pandemic will become a permanent part of the mental health treatment landscape. Moreover, successful delivery of teletherapy depends on providers using efficient HIPAA compliant platforms to deliver services as well how well patients manage online consults. However, it is expected that the convenience and safety offered by telemedicine services may actually drive long-lasting regulatory developments that promote virtual health consultations.
Ensuring accurate and timely documentation of teletherapy services can be a challenge as therapists focus on treating their patients. This is where medical transcription outsourcing can prove useful. US based psychiatry transcription service providers can ensure that teletherapy sessions are documented swiftly and accurately. Proper EHR charting is a critical requirement for continuity of care as well as for appropriate reimbursement.