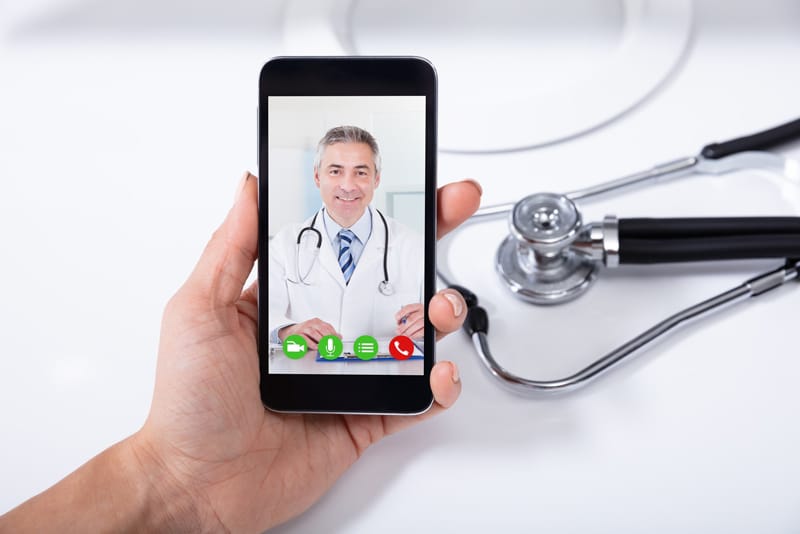 As social distancing becomes a priority, telemedicine is becoming an increasingly valuable tool for physicians to care for patients while protecting themselves and their staff. The federal government's recent policy changes such as lifting restrictions on the use of telehealth for Medicare, waiving copayments, and relaxing HIPAA privacy requirements on teleconferencing technologies provided the boost that virtual care needed to take off. Our medical transcription company expects the wave of telemedicine to continue even after the outbreak ends. In fact, we expect that with the convenience that video visits offer for patients and physicians, telemedicine will become even more valuable for specialties. Let's take a look at which specialties in the U.S. use and benefit from telemedicine the most.
Radiology: An AMA survey showed that radiologists use telemedicine more than any other specialty (5 percent). Referred to as teleradiology, telemedicine technology in radiology involves the use of computer-based digital technologies such as magnetic resonance imaging and computed axial tomography for the fast capture, storage, and transmission of big data images on secure cloud and on-premise networks. This supports better collaboration and communication between physicians and their patients. Teleradiology applications include abdominal imaging, mammography, cross-sectional imaging, abdominal imaging, thoracic imaging, and more. It is also a useful option for second opinions and urgent care settings which commonly see patients with joint, bone, or mobility injuries.
Dermatology: A case study published in the January 2019 issue of NEJM Catalyst reported that teledermatology saves money for the health care system and allows providers to better coordinate and manage care for patients with skin concerns. According to the American Telemedicine Association (ATA) teledermatology is one of the most active applications of telemedicine rendered in the United States. It can be used to assess and treat a wide variety of conditions, from acne, eczema, contact dermatitis and seborrheic keratosis to basal cell carcinomas, squamous cell carcinomas and atypical moles. Virtual consultations can be enhanced using video conferencing hardware attachments such as episcopes, power zoom, freeze frame, and polarizing devices, oblique angle viewing devices, and contact plates.
Psychiatry: Telemental healthcare is widely considered an effective and practical solution for mental illnesses. Mental and behavioral disorders are amongst the costliest group of diseases in the U.S. In distant areas, the lack of a sufficient number of healthcare providers restricts patients' access to even basic mental health services. Telemedicine provides patients with easy access to modern and efficient healthcare services and reliable diagnosis utilizing HIPAA-compliant video conferencing or text messaging while reducing costs of care. In addition to enhancing provider efficiency, the virtual delivery of behavioral therapy also reduces stigmatization for patients. The AMA survey found that 27.8 percent of psychiatrists used telemedicine to interact with patients (second to radiologists).
Pediatrics: Pediatricians can use telemedicine for exams for routine conditions like colds and other viruses, medication management, mental health treatment, and obesity treatment and prevention. Virtual consults offer benefits for both children and parents, including minimizing time away from work and school, and eliminating the costs of travel to and from the medical facility. Physicians can also utilize teleconsultations to communicate with experts located in distant centers on patients under their care. Telemedicine increases access to care for children in underserved and rural areas. Tele-education can be used to provide credible, reliable information via websites, online books, and other applications to patients and families.
Cardiology: Telemedicine is a good option for the management of patients with cardiac problems. Cardiologists are leveraging virtual technology to provide remote care through virtual visits, exams, and consultations. They are also continuously monitoring their patients using a growing array of implantable or wearable devices. These tools are allowing cardiologists to extend their geographic reach and helping them to identify cardiac problems before they become catastrophic, allowing smooth care transitions. Telecardiology offers benefits such as better follow-up, prevention of clinical changes, reduction of rehospitalisation costs and quicker treatment in cardiac emergencies. In an article published by the American College of cardiology, Tony S. Das, MD, FACC discusses his concept to care that blends traditional cardiology practice with digitally integrated remote vascular and phsyiologic monitoring for patients with chronic cardiovascular conditions such as congestive heart failure, AFib, coronary artery disease and vascular disease. By continuously feeding data into the electronic health record and assessing it, Das says they can monitor patients between visits and hospitalizations, and act upon any abnormalities immediately.
Allergists/immunologists, gastroenterologists, ob-gyns, emergency room physicians, and pathologists are among the other specialists that utilize telemedicine, according to the AMA survey. While videoconferencing was utilized by 31.6 percent of emergency physician practices and about 25 percent of psychiatrists' and pathologists' practices, cardiologists and nephrologists were the biggest remote patient management (RPM) users. Telemedicine's data storing-and-forwarding functions were employed the most by radiologists and pathologists.
The current explosion in telehealth is a positive development and providers can rely on US based medical transcription services for all their EHR-related documentation requirements. However, a recent TedCrunch article notes that there are barriers that prevent the widespread dissemination of telehealth in the U.S. during the coronavirus crisis. These problems include coverage and reimbursement, legal concerns, clinical care and social challenges. With the promise that telemedicine offers to improve care in the current situation and in the future, it can be expected that the federal government will take more steps forward to support telehealth.