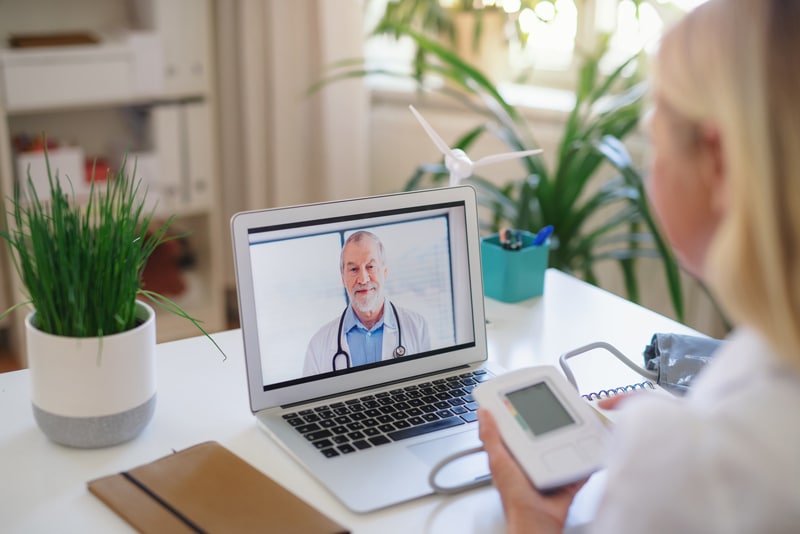 Telehealth has become the norm during the COVID-19 pandemic, proving a useful tool when patients must practice social distancing and are unable to attend face-to-face consultations. Our medical transcription company expects telemedicine to continue to be a part of the way medical care is provided even after the outbreak ends and is ready to help providers with their documentation requirements.
In telemedicine, healthcare providers offer care via video conferencing, email or phone messaging. Remote care can be effective for any condition that does not require lab tests or a physical exam. It's important to know when telehealth works best and what conditions can be managed using virtual care (www.evisit.com).
Cold or Cough: A stuffy nose, a sore throat, body aches and sneezing are typical signs of flu or a common cold, which is caused by an upper respiratory tract infection. Flu comes on quickly, causes body aches, throat pain and a high fever, and can keep a person in bed for a week. While the symptoms of the common cold may be similar to COVID-19 symptoms, a cold typically passes within a few days and most symptoms improve in about a week. Asynchronous virtual care is a practical option to manage patients with colds and flu with mild symptoms. Physicians can screen patients to determine the severity of the condition and rule out a more serious condition like pneumonia. Diagnosing and treating patients remotely would also prevent the spread of germs and ease the burden placed on the physician's office.
Hypertension: High blood pressure (BP) is a leading risk factor for death and disability. Telemonitoring of blood pressure is popular application in hypertension management. It allows patients to transmit BP and clinical information from their home to the hospital or doctor's office. Home blood pressure telemonitoring (HBPT) involves using electronic automated BP monitors or m-health wireless solutions that store BP values obtained at the patient's home and transferring them to the doctor's office via the telephone or the internet. Along with educational support, medication trackers and reminders, and teleconsultation, HBPT offers many benefits for high risk patients.
Digestive diseases: Telehealth is useful for the management of gastrointestinal and gastroesophageal diseases. Most gastrointestinal issues generally don't need a lot of intervention. Patients can discuss dietary issues, stress, symptoms of other problems, or even a side effect of a new prescription in their telehealth consultation. In the case of chronic digestive diseases, there are periods of worsening symptoms followed by symptom-free periods. Telemedicine allows the physicians and the patient to track disease progress without the need for physical office visits. Any serious issue can be identified by asking key questions and discussing symptoms and the patient can be directed to the right care. Telehealth promotes improved adherence to treatment, increased patient participation in medical decision making, and continuous care, thereby improving the overall management of patients with digestive diseases.
Skin Disorders: Telemedicine makes it easy for dermatologists to treat skin conditions such as rashes, moles, acne, and other skin conditions. In fact, it is an ideal option for patients to continue care for their skin conditions during the COVID-19 pandemic when dermatologists may have paused physical office visits. There are many skin conditions that can be diagnosed from looks alone. Mona Gohara, MD, a Yale University-affiliated dermatologist based in New Haven, Connecticut explains in an Everyday Health article, conditions such as eczema, psoriasis, shingles, or poison ivy are easily diagnosable conditions with a call or video chat. "There are just some rashes that are so distinct," she notes, which allows for them to be cared for – and well – on the virtual level. By viewing the condition on a virtual telehealth platform, the dermatologist can identify the issue immediately, and write an e-prescription. However, telemedicine is not appropriate for annual skin checks and potential skin cancer diagnosis (www.everydayhealth.com).
Follow-up after surgery: Telehealth follow up consultations after surgery have become preferred compared to in-person visits. It recommended for scheduled follow-up visits, routine monitoring, and management of postop issues as they occur. Follow-up appointments are typically scheduled with patients to monitor their progress, note any reported symptoms, discuss medications, review lab results. Telemedicine can support all of this. In fact, a telemedicine-based approach can improve patient satisfaction, reduce hospital costs, and potentially improve clinical outcomes. In addition to enabling real-time clinical decision-making, telehealth can expand access to providers, and decrease patient travel and wait times, facilitates healing at home, and decreases potential injury risk.
Psychotherapy and counseling: Therapists can provide mental and behavioral health care using HIPAA-compliant audio and responsive video platforms. Telehealth can bridge the gap caused by shortage of mental health professionals. Online therapy and counselling services offer the same intimacy of a face-to-face visit, in the patient's home. Patients can get quicker and more efficient access to care, eliminating commuting, wait times and scheduling issues that surround conventional care.
As the use of telehealth expands during and after the pandemic, medical transcription service providers can support providers by ensuing timely and accurate documentation of virtual visits.