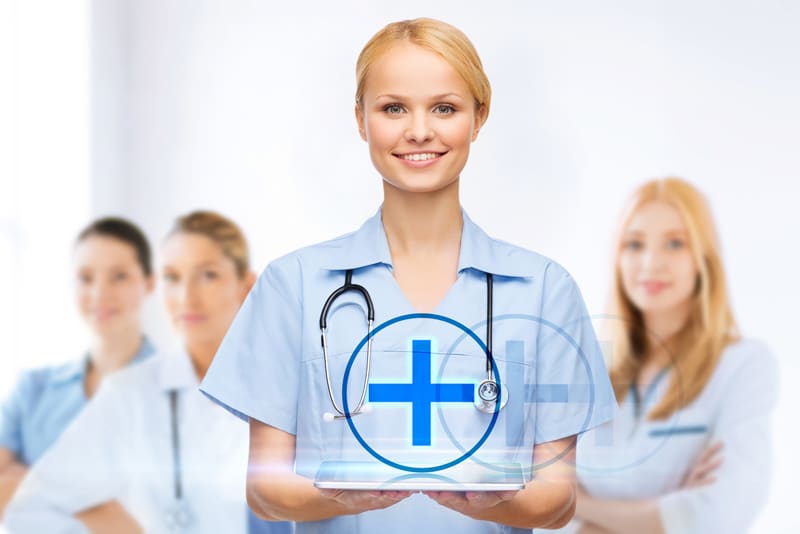 The presence of digital tools is healthcare is growing. The medical transcription service industry is also part of this transformation, with EHR meaningful use requirements adding urgency to the digitization of healthcare. According to an American Medical Association (AMA) 2016 & 2019 study, more and more physicians are using and showing enthusiasm for digital technology. The survey found that an increasing proportion of physicians are using digital health tools to enable:
Consumer access to clinical data-58%
Point of care or workflow enhancements-47%
Clinical decision support-37%
Patient engagement-33%
Remote monitoring and management for improved care-22%
Remote monitoring for efficiency-16%
Up to 87% of the respondent perceived at least some advantage in digital health tools, with 40% of PCPs seeing a definite advantage vs. 33% of specialists.
Today, consumerism is driving transformation in the healthcare industry. Digital healthcare tools increase return on investment by helping healthcare organizations deliver personalized patient experiences and better care. As health IT continues to advance, hospitals and health systems are leveraging digital tools to enhance patient engagement with their health data and their providers, with the aim to optimize care coordination and patient outcomes. A 2019 survey by the Center for Connected Medicine found that health systems are improving the patient experience by investing in digital health solutions that allow patients to:
Access their own health records/test results
Schedule appointments
Communicate directly with care team
Manage payments/pay bills
Monitor/manage chronic health conditions
Check-in or arrival management
Search for a physician or specialist
Access telehealth for wellness visits, for sick visits, and for behavioral health visits
Let's see how these capabilities have evolved.
According to a report from the American Hospital Association, 93% of hospitals and health systems enable patients to access their health data, interact with health data, and obtain health services. More organizations are allowing patients to download information from their health record, electronically transmit summaries of care to a third party, and make an electronic request an amendment to update or change their health record.
Digital self-scheduling is another option that is enhancing the patient experience. With the click of a mouse or button, patients can schedule appointments, reschedule or cancel them, at any time that is convenient to them. Self-appointment software options also come with automatic reminder notices and reports. By allowing patients to manage their appointments, organizations can save staff time for answering phones and appointment scheduling.
Patient portal secure messaging enables healthcare providers to streamline interaction with patients. Patients can communicate directly with them via the portal's messaging system. Matters that were earlier discussed via telephone calls or during in-person follow-up appointments can be done digitally. Secure direct messaging is also a cost-effective option for patients. For example, patients with mild health symptoms that can be treated with easy-to-access over the counter medications can get their concerns addressed via secure direct messaging, instead of visiting the office. Physicians can also use the portal's messaging system to instruct urgent cases to come in as soon as possible, preventing the issue from becoming too serious, and ultimately saving healthcare costs.
Healthcare systems allow patients to pay their medical bills online is increasing (87% offered this facility, up from 70% in 2012, according to the 2016 American Hospital Association (AHA) Annual Survey Information Technology Supplement). They have patient centric payment systems that break down bills by the services that were provided, what the patient's insurance covers, and what their out of pocket costs are. Many facilities offer flexible payment options and patients can pay what they owe from mobile devices, tablets and laptops. Such customizable options go a long way in improving patient satisfaction and collections.
Forward thinking hospitals are utilizing health IT to simplify not only the billing experience, but also the check-in process for patients. Electronic check-in systems reduce patient check in times, allows check in via a kiosk, tablet or mobile app, and feature easy to fill in check in forms in various languages. The software automatically place patients in a queue, complete eligibility verification, reduce the time needed for registration and customize the patient experience.
When patients enrol in an insurance plan, they can use software programs to search for doctors, hospitals, and health care facilities and find one that fits their needs. They can find any type of provider they need whether a Primary Care Provider (PCP), specialist, behavioral health specialist or dentist
The AMA's study found that largest increases in digital health tool adoption were in tele-visits, with usage doubling from 14% in 2016 to 28% in 2019, and remote monitoring for improved care. With the COVID-19 pandemic and social distancing norms, telehealth has become a game changer. The adoption of remote care technology has increased across the U.S. and this trend is likely to continue in the post-COVID scenario.
Technological advances, EHRs, and digitization have also transformed the role and capabilities of medical transcription companies. Transcriptionists are becoming more productive with the utilization of technologies like speech recognition but will need to acquire additional skills to stay relevant (www.fortherecordmag.com).
Today, most patients expect personalized healthcare experiences similar to what other industries have provided for years. The healthcare industry can catch up by creating a more seamless patient experience utilizing IT. Given the challenges of the present times, digital is going to play a significant role in healthcare. As the Becker's Health IT & CIO Report notes, "The organizations delivering the best patient experience will be the same ones excelling at accessibility via technology."