Meet your most demanding digital transcription requirements with the support of MOS Medical Transcription Services. Our medical transcription company provides fast and accurate transcription services for diverse medical specialties. All our audio video transcription services are compliant with HIPAA guidelines.
Quick, Secure, and Accurate Transcription Service Solutions
Our digital transcription services are secure, and we ensure 30 to 40% savings on your operational costs. MOS Medical Transcription Servicesblends skillful transcriptionists with the latest transcription equipment to meet individual client requirements. Our team has in-depth knowledge in medical terms and procedures. We make sure that the right person is handling the right account and continue to work on the same account to improve the quality.
ASK Us for a Free Trial!
To find out more about our high quality medical transcription service or for a Free-Trial, call 1-800-670-2809 (toll-free). Our solutions managers are always available to support you, just a phone call away.
We Support the Following Dictation Methods
Digital dictation machines
Toll free number
Secure cell phone dictation
Conference call recording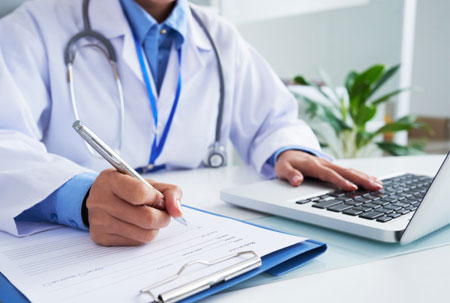 Commitment to Ensure Quality and Accuracy
3 levels of checking by editors, proofreaders and medical editors to provide 99% accuracy
Transcriptions are done using software which includes:

Stedman's Electronic Medical Dictionary along with the entire range of Stedman's books
American Drug Index

Microsoft Word of MS Office 97/98 and 2000, WordPerfect 9. Sound / Media Players and converters such as GoldWave, Windows Media Player, DVIPS, WinAmp, MSV, ICS, DVF, DSS and PC Dart PlayAll, are all used that allow adjustment of pitch and speed, for more accurate transcription.
Secure File Transfer
We have the competence to convert audio files and video files into the digital media of your preference. The document is returned to you securely by:
Browser-based drop box
Secure FTP
EMR system or other software systems
Highlights of Our Medical Transcription Services
Our document management system is a complete, powerful, and highly scalable solution package, designed specifically to meet your transcription needs.
Customizable interface to give the browser the look and feel of your hospital
Integrates toll free numbers and digital recorder use of digital recorders
Can be integrated to accommodate all transcription software or hardware requirements
Audio and document file archives
Reports on transcripts showing progress of each file
Allows the physician to modify dictation even during the transcription process
Searchable database. Ability to search archives and retrieve older files (depending on contractual agreements)
Instant message transmission to the transcription administrator or site administrator
Generate billing reports
Specify and monitor turnaround time requirements
Ability to listen and make changes on transcripts online
All transcripts can be downloaded, e-mailed, or faxed to any recipient
Electronic or digital signature (e-signature) capabilities
HIPAA-compliant logs of every activity
Just send your audio files, or video files we transcribe audio and video in the most secure & confidential way.
There are no long-term yearly contracts to sign, nor any setup or hidden fees. Get in touch with us now to get started!