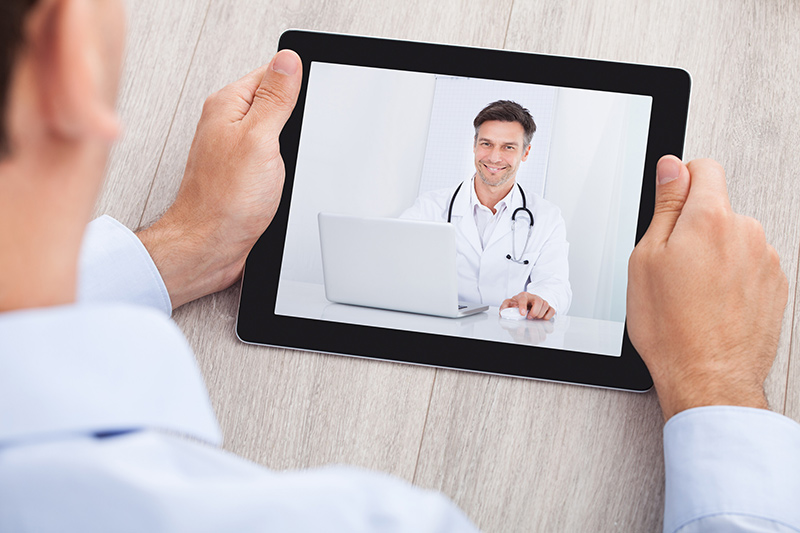 Electronic health records (EHRs) contain a wide spectrum of patient information – from patient medical history, diagnoses, medications, treatment plans to immunization dates, allergies, radiology reports, and much more. Physicians are not data entry experts and they prefer to dictate medical information. Medical transcription services ensure timely and accurate physician dictated reports. However, there are other ways physician dictation is documented in the EHR, including using specialized software. It is up to physicians to select the best dictation workflow for their needs. Let's take a look at different options available for EHR documentation.
Digital voice dictation and medical transcription service: In this simple system, the physician speaks and the dictation is captured by a digital recorder. The audio file containing the physician's dictation is transferred to an in-house medical transcriptionist or sent to a medical transcription company using an easy and secure upload and downloading system. Leading companies have experienced teams of transcriptionists, editors and quality assurance experts to ensure error-free, timely transcripts. Once the files are transcribed, the company will deliver them using the FTP or 256 bit AES encryption over the internet using the client's browser. Medical transcriptionists may also enter the dictated words directly into the electronic medical record (EMR). The physician will review the transcribed notes for accuracy.

This type of workflow is suitable for practices that prefer human transcriptionists who convert the physician's dictation into text in the required format. Physicians don't need to train themselves to use new software. Outsourcing medical transcription is more cost-effective than in-house transcription which would require hiring and training certified transcriptionists and investing in the latest equipment.
Speech-to-text or automatic speech recognition (SR) with editing support: Automatic speech recognition (ASR) has revolutionized the way physicians do dictation. Speech-to-text recognition software convert the human voice into written text in real-time. Physicians can dictate patient details including vitals, observations, treatments and medications prescribed, etc., and all of the audio is transformed into a detailed narrative by the program. Advanced software can accurately transcribes medical terminologies such as medicine names, procedures, and conditions or diseases. This option is user-friendly quick, convenient, and cost-effective, and saves physicians' time.

This workflow option may be more economical than digital voice dictation and manual transcription, but the cost of the software needs to be factored in. It is also reported that error rates are high with speech recognition software and the transcripts would need to be reviewed and edited. Physicians can outsource this task to a medical transcription company. According to a study funded by the Agency for Healthcare Research and Quality, the error rate in SR generated documents fell 0.3% following editing by a transcriptionist and the dictating physicians' final review. This option is ideal for physicians who lack time for reviewing their transcripts.

EMR-integrated speech-to-text solutions: Advanced medical dictation software is designed to input physician dictated notes directly into the EMR/EHR. The software leverages SR, AI, machine learning, and natural learning processing (NLP) technologies to effectively transform speech into text, as well as archive recorded dictations. Voice assistant tools help physicians overcome challenges associated with conventional EHR interfaces and navigate the EHR more efficiently. Physicians can use their smartphone to dictate and send their files, and the software will feed the text into the appropriate sections of the EHR. The notes appear on the screen immediately and can be reviewed and edited by the physician.

EMR-integrated speech to text solutions are easy to implement and physicians do not need much training. The American Medical Association (AMA) references one expert as saying that Speech-recognition software allows physicians to "think out loud", and this leads to richer content, less cutting and pasting of notes, and more complete problem lists.

However, errors are still a concern and physicians would have to spend time proofreading the notes. One study found that seven in 100 words in unedited speech recognition-generated documents had an error and one in 250 words contained a "clinically significant errors".


Mobile speech-to-text dictation: This option is similar to the above-mentioned one, except that the dictation into an app on a desktop or directly into the EMR is done from a mobile device. According to Mobius MD, this option is suitable for physicians who are comfortable with technology and willing to explore new dictation workflows. Nuance, Philips, 3M and M*Modal, Dragon Anywhere are popular speech recognition software that allow physicians to capture notes on their smartphones. Physicians can dictate documents of any length, and easily edit, format and share from their smartphone or tablet. Mobile options allow physicians to dictate clinical notes from wherever they are – their home, car, or any other setting.
Physicians need to evaluate each of these medical dictation options carefully and choose the most suitable one. Even if they decide to implement innovative dictation technologies, they still need to review and edit their documentation. Experts highlight the main issues with voice recognition and AI-backed programs as lack of contextual comprehension and the tendency to misinterpret and mistranscribe words. That's why outsourced medical transcription service providers continue to be relevant.
Human medical transcriptionist are well-versed in medical terminologies and stay up to date on medications, maladies, treatments, and testing and this knowledge makes the documents they create more accurate and comprehensible (www.healthitoutcomes.com). In fact, physicians who implement automated dictation workflow and EHR documentation solutions need to ensure proper review precautions to avoid exposing themselves to law suits and costly medical litigation.