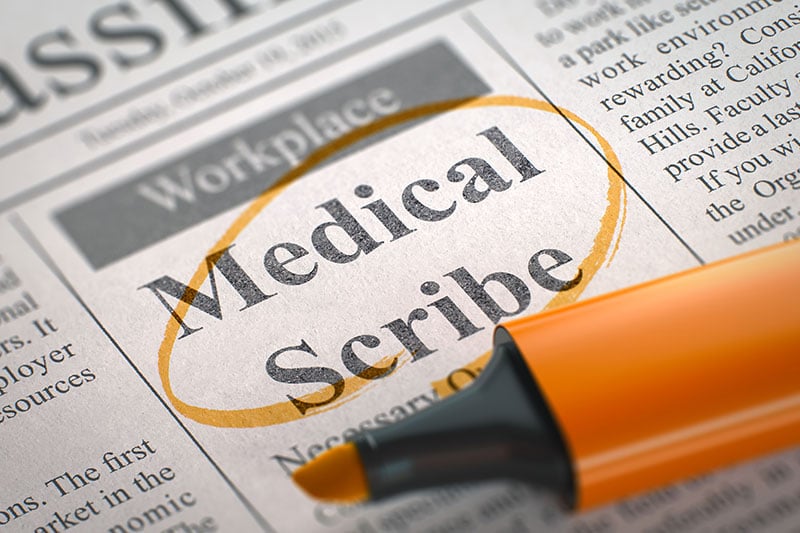 For a physician to carry out his or her duties well, he/she must be in a position to record all relevant information regarding the patient. Every patient encounter should be documented in order to keep it for future reference. With the advent of the EHR system, many physicians are working extra hours and feel burned out due to medical documentation. To make the process of medical documentation easier, healthcare professionals are now investing in medical transcription service or medical scribes.
Medical transcriptionist and medical scribe are not the same. Both medical scribes and medical transcriptionists help physician in medical documentation but in two different ways. A medical transcriptionist is a skilled professional who transcribes the physician's dictation into accurate medical records. They are well-trained listeners, highly skilled and well-versed in medical terminology. So, they can ensure accurate EHR documentation. On the other hand, a medical scribe is a writer or a clerk who sits in the physician's office and extracts relevant medical info from patient encounters. They are assigned to add patient's information to the electronic health record in real-time and also queue up an order or add something to the EHR as you need.
Advantages of :
Medical Transcription
Better job satisfaction for physicians: The introduction of EHR has led to high job stress and burnout among physicians. Physicians have to enter patient data into the EHR which can take up considerable time. Medical transcription providers offer EHR-integrated transcription services that help physicians with their EHR documentation. Moreover, they can also save valuable time that can be used to provide quality patient care.
Improved focus on patients: Spending more time on documenting patient data can compromise the quality of patient care. With medical transcription assistance, healthcare professionals can focus more on providing better care to the patient. This ensures positive patient outcomes and a higher level of patient satisfaction and wellness.
Accuracy and HIPAA Compliance: Transcription services ensure secure data encryption and meet all HIPAA standards. The medical transcription providers also use a three-tier quality control to ensure accuracy of the transcripts.
Cost-effective: Outsourcing medical transcription to a reliable team of professionals is more cost-effective, and it also eliminates the need for hiring a team, training them, and paying full salary and other benefits.
Medical Scribe:
Minimize physician burnout: Physicians are often overworked and medical scribes can help physicians by completing patient charts while doctors spend time treating their patients. They allow doctors to work within their shift and finish their work on time. They also ensure higher physician satisfaction in providing care and charting work.
Streamlined claims processing: Medical scribes help with quick documentation of medical records and claims submission, which ensure quick medical reimbursement. When insurance companies get complete and accurate medical records, it is easier for them to approve the claim and reimburse it as soon as possible.
Integrated patient focus: A medical scribe takes note of each and every thing in detail when a doctor consults a patient. They also record the patient's visits, healthcare concerns, procedures and test results. The data recorded by medical scribes includes all details and is patient focused.
Accuracy and timeliness: Medical scribes get some training that helps with recording medical data. They also get specific training in medical terminology and basic anatomy and physiology that helps with accurate documentation. Medical scribes help with some clerical work that get done faster and more efficiently.
Difference between Medical Transcription Services and Medical Scribe
An experienced team vs a new team member: Even though medical scribes can spend time at the physician's side, they are expensive with regular salary and other benefits. A medical transcription provider has a team of medical transcriptionists that can handle the nuances of medical transcription at a fraction of the cost of hiring an in-office scribe. Medical transcriptionists are experienced in terminology related to medical procedures and technology.
Privacy of patient data: Patient privacy and comfort is an issue when there is an in-house medical scribe. Patients hesitate and feel uncomfortable about talking about their health issues. Whereas, medical transcriptionists only require the dictations of the physicians. They ensure error-free medical records.
Capacity issues: Medical spaces can be tiny and fitting an extra person like a medical scribe in the consultation room, can make the space look crowded and congested. But with medical transcription providers, the physicians can dictate patient notes and send to a transcription service that is located in a different place. This prevents the problem of taking up any space in the clinic.
Physician's dictation and notes: All they have to do is dictate each patient encounter and send it to the transcription service, and it will be transcribed accurately. A medical scribe, extracts relevant medical info from patient encounters, and generates and maintains patients' medical records that are created under a physician's supervision. But with medical transcription, physicians can simply dictate and the medical transcriptionists take care of the entire medical documentation.
Both medical transcriptionists and medical scribes have individual pros and cons; choosing either one of these this depends upon what the physician wants. To minimize the burden of physicians and ensure error-free medical records, professional medical transcription services could be the ideal solution.