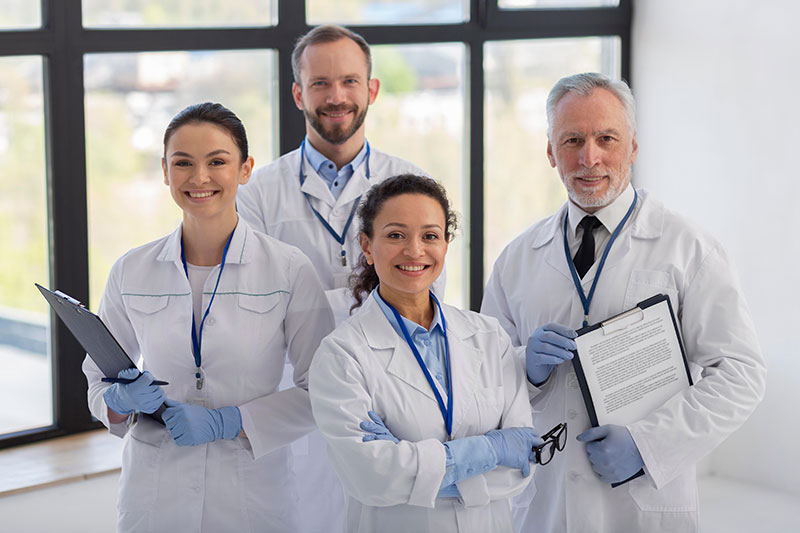 As a physician, you know that electronic medical records (EMRs) store a variety of reports, including history and physical exams, operative reports, discharge summaries, inpatient progress notes, consultations, and radiology reports. It's crucial for your healthcare organization to focus on ensuring accurate, timely, and complete clinical documentation. You might find that medical transcription outsourcing is a practical strategy for your medical practice. It ensures accurate EMR documentation from audio files of your dictation with a fast turnaround time (TAT). TAT plays a critical role in clinical documentation because it impacts your medical practice's workflow efficiency, data capture, clinical decision-making, and patient care. TAT for different types of medical reports can vary.
The Centers for Medicare & Medicaid Services (CMS) require that services provided in an office setting be documented promptly to maintain an accurate medical record. While CMS does not define a specific time frame for this requirement, some Medicare claims processing companies have established a reasonable window of 24-48 hours. Healthcare professionals should adhere to this guideline and ensure that clinical documentation is completed promptly. Medical billing staff and coders must also be aware of the timeliness of medical record completion (www.capphysicians.com).
Timeframe Guidance for 5 Common Medical Reports
Discussed below are the timeframe recommendations for 5 common types of medical reports.
History and Physical (H&P): According to Joint Commission PC.2.120, a hospital is required to "define in writing the time frame(s) for conducting the initial assessment(s)" and an H&P examination has "to be completed within no more than 24 hours of inpatient admission". While the timeframes under which the result should be made available is not specified, standard IM.6.10 specifies that "the hospital has a complete and accurate medical record for patients assessed, cared for, treated, or served" and requires a "policy on the timely entry of information" (perspectives.ahima.org). The Joint Commission, however, stipulates when an update to the H&P is required: "when a history and physical (H&P) is completed within 30 days PRIOR TO inpatient admission or registration of the patient, an update is required within 24 hours AFTER the patient physically arrives for admission/registration but prior to surgery or a procedure requiring anesthesia services". Other points highlighted by the Joint Commission:

The term 'registration' generally refers to patients scheduled for same-day or outpatient procedures.
The 24-hour timeframe begins when the patient arrives at the physician's office for admission/registration.
If the H&P is completed greater than 30 days prior to inpatient admission or registration, it cannot be updated. A new H & P must be done.
A properly documented H&P is valid for the entire length of stay. All changes to the patient's condition should be entered in the daily progress notes.
A new H&P or update to the H&P is not required for a patient who remains continuously hospitalized. If the patient has been discharged and later readmitted, a proper H&P (no greater than 30 days) would be needed and it should be updated within 24 hours after re-admission/registration but before a surgical procedure or other procedure requiring anesthesia.
Operative Reports and High-risk Procedure Reports: You should dictate and document these reports immediately after the operative or other high-risk procedure. The goal should be to ensure that pertinent information is available to the next caregiver. The Joint Commission's notes on operative reports are as follows:

Immediately after surgery or procedure' implies "upon completion of the procedure, before the patient is transferred to the next level of care".
The report can be written or dictated by the surgeon in the new unit or area of care the patient is shifted to after the operation.
In case the progress note option is used, it must include, at a minimum, comparable operative/procedural report information.
Discharge Summaries: A discharge summary documented by a medical transcription service provider typically consists of components, such as the reason for hospitalization, significant findings, administered procedures and treatments, the patient's condition at discharge, and instructions for both the patient and their family. According to AHIMA, all of these records must be brought together, reviewed, and completed within 30 days of discharge, unless state law dictates a different time frame. Other time-related elements for a discharge summary:

The record should be removed from the nursing station as soon as possible after discharge within 24 – 48 hours, but no more than 72 hours after discharge.
The initial assembly and analysis should take place within 5 days of discharge.
The remaining time should be used to follow up on gaps and track documents that are mailed for completion and/or signature so that the discharge record can be completed in a timely manner.

Progress Notes: Best practice to complete your charts promptly after treatment while the information is still fresh. Progress notes should ideally be finished within 24 hours of the appointment. Progress Note Float is the length of time between when a treatment visit takes place, and the progress note is completed, signed, and available for billing (www.10e11.com). Progress note "float" can be the result of:

Over-scheduled physicians who do not have enough time to complete their progress notes.
Alert fatigue when supervisors are flooded with alerts to sign a note and ignore them in favor of doing other work.
No official rule or process enforced to complete progress notes.
Lack of technology, leading to papers being shuffled back and forth and delays in communication.
Facilities need to create their own policies regarding the timeframe for completing progress notes.
Radiology Reports: Radiology report TAT is a commonly used metric to evaluate radiologist efficiency since the imaging report is the primary means by which diagnostic interpretations are conveyed to referring clinicians. Quick TAT is especially crucial for reports on patient care provided in the emergency department. Timely imaging reports can aid referring physicians in making informed decisions about treatment plans and delivering prompt care. According to an article in Radiology Key, TAT may vary among stakeholders, with referring clinicians considering TAT as the time from when a diagnostic imaging study is ordered until the results are received, while radiologists typically view TAT as the time from when a study is complete and available for interpretation until final signature. The utilization of voice recognition and structured reporting has been found to enhance radiology report TAT and reduce errors. In a study of medical transcriptions, a majority of respondents reported a contracted TAT for electronic documents of 10 hours.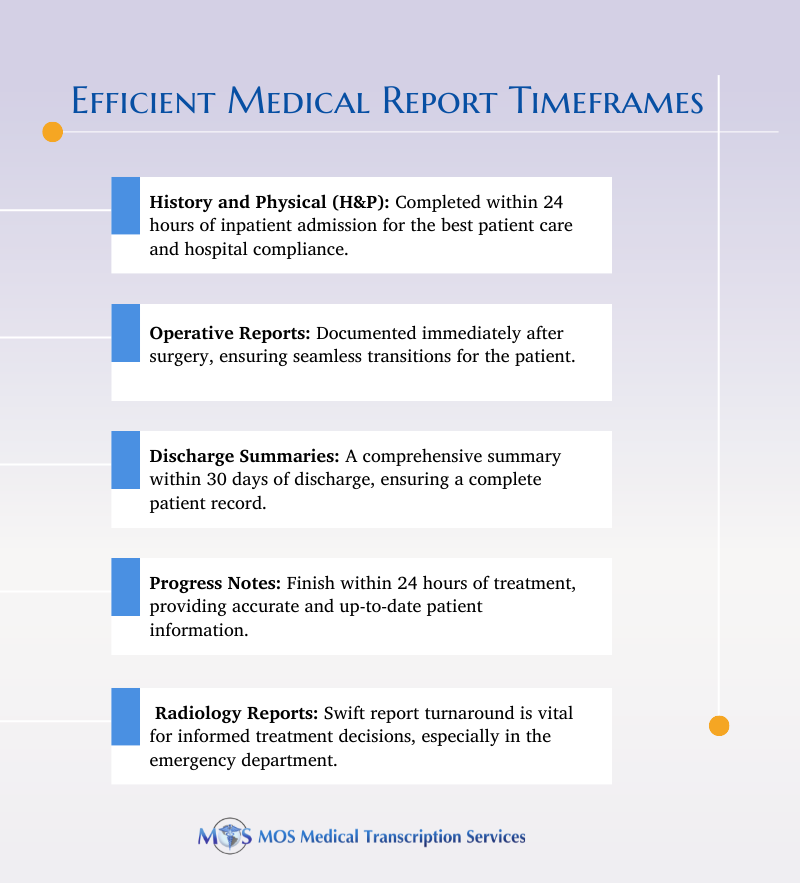 Delaying clinical documentation can result in serious consequences. Under California Business and Professions Code § 2266, physicians who fail to maintain accurate and adequate records regarding the services provided to their patients may be considered to have engaged in unprofessional conduct.
Fortunately, the adoption of EHR systems, speech recognition software, and the availability of outsourced medical transcription services is helping healthcare providers meet the turnaround time requirements for patient notes. If you are considering outsourcing, you should know that leading US-based medical transcription companies employ skilled medical transcriptionists. With proper knowledge of medical terminology, they can ensure high accuracy rates and deliver transcripts from audio recordings of physician dictation to meet your specific TAT. Partnering with a service provider can assist you in providing safe and timely treatment and care while mitigating the risk of malpractice claims and allegations.