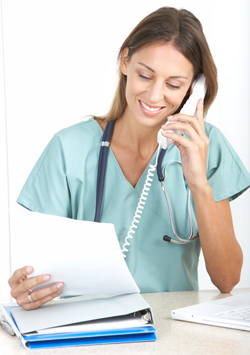 Tele-nursing or providing medical advice via telephone is widely used in critical care as it provides an efficient, responsive and cost-effective way to access health care services. With the use of technology, tele-intensive care unit nursing can enhance available resources and transform how critical care nursing is practiced. However, the documentation of telenursing interventions and its quantification actually help to clarify how telenurses' role affects critical nursing practice, improvement of patient care, patient safety, and outcomes. In this way, accurate documentation is critical for the effective practice of tele-intensive care unit nursing.
Accurate documentation plays a significant role in establishing the following critical standards for the sustainability of the Tele-ICU nursing practice.
Effective Communication – Since patient assessment is done remotely in the case of tele-ICU, effective communication, true collaboration and proper decision making is essential for timely patient intervention and improved outcomes. There should be clear and complete communication with in-room staff, physicians, patient and family members. Tele-ICUs should be able to communicate in an opportune manner with minimum disruption in patient care. If they remain hesitant to act, it can disrupt the provision of timely care and result in unfortunate patient outcomes. One of the major barriers to effective communication is poor medical documentation. With thorough and accurate documentation, tele-ICU nurses can communicate to ICU staffs and physicians their assessments about the status of clients, nursing interventions they performed, and their results. This will reduce the potential for misinterpretation and errors and the patients will receive consistent care / service.
Standardization – In order to establish true collaboration between tele-ICU nursing staffs and between the staffs and care providers, it is very important to develop policies to standardize tele-ICU procedures. In addition to virtual rounding, patient and family education, standardized clinical documentation is essential to implement this. Through such kind of documentation, both the ICU and tele-ICU team will find it easy to access the information that they need.
Transparency – Though the tele-ICU team provides the resource and knowledge of the intensivist to immediately diagnose and treat the health issue, actual diagnosis depends upon the information from the ICU. So, there should be transparency of information between the tele-ICU and the ICU for the development of an appropriate plan of care. This can be accomplished through accurate and real-time documentation of critical care events as well as direct verbal communication between the tele-ICU and the ICU regarding the patients' conditions.
Essential Elements of Tele-nursing Documentation
Date and time of incoming calls including the voice mails
Date and time of returning the call
Name, telephone number and age of the caller, if necessary
Reason for the call, assessment of the client's needs, signs and symptoms explained, any specific protocol or decision tree used for call management, advice or information provided, referrals made (if any), agreement on next steps for the client and the follow-up required
Nurses who provide telephone care should document the entire telephone interaction and they can use either paper chart or electronic health records (EHR) for that purpose. The advantage of electronic documentation is that it ensures standardized documentation with quick access to patient records. Pre-filled templates and fields can make the documentation concise and save space compared to the paper charting.
Telephone interactions can be recorded and transcribed into accurate reports, in which process a medical transcription company can help. The dictated/transcribed notes can be turned into structured interoperable clinical documentation needed by the EHR. Reliable transcription service providers have HIPAA compliant portals that enable their medical transcriptionists to transcribe directly into the healthcare provider's / facility's EMR. They interface directly with the EMR system, saving the clinician valuable time as well as the hassles of posting transcripts and steering through complex templates.