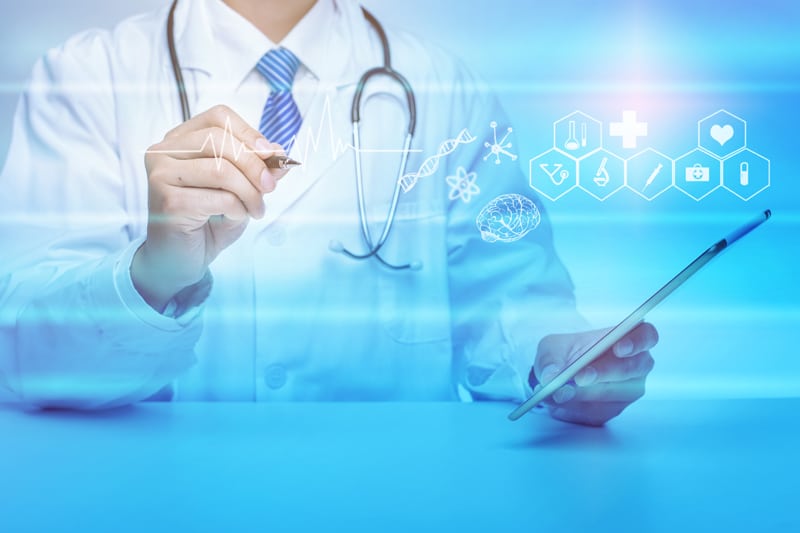 Electronic health records (EHRs) contain a ton of information – from patient demographics, family and medical history, allergies, and administrative and billing data to medications, progress notes, vital signs, diagnoses, immunization dates, radiology records, and lab results. Outsourcing medical transcription helps physicians deal with their EHR data entry requirements. However, as the data in EHRs grows, information overload is posing a challenge to quality of care and patient safety.
Studies have highlighted various reasons for information overload in digital patient records:
"Needless" information in patient notes
EHR information overload is not a new challenge. In 2015, a Health Leaders article reported that this needless information that clutters patient notes is especially frustrating for emergency care physicians. A 2013 report from the American College of Emergency Physicians referred to errors in patient care caused by EHR systems in emergency departments as "incredibly common". Later, the American Medical Association called for a design overhaul of EHRs/EMRs as the technology stood in the way of physicians' ability to provide first-rate medical care. A study published in the Journal of the American Board of Family Medicine in 2015 highlighted why clinic notes in EHRs were not useful for physicians and needed to be redesigned:
Physicians felt the review of systems section, which is a Medicare billing requirement took up too much space. It obscured the assessment and plan sections of the clinic notes, which was the information physicians actually needed.
Users had to click through different screens to access the sections that they need.
EHRs/EMRs prompt users to document a lot of things in the note. This creates volumes of information that physicians consider unnecessary.
The extraneous information in the EHR/EMR is both troublesome to read and also generate.
Excessive EHR clutter and information overload makes physicians apprehensive that they may miss seeing critical patient information.
Notifications in EHR system inboxes
Reporting on three large Texas practices, a 2016 JAMA study found that physicians faced a deluge of notifications in their system inboxes, and had to spend an hour a day managing these notifications to process and prepare patient care. The notifications included test results, responses to referrals, requests for medication refills and messages from physicians and other healthcare professionals. While primary care physicians received more than 75 notifications a day, specialists received almost 30 notifications, according to the researchers at the Houston Veterans' Affairs Center for Innovations in Quality, Effectiveness and Safety at the Michael E. DeBakey Veterans' Affairs Medical Center. As reported by NueMD, the results of the study suggested that physicians spend about 66.8 minutes a day processing the notifications.
"Information overload is of emerging concern because new types of notifications and FYI messages can be easily created in the EHR," the researchers wrote.
System-generated in-basket messages
In 2019, Health Affairs reported on a study that found an association between in-basket messages generated by algorithms in EHRs and physicians' well-being. A team led by a researcher at the University of California San Diego found that almost half (47%) of the 243 messages per week, on average, were generated by the EHR system. The EHR-generated messages that physicians received included pending orders sent based on algorithm-driven health maintenance reminders, requests for prior authorizations, and patient reminders. The largest number of EHR system-generated messages were received by internists (209), family physicians (204), and pediatricians (102). According to the study, 45% of physicians with burnout symptoms got greater-than-average numbers of weekly system-generated in-basket messages.
Healthcare Organizations take Steps to Tackle EHR Data Overload
Some leading healthcare organizations are taking measures to address the problem. With information overload clogging up the EHR dashboard, Concord Hospital in New Hampshire found that physicians struggled to get patient information which ultimately affected care delivery. The hospital tried to optimize its EHR system, but the project really took off when COVID-19 hit New Hampshire, according to a June 2020 EHR Intelligence report.
Working with their EHR vendor, the hospital's health IT team came up with an end-to-end COVID-19 patient dashboard that is helping them track patients and resource availability during the pandemic and reduce clinician burden. The COVID-19 patient dashboard provides instantaneous updates on COVID-19 and its patients, including where patients were and the level of ventilatory support they're on. The hospital is also on its way to leveraging the new tool to provide data displays of information on COPD patients.
Mayo Clinic, the second-largest critical-care provider in the United States has also implemented strategies to combat information overload in its intensive care units. Their ambient intelligence solution is a set of decision-making tools powered by data on and insights into clinicians' goals, work environments, strengths, and performance constraints (www.harvardbusinessreview.com).
A multidisciplinary team was set up. They identified that to provide effective care quickly, clinicians needed only about 60 pieces of information out of large volume of data pouring through the EHR. This information included critical information such as blood pressure and medications, as well as less obvious but important information such as cough strength or previous difficulty with endotracheal intubation.
The EHR interface created for clinicians in the ICU called Ambient Warning and Response Evaluation (AWARE) delivers this crucial information in a digestible format to clinicians at the point of care, cutting through the clutter.
When it comes to updating EHRs, the best option for physicians is to rely on an experienced medical transcription service provider. In these challenging times, the support of a reliable transcription company can go a long way in helping physicians manage their documentation tasks.