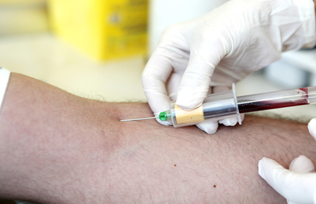 One of the important services that expert transcriptionists in medical transcription companies provide is the documentation of laboratory tests. Accurate transcription of simple and complex blood tests prevents diagnostic data errors that can have critical consequences for patient care. Such services are gaining importance with new medical discoveries. The American Academy of Neurology (AAN) reports that a simple blood test could help distinguish Parkinson's disease from similar diseases.
Earlier studies have explored the utility of spinal fluid tests in diagnosing Parkinson's and predicting dementia risk. Spinal fluid is collected via a lumbar puncture, which is painful and comes with side effects like headaches. Now, new research says that a simple blood test is all that is needed to diagnose Parkinson's and distinguish it from other medical conditions.
The symptoms of Parkinson's disease are similar to atypical parkinsonism disorders (APDs) like multiple system atrophy, progressive supranuclear palsy and corticobasal degeneration. As a result, in the early stages of Parkinson's disease it is usually difficult to distinguish it from APDs. However, early identification of these conditions is crucial as expectations concerning progression and possible benefits from treatment differ significantly between Parkinson's and APDs.
According to the study published online in the February 2017 issue of AAN's medical journal Neurology, a simple blood test may be as accurate as a spinal fluid test when trying to determine whether symptoms are caused by Parkinson's disease or another atypical parkinsonism disorder.
The researchers from Lund University in Sweden found that "concentrations of a nerve protein in the blood can discriminate between these diseases as accurately as concentrations of that same protein in spinal fluid". People with APDs had higher levels of the nerve protein levels than those with Parkinson's and those who were healthy.
To be able to transcribe blood tests, transcriptionists need to be knowledgeable about:
Acronyms for tests
The purpose of each type of lab test
The components or items found on that specific test
The normal values, which helps in flagging discrepancies
Punctuation and grammar to present laboratory data
The various components and normal values for all of the components of the individual tests
High quality medical transcription service providers have trained and experienced transcriptionists who ensure that diagnostic laboratory data is entered correctly from dictated records in patient charts. They can provide error-free transcripts of blood work to interpret various diseases. This allows physicians to correctly interpret the results of blood work, arrive at an accurate diagnosis, and take proper therapeutic decisions for timely care. With researchers discovering new uses for commonly performed laboratory tests, medical transcription outsourcing to a reliable service provider is crucial for diagnostic accuracy.