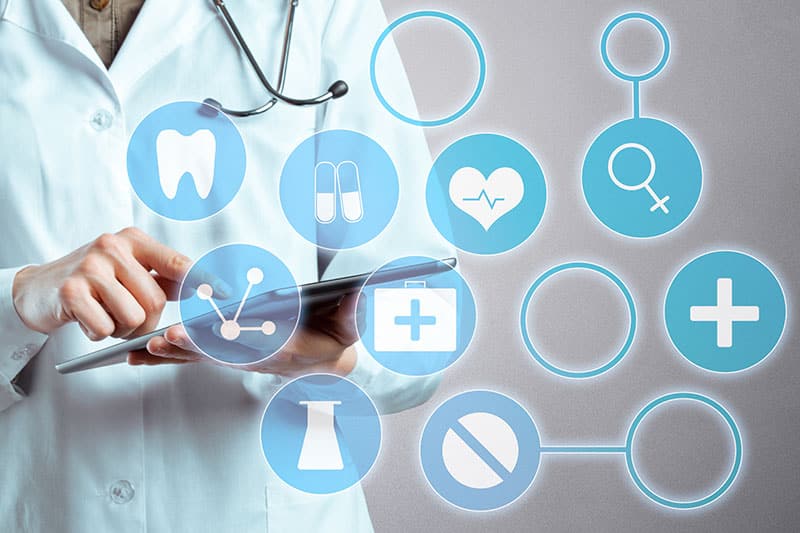 Mobile health (mhealth) technology proved its worth during the COVID-19 pandemic and is continuing to be vital tool for care providers to connect with patients. The World Health Organization (WHO) defines mobile Health (mHealth) as "medical and public health practice supported by mobile devices, such as mobile phones, personal digital assistants, wireless devices, and patient monitoring devices." The growing use of smartphones and other mobile devices is driving digital patient engagement and mhealth.  With new rules allowing patients access to their clinical notes, test results and other medical data through online portals, medical transcription outsourcing is helping healthcare providers maintain accurate and timely electronic medical records.
Digital patient engagement incorporates digital tools to allow physicians to engage and empower patients and offer various medical and educational resources, reducing the need for physical visits to a hospital or healthcare facility. According to IT major Accenture, 54% of patients want communicate with healthcare providers using their smartphones.
The global mHealth market size, which was valued at USD 50.7 billion in 2021, is expected to expand at a compound annual growth rate (CAGR) of 11.0% from 2022 to 2030, according to a Grand View Research report. The report identifies the key market drivers as:
Rising focus on improving personal health and fitness using smart devices and wearables
Increasing accessibility of the internet and smartphones
Increased public awareness about mhealth technology
shift from conventional healthcare practices to patient-centric and preventive approaches
increasing use of smartphones among the adult population and teenagers
Growing adoption of mHealth technology and platforms by physicians and patients, and
Rising use of mobile health apps for remote patient monitoring
Government commitment to digital health and the positive attitude of providers towards real-time patient care are other factors fueling the adoption of mhealth technology.
How Mobile Apps Support Patient Engagement
Patient engagement improves health outcomes by urging people to get actively involved in their health and supporting informed decision making by both the patients and healthcare providers. Mobile technology has taken patient engagement to the next level.
Breaks down barriers to connectivity: The healthcare industry is facing severe staffing shortages. Severe nursing shortage affects patient care and outcomes significantly, including disruptions to essential services. With mobile technology, providers can connect seamlessly with each other as well as with patients and provide timely care. Mobile health technologies enable patients to find health care providers with their reach and also quickly send secure messages and schedule appointments. Messaging applications, such as Short Message Service (SMS) and Multimedia Message Service (MMS) are an effective, easy and inexpensive option for providers to send healthcare appointment reminders.
Integrates with wearables: Wearable devices such as smartwatches, smart glasses, and other fitness trackers are worn on the body to track the person's health. They store personal health information, record vital signs, calculate and monitor calories, schedule reminders for taking medications, and record physical activity such as daily step count. Today, smartwatches and other devices seamlessly integrate with mobile health apps and their use is steadily increasing.
Provides access to telehealth services: Mobile devices are an easy way to connect patients to Telehealth surged during COVID-19 and kept care providers in touch with their patients when physical office visits were restricted. In August 2021, Google reported that 90% of physicians use telehealth services, compared to just 32% before the pandemic. Pew Research Center found that up to 85% of American adults own a smartphone, up from 81% in 2019, which makes mobile an ideal option for video meetings with physicians. With e-health or mhealth, patients can get primary care for many conditions as well as advice to self-manage their health. Telehealth services include:


Virtual visits to see a physician, mental health counselor or a nurse. Online video or phone chats are used to assess and treat minor conditions, including migraines, skin conditions, diabetes, depression, anxiety, colds, coughs and COVID-19.
Remote monitoring: Mobile devices can be used to send data generated by wearable devices. Provider or nurse practitioner can use mobile apps to prescribe drugs or reminders to take drugs, do exercise, etc.
Supports access to and use of patient portals: According to data from the Health Information National Trends Survey (HINTS), nearly four in 10 patient portal users accessed their portal through a smartphone health app in 2020. Mobile patient portal apps allow patients to access their medical histories and care plans. These apps track medications and allergies allow users to review and update their medications. Patient portal apps boost convenience for patients with digital bill payment capabilities. Patients can complete pre-visit assessments before they arrive at practice, thereby cutting down the amount of time they need to spend in the clinic.
PatientEngagementHIT references Amar Shah, MD, as saying that mobilizing the patient portal significantly improved patient engagement and activation rates at the family practice he owns.
"Getting notifications directly on their phone kept the patients more engaged and kept them really logging into the app to see what messages we were sending out to them and what updates we were giving them," said Shah.
Apple Health Records for iOS devices and CommonHealth for Android devices offers patients the option to download their patient portal onto a centralized mobile health record
Advanced mHealth initiatives are driving robust patient engagement and satisfaction. Engaging patients using mobile technology can improve prevention, treatment, and follow-up, resulting in fewer readmissions, healthier lifestyles and better patient outcomes. Outsourced medical transcription services can ensure accurate documentation of all types of reports, allowing physicians to focus on providing the best of telehealth and in-person treatment.