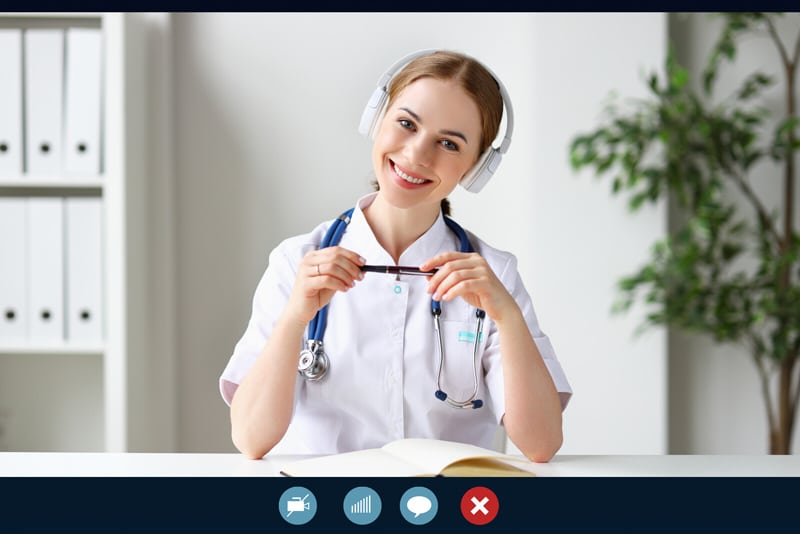 With the global lockdown forced by the Covid-19 epidemic and the subsequent challenges faced by healthcare among other business sectors, doctors and other healthcare providers are relying more on telemedicine, a digital mechanism to remotely connect with patients. Telemedicine is the process of medical information exchange from one site to another via electronic communication to treat patients efficiently. It provides remote consultation facility and does not require a visit to the doctor. Just as for in-person healthcare services, telemedicine also requires accurate medical documentation preferably with the help of a medical transcription service.
Telemedicine technology has been around for more than 20 years but quickly made its way into the mainstream during the current pandemic as a practical way of providing patients with the necessary medical services. Before COVID-19, only 10 percent of patients used telemedicine but today many provider organizations are looking for better ways to use the technology to its full potential. Hospitals and doctors are using this technology to keep the unaffected patients safe and it also helps them interact with the patients. Another advantage of telemedicine is less cost and the ability to extend primary care services to those geographically distant from healthcare resources.
Telemedicine is not just video calling your doctor. It includes applications such as remote monitoring and even remote or robot-assisted surgeries. By 2030, there will be a large majority of people who are 65 or more years of age. With more people living in the countryside and leading a sedentary life, health issues like obesity, diabetes etc. could increase. In such a scenario, this new technology can be used by healthcare providers to improve healthcare efficiency, deliver improved outcomes, and better manage costs. Efficiency can be increased by using machine algorithm that helps to read X-ray images more accurately and more quickly than human radiologists, freeing up clinicians to work on more complex tasks. It can also personalize health instructions; and insurers can focus more on preventive care, reduce waste and lower cost. Digitization of healthcare has shown two trends, firstly, patients are becoming more involved in decisions about their care, thanks to the easier availability of health data. Secondly, payers – both governments and private insurers – are paying ever more attention to value for money in their healthcare budgets.
According to Market Study Report LLC's new report on U.S telemedicine Market, the market is expected to exceed USD 64.0 billion by 2025. Technological advancements related to mobile phones and internet usage, along with rising demand for cost-saving in healthcare delivery are the main factors that are driving the U.S. telemedicine market.
Some major findings of the U.S. telemedicine market report are:
Rising existence of chronic diseases is one of the major factors boosting adoption of telemedicine services to offer better home supervision.
Increased usage of smartphones in the U.S. is leading to the growth of telemedicine.
Mobile phones combined with attachable scanners or wearable devices are the most significant tools for self-diagnosis.
Several new apps in smartphones help patients schedule appointments with their doctors, and thereby manage their health and save money on treatments.
Many healthcare facilities have implemented telemedicine services to enhance their operational capability, thus augmenting business growth.
Telemedicine technology allows patients to avail quality consultation, monitoring, electronic house calls, and treatments from remote locations that lack medical services. It can connect patients, and facilitate an efficient global healthcare system. It also saves costs and helps provide better care in locations where the quality of healthcare is not up to the mark. The quality of healthcare provided using telemedicine can be further improved with error-free documentation from professional medical transcription services.