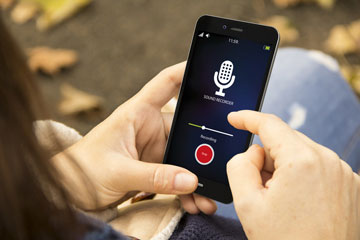 It is common practice for physicians to record office visit notes and have them documented in the electronic medical record with the help of a medical transcription service provider. Accurately transcribed EMR notes promote continuity of care and also help physicians share information easily with patients. Going by recent reports, the office visit may be poised to enter a new level with patients recording the event on their smartphones. According to a CBS News report, a study from the Dartmouth Institute for Health Policy and Clinical Practice in New Hampshire found that at least 1 to 10 patients now records discussions at medical appointments. The research was published recently in the Journal of the American Medical Association.
On reviewing 33 studies involving audio-recorded clinical visits, the researchers found that 72% (about 7 out of 10 patients) listened to their own recordings and 68% shared them with a caregiver.
Why are patients recording their clinical encounters and how are they using these recordings? Investigators point to many factors:
Recording the office visit can reduce patients' anxiety of trying to recall and understand what was said.
Tapes allow patients to remember important information they received during the visit.
Sharing the recording with loved ones or caregivers promoted better engagement with support networks.
According to one recent study, recording clinical encounters can help poor people living in rural areas feel less deprived when seeking health care.
Patients report that the recordings left them feeling more satisfied with their care.
Recording the visit promotes transparency in care.
Physicians' reactions are varied. Some providers raised concerns about the risk of the taped appointments and procedures being used against them in malpractice suits. On the other hand, the Dartmouth Institute study found that others such as The Barrow Neurological Institute in Phoenix reward physicians who comply with patient requests to audio record the clinical visit.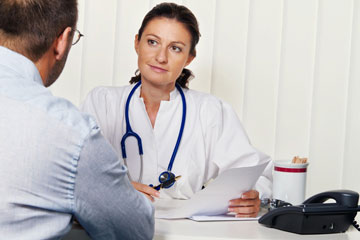 According to a Stat News report, physicians worry that recordings could weaken trust between them and their patients. When the discussion is recorded, patients may not be frank about their health behaviors. The report says that physicians also fear that the information will be made public, as some clinical encounters were recently shared on social media.
This brings us to the legality of taped appointments. Does U.S. law permit patients to record the office visit? Wiretapping law and rules on sharing the recordings varies between states.
In single-party jurisdictions:
The consent of any 1 party to the conversation will suffice, including the person making the recording; in this case, patients who wish to record a clinical encounter can do so without obtaining the clinician's consent. The single-party consent rule exists in 39 of the 50 states and the District of Columbia.
Patients are free to share the content of recordings in these states.
In "all-party jurisdictions":
Recording without the expressed permission of all parties is illegal unless all who are being recorded consent. Statutes in California, Florida, Illinois, Maryland, Massachusetts, Michigan, Montana, New Hampshire, Oregon, Pennsylvania, and Washington conform to the all-party jurisdiction rule.
To share the recordings, patients require agreement of those who were recorded.
Most patients use this right to share the recording with a family member or caregiver but not on social media. On the other hand, recordings that are modified or used to harm or damage the reputation of the concerned clinician could lead to legal action by the person affected.
The Dartmouth Institute study also discussed the question of whether audio or video recording of a clinic visit is governed by the Health Insurance Portability and Accountability Act (HIPAA) standards. The recording is subject to HIPAA standards if it is "created or received" by a "covered entity," including health plans, health care practitioners, and health care clearinghouses. For instance, medical transcription companies need to be HIPAA-compliant and safeguard the confidentiality of all patient information they handle, whether transferred over public networks or stored internally. However, HIPAA rules do not apply to a recording that is created and retained by the patient.
Dictation and medical transcription services are the favored documentation method for physicians across all specialties because it ensures accurate capture of patient history as well as the care encounter. As the future is geared towards to expanding transparency in health care, experts see a positive role for patient recordings of medical appointments. Clinicians, patient advocacy groups, and policy makers need to collaborate to build an environment of trust and open communication among patients and physicians. They should develop clear guidelines and rules on patient recording and how it can be put to positive use.