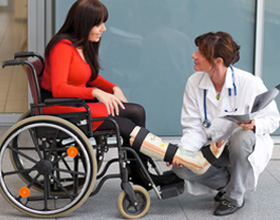 With the aging of the baby boomer generation, the field of orthopedics has grown significantly over the past few years. Faced with an increase in patients, rising costs, and changing industry rules, more and more orthopedic practices rely on outsourcing medical transcription, coding, and revenue cycle management to remain competitive. A recent report in Ortho Spine News based on a Decision Resources Group (DRG) study reveals a new trend – outpatient orthopedic services are gaining popularity. This has several implications for the future of orthopedic care.
According to the DRG study, the number of Ambulatory Surgery Centers (ASCs) in the United States is rising steadily despite a longstanding discrepancy between hospital and ASC reimbursement. This reflects a general trend toward outpatient procedures. Outpatient orthopedic healthcare offers many benefits such as convenience and efficiency, patient and provider satisfaction, economic value, physician ownership and management, product innovation, and patient safety. The drive towards outpatient procedures is fuelled by many factors:
Advanced technology: New technologies are making orthopedic procedures easier and safer to administer in an outpatient setting. Ambulatory orthopedic electronic health record (EHRs) systems that support Meaningful Use come with advanced practice management features. They allow providers to manage medical billing services, e-prescribing, patient portals and more. With EHR-integrated orthopedics transcription services, physicians can create accurate patient reports in quick turnaround time. Ambulatory EHRs allow them to develop custom treatment plans for specific conditions, orders for surgery, therapy, prescriptions, referral letters, patient education, and more. Electronic medical records have improved accessibility to medical records and enhanced communication with radiology.
Minimally – invasive procedures: Innovations have made arthroscopy and related procedures minimally-invasive, so that they can be performed faster and more easily in an outpatient setting. Minimal recovery improves patient satisfaction which benefits surgeons. This is confirmed by a literature review published in the journal Orthopedic Reviews which found that outpatient orthopedic surgeries have improved rates of patient satisfaction and are also cost-effective. More orthopedic procedures are expected to become outpatient treatments in the future.
Pay for performance: The switch to value based reimbursement from the traditional model of healthcare reimbursement is aimed at reducing the rate of healthcare spending while improving patient satisfaction and outcomes. This is driving the growth of the ASCs as compared to traditional hospital based surgical care.
Price transparency: Transparency in costs of services is allowing patients to compare costs and choose from outpatient settings that provide low-cost, high-quality care. Moreover, the Centers for Medicare and Medicaid (CMS) now approve reimbursement for some surgical spine procedures performed in ambulatory settings.
Outpatient orthopedic procedures are found to be a safe and cost-effective alternative for patients who meet the eligibility criteria. However, in a Beckers ASC Review report published in August 2016, an expert pointed out that even in the outpatient model, increased complexity and the typical extended postoperative recovery will redefine how procedures are performed as well as the "length of day".