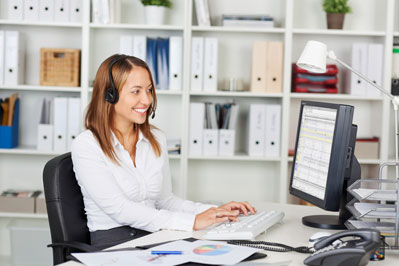 With the introduction of EHR, the role of medical transcriptionists has changed with them working also as medical language specialists. In keeping with the new requirements, medical transcription services have also evolved with EHR-integrated medical transcription being the norm now.
A combination of transcription and document management is an excellent option which improves the productivity, efficiency and workflow in the healthcare organization. Implementing EHR becomes easy with reliable transcription solutions that facilitate uninterrupted physician workflow and patient interaction.
Making the Transition to EMR
Physicians and healthcare organizations utilizing medical transcription services can make a smooth transition to EMR, while also enjoying the benefit of having detailed patient notes in the form of transcripts. Technological advancements allow physicians to dictate via their preferred handheld digital recorder, a toll-free telephone number provided by the medical transcription company, smartphone, speech recognition equipment, or personal computer. They can choose to send the dictations immediately or record the dictations throughout the day and send them as a single set later.
Medical Transcription and Efficient Document Management
The recordings sent by the doctor are transcribed and edited by skilled transcriptionists and medical editors before uploading into the EHR. These records contain all vital information about the patient such as name, age, geographical details, physical examination reports, referral letters, treatment provided, lab reports, discharge summaries and so on. These reports are important for every hospital and so storing them systematically is also essential.
There are healthcare BPO service providers that offer web-based applications for document management, which allow physicians to access clinical data at anytime from anywhere and communicate patient information when needed. These innovative platforms enable providers to view, manage and share information through any PC connected to the internet. Here is a look at the major advantages offered by a state-of-the-art healthcare document management system.
Review the transcripts, edit or print them, and approve them with your electronic signature.
Share the healthcare information securely with physicians and other members in the care team. Also, provide the required details to insurance companies.
Search the medical documentation for key phrases, indications, conditions and medications.
Dedicated healthcare document management systems enable easy access and quick retrieval of records, which serves as foundation for ongoing clinical decision-making, continuity of care, maximized reimbursement, and risk management. Today, speedy turnaround time is a very important feature. A reliable medical transcription company can ensure you this in keeping with your requirements. With HIPAA-compliant medical transcription company, they offer top security and confidentiality for patient data.