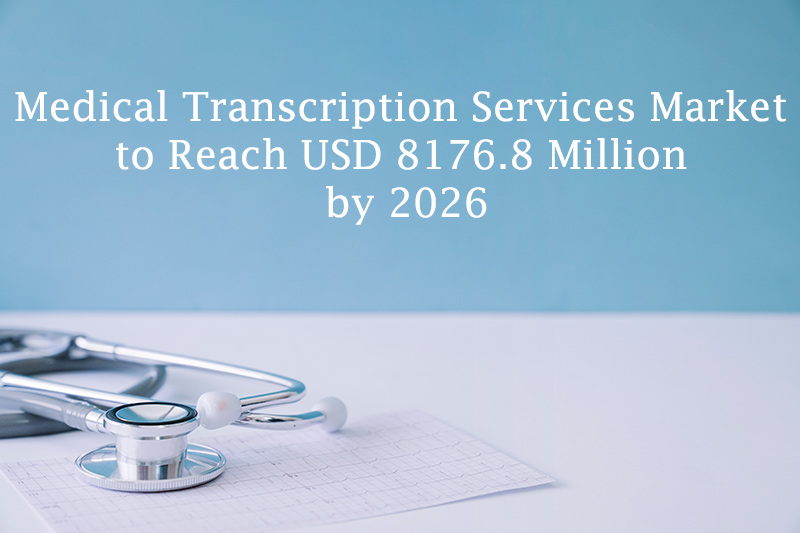 Converting voice-recorded medical reports into accurate transcripts is important for physicians or other healthcare professionals for future reference, easy access to report and faster sharing to other providers when required. Physicians often rely on professional medical transcription companies to get the task done accurately. Medical reports that need to be transcribed can be voice files, notes taken during a lecture, or other spoken material, and are often dictated over the phone or uploaded digitally via the internet or through smartphone apps.
According to a report from 360 Market Updates, the global Medical Transcription Services market size that was USD 5597.7 million in 2019, is expected to reach USD 8176.8 million by the end of 2026. This market is predicted to grow at a CAGR of 5.5% during 2021-2026.
In 2021, the market will be growing at a mild rate and with the rising adoption of strategies by key players, the market is predicted to rise over the projected horizon.
Key factors that drive the growth of this global team include
adoption of medical documentation and recording systems
government initiatives in health information infrastructure
implementation of EHRs
technological innovations through the use of electronic technology to reduce turnaround time and
increasing focus on lowering costs, increasing productivity and improving the quality of patient care while ensuring patient's safety
Medical transcription services market is segmented by Type, and by Application.
By Type, the market is divided into Outsourcing and Offshoring. By Application, the market is segmented into Hospitals, Clinical Laboratories, Academic Medical Centers, and Others.
The key regions covered in the report are North America, Europe, China, Japan, Southeast Asia, India and Central and South America. North America currently dominates and is expected to retain its position in the medical transcription services market in the future, owing to factors such as rise in aging population and passing of Patient Protection and Affordable Healthcare Act, 2013.
The major vendors discussed in the report include Mmodal, Nuance Communications, Transcend Services, Acusis, iMedX Information Services, MTBC, nThrive, Medi-Script Plus, Outsource2india, TransPerfect, VIVA Transcription, Medscribe, Pacific Solutions, Same Day transcriptions, DoctorDocs, World Wide Dictation, Athreon, BVS Transtech, Excel Transcriptions, GMT, and LC Transcription Services.
Even with the availability of diverse software to perform transcription, EHR-integrated medical transcription services performed by skilled transcriptionists are a preferred choice of many physicians because of the 99% accuracy ensured.