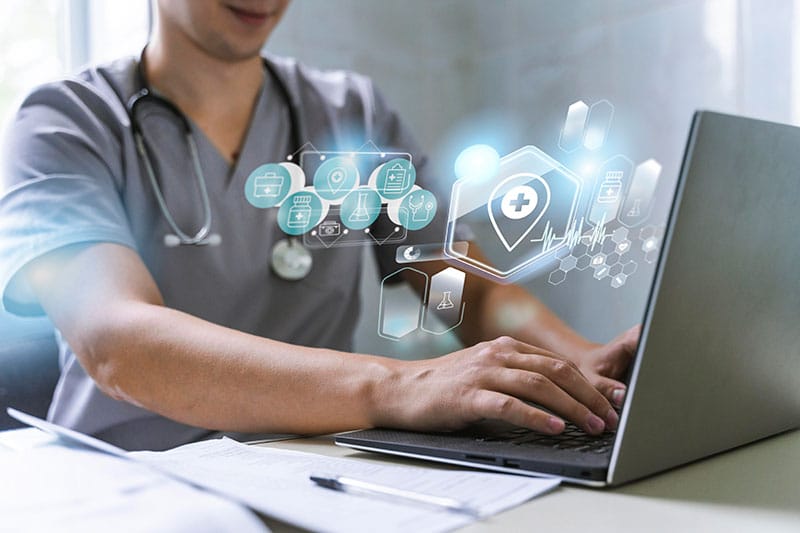 The medical industry is continually changing, and cutting-edge technologies are enhancing medical procedures. Better patient care and increased patient safety are the results of numerous breakthroughs. The advancements in medical transcribing are an obvious evidence of this change. Physician dictation is converted into text format by medical transcription companies, which then incorporates the documentation into the electronic health record (EHR).
Healthcare technology keeps getting better as 2022 progresses in every way. Due to ground-breaking and developing technologies like artificial intelligence, machine learning, and extended reality, the quality and effectiveness of healthcare will keep improving. Modern hospitals and care facilities rely heavily on legacy infrastructure and software, but it's necessary to think about how those systems might be integrated with newer technology or eventually replaced by more dependable ones. Improvements in performance, productivity, efficiency, and security should be prioritized without compromising dependability or accessibility.
Top 6 Healthcare Technology Trends
Telemedicine: The emergence of the global coronavirus that led to COVID-19 infections prompted the closure of significant economic sectors and had a significant impact on medical procedures and developments in healthcare technology. In order to avoid spending time in a waiting area with persons who might be infected, many patients cancelled their appointments. They also avoided face-to-face interactions with staff members at the front desk, nurses, and doctors. So, as a way to still allow doctors to see patients, although in a restricted capacity, telehealth usage increased. Telemedicine will increasingly be used, according to experts. Healthcare Dive reported that between 2020 and 2023, the cost of medical services incorporating telehealth might increase by 265%, from $29 billion to $106 billion.

Monitoring Remote Patients: The capacity to remotely monitor your patients is a crucial technological area to keep in mind. Digital health solutions will undoubtedly enhance patient outcomes in the future as the healthcare sector continues to swiftly evolve. It will be considerably simpler to attach a heart monitor to a patient in 2023 for an at-home study as opposed to keeping him in the hospital for several days. From the comfort of their workplace, healthcare professionals can quickly view the vital statistics of their patients who are still at home.

Use of Big Data: Big Data usage is a significant advance for healthcare. Big Data has revolutionized how information is analyzed. Big data can be very helpful in improvising the patient's therapy and lowering the cost of their diagnostics. Utilizing current medications and available treatments, advanced data mining and analysis techniques of Big Data could help treat rare diseases. A healthier life would result from the complex computation employing big data, which would also aid in the analysis of the patient's earlier and current data.

Role of AI in Healthcare: It's no secret that artificial intelligence is currently revolutionizing a wide range of industries, including healthcare. Artificial intelligence may be used by a corporation to pre-qualify you for a loan or by your bank if it is short on human customer service agents when you call them. AI is already being used in medicine to expedite medical billing and revenue collection. Because artificial intelligence can quickly review massive amounts of unstructured patient data and establish pertinent connections for healthcare businesses, these trends in healthcare technology are made possible. According to Insider Intelligence, administrative duties in a medical office, such as preauthorizing insurance and maintaining patient information, can be automated by artificial intelligence (AI). AI is also capable of analyzing data from patient gadgets, including glucose monitors and smartwatches, and keeping track of the specifics that humans would be unable to understand in real time.

Wearable Medical Devices: IoT has significantly impacted and enhanced the healthcare industry with innovations like wearable implant devices that track patient runtime data on device apps for vital healthcare trending needs. Patients can utilize it for health monitoring in the healthcare sector. With the advancement of technology, many IoT devices are becoming more affordable and accessible to the general public, which will significantly increase the value of health observations. Wearable IoT devices have a favorable impact on people's health and are now essential to preventive healthcare. These wearable technology-powered devices offer customers insights into their daily to several months' worth of activity. As a result, their products have assisted users in keeping track of and managing their health and staying in shape. Monitoring daily health records and accurately diagnosing health trends in real time has become convenient and user-friendly, thanks to the intelligent integration of smartphone apps and wearables.

Accounting for Security and Technology Costs: The usage of software and healthcare technology necessitates the installation of monitoring systems, such as firewalls and anti-malware software, to safeguard these systems. You might need to adapt your spending plan to take into account heightened security needs. It's reasonable to expect that in 2023, malicious hackers will try to access your data and steal private patient information that you must maintain securely to abide by the Health Insurance Portability and Accountability Act of 1996. In order to ensure that you are taking the proper steps to secure your network and uphold patient privacy, you might need to speak with computer security experts.
The healthcare sector is constantly seeking ways to boost productivity. There is no denying that technology and computers have altered medical transcription on the whole. Advanced technology is used by trustworthy medical transcription companies to help create reliable medical records. To provide future specialists with high-quality care education and information, medical institutions have been consistently modifying and developing their healthcare trends. Since the pandemic, the tech sector has introduced effective and HIPAA-compliant methods for thorough, precise, and less time-consuming examinations, elevating the trends in medical services.