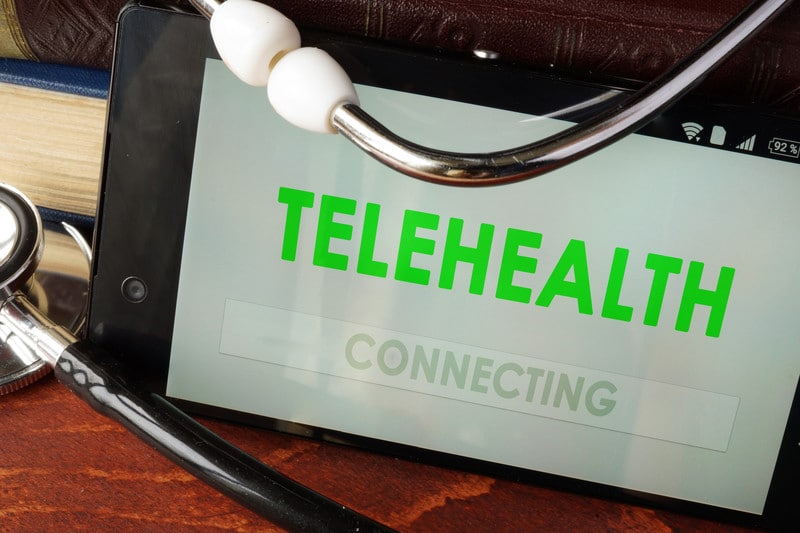 While telehealth has been around for a long time, its rapid adoption across the country was catapulted by the pandemic. Federal and state laws and regulations were relaxed to enhance the ability of physicians to provide, and patients to receive, telehealth services. Now, industry experts are saying that telehealth will continue to grow after the COVID-19 pandemic, and our medical transcription company agrees these views.
Telehealth technologies connect patients and healthcare providers from a distant location, allowing patients to access healthcare services conveniently using computers or mobile devices. Telehealth adoption has grown over the years. A survey by American Well (now Armwell) found that physician use of telemedicine rose from 5% to 22% of doctors between 2015 and 2018, an increase of 340%. When the novel coronavirus struck and social distancing was recommended to mitigate its impact, it sparked off a telehealth boom. Several legislative and policy measures were enacted to facilitate the widespread adoption of telemedicine. As the pandemic evolved, both providers and patients appreciated the convenience and speed of virtual care. Lawmakers are now under pressure to make some of these emergency permission permanent.
Digital tools have enormous potential to enhance access to healthcare, but the success of telehealth after the pandemic depends on various factors:
Removal of state licensure barriers: State licensure laws have been one of the greatest hinderances to interstate telehealth expansion, Nadia de la Houssaye, a partner with the Jones Walker law firm (www.mhealthintelligence.com). The licensure process is costly, time-consuming and difficult, and state policies and regulations also vary. Interstate telehealth expansion cannot take place unless state licensure barriers are evaluated and addressed.
Cost and reimbursement policies: Before the pandemic, Medicare fee-for-service coverage of telehealth services was extremely restrained. There were multiple coverage limitations for rural locations, originating sites, eligible practitioners and services, and qualifying technology. The broad waivers of the CARES Act allowed CMS to temporarily remove these requirements. A statutory change will be needed to give CMS flexibility to act so that telehealth continues to be an option for all Medicare beneficiaries after the pandemic. State and federal action is also needed to incentivize providers to continue telehealth usage post-pandemic. Currently, state guidelines for private payer coverage vary widely.
Data to prove potential cost-savings realized through telehealth expansion: Advocates of telehealth are well aware about the need for evidence to prove that telehealth utilization improves health outcomes and reduces costs. The proven benefits of telehealth include improved health outcomes, patient satisfaction, and cost reduction from chronic disease management through telehealth. However, additional data on telehealth outcomes, accurate cost estimates on the use of telehealth in the Medicare program, and favorable scoring are needed before legislation to support expansion of Medicare telehealth coverage can be achieved.
Gaps in broadband: Lack of access to high-speed broadband internet is a major barrier to adoption of telehealth in rural areas. To take advantage of telehealth's potential and support its expansion, there must be proper connectivity to support the live-video connections between patients and providers. Dropped calls and delays in video feeds can pose a hinderance to care delivery and result in patient dissatisfaction with telehealth. Measures are already underway to address this infrastructure barrier through initiatives such as the COVID-19 Telehealth Program and the three-year Connected Care Pilot program.
HIPAA compliance: The OCR is exercising its enforcement discretion to not impose penalties for noncompliance with the HIPAA Rules in connection with the good faith provision of telehealth using such non-public facing audio or video communication products during the COVID-19 nationwide public health emergency. Covered health care providers can conduct video chat on applications such as Apple FaceTime, Facebook Messenger video chat, Google Hangouts video, Zoom, or Skype, to provide telehealth. For telehealth to succeed, it is important that patient privacy gets the due protection and HIPAA and data security measures are restored to post-pandemic standards. New technology platforms need to comply with established HIPAA regulations and standards.
In a recent COVID-19 update, the American Medical Association discussed a very valid consideration for the success of telehealth: how physicians can maintain the human touch when using telehealth platforms. One of the participants, Jen Horonjeff, PhD, founder and CEO, Savvy Cooperative, says that they are focusing on understanding the needs of different patients and communities they are trying to serve. They are getting patient insights all along the entire development process of their telehealth platform so that it is capable of meeting their needs, and fits seamlessly into their lives. Telehealth solutions also need to be available and accessible for different communication methods, including for the deaf community. It's also critical to provide outreach to patients with limited technology and connectivity and offer flexibility when possible, for consultations via video consultation platforms or non-video options.
Telehealth is here to stay. As CMS Administrator Seema Verma stated in a live virtual event with STAT on June 9, "I can't imagine going back." As physicians focus on delivering remote care, medical transcription service providers are ready to help them meet their EHR charting needs.