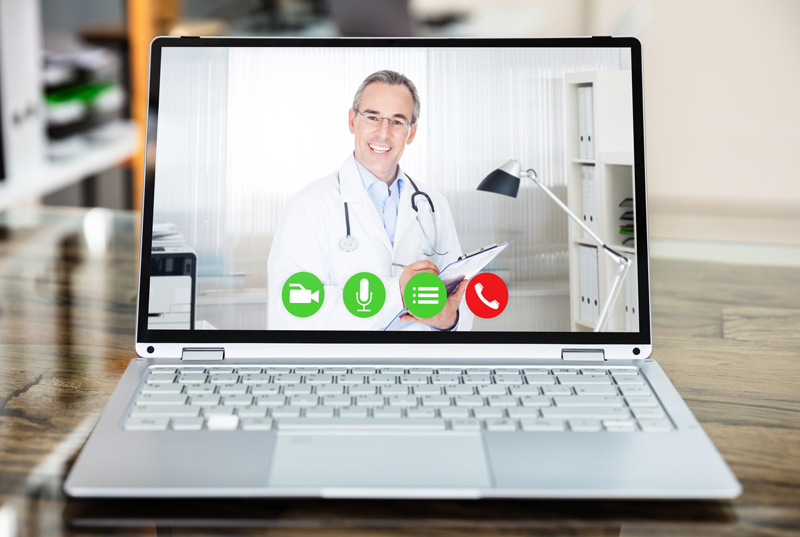 The COVID-19 pandemic poses a formidable threat to public health. Physician practices are facing unique challenges in delivering care safely to non-urgent patients. Now, more than ever, physicians need unstinted support to provide patient care. One of the major steps towards this is the promotion of telemedicine during the COVID-19 nationwide public health emergency. The Centers for Medicare and Medicaid Services (CMS) as well as commercial health insurance companies now reimburse healthcare providers for a broad array of telehealth and telemedicine services delivered during the COVID-19 crisis. Physician practices can rely on US based medical transcription services to document these virtual consultations in electronic health records (EHRs).
Telemedicine has been around for a long time and is known for its ability to streamline workflows and reduce costs. However, adoption of technology for virtual patient consultations progressed at a slow pace due to barriers such as cost, state licensure, and lack of good reimbursement. All of that has changed in recent times and especially with the coronavirus pandemic.
Starting January 1st, Medicare established new payment codes for services provided via virtual check-ins, e-consults, and remote evaluation of patient images. Now, with the novel coronavirus pandemic, telemedicine is surging, thanks to the federal government's actions to support virtual consults. The administration declared Medicare and Medicaid would reimburse virtual visits at the same rates as for in-office appointments, thereby overcoming a major cost barrier for telemedicine adoption by smaller physician practices. The government has also temporarily eased regulations to allow the use of mobile devices for virtual visits. While only a few insurance companies had covered virtual visits in the past, many are now on board with paying for such appointments. According to analysts at Forrester Research, virtual health-care interactions are on pace to top 1 billion by year's end (www.cnbc.com).
Telehealth is proving a major advantage in this public health emergency, and there is no reason why it cannot do much more for the regular delivery of health care in normal circumstances. We strongly believe that telemedicine is here to stay. As many healthcare facilities are not yet equipped to provide telemedicine, we rounded up guidelines from the American Medical Association (AMA) and industry experts to expedite its implementation.
Prepare to launch telemedicine services
Organize a team to adopt and launch telemedicine services quickly.
Make sure your malpractice insurance policy covers telemedicine care.
Understand the policy and payment rules for various telemedicine services.
The AMA recommends reaching out to the payer with the highest percentage of the facility's patient population to discuss telehealth coverage.
Choose the software
Check whether your EHR platform has a telehealth functionality. If not, contact your state medical association/society for guidance to choose a telehealth vendor. Leverage the resources provided by the American Telehealth Association.
Contact various vendors and schedule product demos. Things to consider when choosing the product include customer support, training on the software use, ability of the telemedicine platform to integrate with the practice EHR, etc. Professional computer and technical support are essential for the program to run well.
Consider your budget – whether you would need software on a short-term or long-term basis.
Check out how vendor services are priced. The majority of telemedicine systems are cloud-based and bill on a monthly basis.
Choose HIPAA compliant telemedicine software based on your practice's needs. Useful features to look for include secure videoconferencing, appointment scheduling and virtual waiting room, and e-prescribing. Specialty practices may have specific requirements (www.softwareadvice.com).
Ensure that the technology is equipped with camera quality, sound, etc. to support the type of exam. Experts point out that the better the technology is, the better the experience is for the patient, and the volume of services that can be provided (www.healthcareitnews.com).
Train staff
Train staff to use the telemedicine tools. This can be a challenge on the shortened timeline, especially if the organization did not have virtual health services in place. Reliable vendors offer training modules to help users deploy the software.
Have procedures in place to determine if/when a telehealth visit is appropriate and train clinicians, care team members and schedulers.
Patient outreach and care
Notify patients that telemedicine consults may replace physical office visits and when virtual visits will be available. This can be done via your website, patient portals and other patient-facing communications.
Decide when telehealth visits will be available on the schedule. Revise scheduling processes to accommodate telehealth.
Ensure that your staff can support hands-on patient outreach. For successful patient triage develop questions that patients can either answer electronically or over the phone when scheduling.
Make sure you get advanced consent from patients for telemedicine interactions. There are platforms that can support this electronically.
Educate patients on how to access telehealth visits on your practice's software to maintain workflow and avoid disruptions to care.
Providing telemedicine services
Set up a quiet space in your office to provide telemedicine services. Acoustics within a building are important. "Concrete or tiled rooms create echoes where it can be challenging to hear and talk to a patient. This is easily remedied with some accommodations for acoustics such as soundboards on the walls", advises an expert (www.healthcareitnews.com)
Make sure you have a secure broadband internet connection. The video quality and amount and speed of data transfer will depend on the amount and speed of the internet connection.
Document the start and stop times of the call.
Implementing telemedicine will ensure that patients are not exposed to infections unnecessarily, and also protect clinicians from unnecessary exposures. Telemedicine can also ensure that low-acuity patients (both those with infections and those with routine chronic illness follow-up needs do not excessively burden health care systems. Patients are also showing a preference for providers who offer telemedicine. "From a recent survey we conducted of U.S. patients, we found that 84% are more likely to select a provider that offers telemedicine over one that doesn't, so it's clear this technology is something patients want," says Lisa Hedges, Software Advice (www.healthcareitnews.com).
As physicians and patients prepare for a changed world where virtual care is the norm, medical transcription service providers can ensure proper documentation of telemedicine visits EHRs in the same way as in-person visits. Such complete and accurate documentation is crucial not only for continuity of care, but also consistent procedures for ordering testing, medications, etc. and support billing for telehealth visits, cautions the AMA.