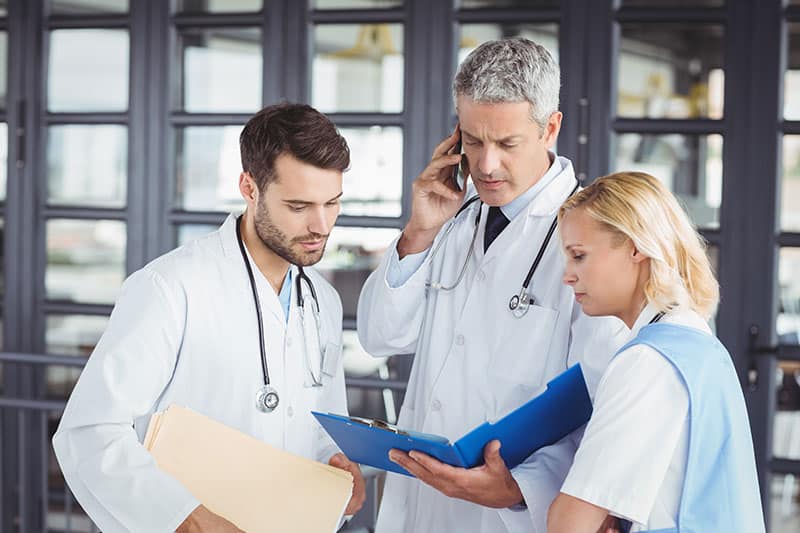 The role and responsibilities of physicians have expanded considerably over the last two decades. From the dynamics of the healthcare system, rapid advances in technologies, and changing industry regulations to the growing population of older adults and rising incidence of chronic diseases, many factors have increased the responsibilities of today's physician. While their specialties might differ, physicians work to diagnose and treat injuries and illnesses and medical transcription outsourcing helps them to document medical histories, diagnostic tests, treatment plans and much more. Comprehensive medical transcription solutions ease the medical documentation task and go a long way to optimize physician satisfaction.
Impact of Physician EHR Data Entry
Several studies have reported that the time physicians spend on EHR documentation is one of the major reasons for physician burnout. According to a study by the University of Wisconsin and the American Medical Association, 5.9 of the 11.4 hours that physicians work per day are spent directly engaged with their electronic health record. A study published by JAMA Internal Medicine based on the 2019 National Electronic Health Records survey found that physicians spend an average of 1.84 hours a day completing documentation outside work hours. Here are the other findings of the JAMA study as summarized by Becker's Hospital Review:
Nearly 33% of physicians spend two hours or more completing documentation outside work hours daily.
41% of physicians agreed the time they spend completing documentation is appropriate.
57% of physicians said time spent documenting reduces the time they can spend with their patients.
85% of physicians agreed that documentation done solely for billing increases their total documentation time.
The researchers estimated that physicians spent a total of 125 million hours completing documentation outside work hours in 2019.
When physicians spend too much time on data entry at the encounter, it reduces face-to-face time with the patient. They cannot give patients the attention they deserve when they are looking at the computer screen. This can affect quality of care and reduce patient satisfaction.
Experts strongly recommend scribe support as a practical option for physicians to manage the tedious and time-consuming EHR documentation task. Outsourced medical transcription services are available for healthcare entities of all sizes. An expert can ensure accurate and timely documentation for all medical specialties.
Top Benefits of Medical Transcription Services  
While technology-based strategies such as speech recognition can help physicians complete EHR documentation quickly, having the files checked by a human transcriptionist is crucial to ensure accuracy.  Medical transcription solutions can improve physician satisfaction in many ways:
Reduces physician burnout: By handling EHR data entry, medical transcriptionists improve the physician experience and reduces the strain caused spending too much time on documentation when seeing patients. This improves the physician's quality of life by giving them more time for patient care as well as for extra-curricular activities.
Eliminates EHR-related distractions: With support for EHR data entry tasks, physicians can better focus on and interact with the patient at the visit, which will improve patient satisfaction scores.
Makes time to see more patients: By eliminating EHR data entry work and saving time, medical transcription support can help physicians see more patients. Practices can increase daily visits per provider with the right support.
Improves report quality: EHR shortcuts were designed to improve physician efficiency, but can have the opposite effect. In fact, EHR shortcuts like copy-and-paste and the capability to insert blocks of text automatically can lead to note bloat and reduce the value of the documentation by ignoring encounter specific conditions. These functions, if not properly utilized, can lead to errors, make documentation difficult to comprehend and affect patient care as well financial outcomes. Proofreading of machine-generated transcripts and addressing errors that could be caused by use of other time-saving EHR shortcuts by medical transcriptionists improves report quality.
Reduces risks to patients that can occur due documentation errors: Documentation errors can occur due to not correctly reporting a patient's condition, medications administered, or anything else related to patient Transcription services can reduce the risk of such errors that can result in poor care outcomes.
Improves care and medication adherence for chronic conditions: A study published in The Journal of the American Geriatrics Society found that patients over age 65 with multiple chronic conditions who had access to EHR clinical notes were more likely to report greater medication adherence than other patients. Patients with more than two chronic conditions were more likely than those with fewer or no chronic illness to report that reading their notes helped them stay engaged in their care, said the researchers. Health systems should strive to ensure that all older patients have access to appropriate information in a format that is most usable and useful for them (ehrintelligence.com). Geriatricians can ensure quality medical reports with support from a reliable geriatrics transcription service
Increased revenue: An article in For the Record references a discussion in which physicians said they suffered a personal annual income loss of $80,000 to $100,000 as they were forced to see less patients due to increased documentation time. Scribe support to ensure complete, accurate and richer documentation allows for better reporting of hierarchical condition category (HCC) codes and other claim-influencing data, and promotes opportunities for improved revenue, notes the report.
By ensuring end-to-end support for clinical documentation, medical transcription solutions can optimize physician satisfaction and efficiency, and free up their time not only for patient care but also personal pursuits. By ensuring quality documentation, medical transcription support can also drive better financial outcomes. Choosing an expert is crucial to get the right support and significant cost savings.
MOS Medical Transcription Services ensure HIPAA-compliant compliant documentation solutions for all specialties. This US-based company has a team of experienced medical transcription specialists and quality control experts who can provide real-time, EHR-integrated medical transcription.