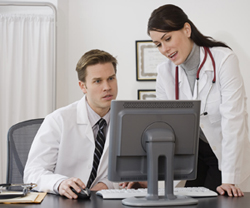 A reliable medical transcription company offers secure, HIPAA-compliant transcription of comprehensive medical files and documents. This is of great assistance to various kinds of healthcare practices and medical professionals who have the all-important task of taking providing proper patient care while convincing insurance providers to pay them.
Comprehensive Medical Transcription Service
An efficient medical transcription company provides transcription for various fields of medicine including pathology, pediatrics, gastroenterology, radiology, podiatry, internal medicine, plastic surgery, cardiology, neurology, hematology, anesthesiology, dermatology, dentistry, chiropractic, nuclear medicine, geriatrics, and many other specialties serving the needs of hospitals, nursing homes, rehabilitation centers, individual physician practices, and other healthcare institutions.
It's no secret that documentation of illness reports, diagnosis and treatment are very important for health practices to ensure continuity of care and also for insurance compliance. Accurate documentation is vital when it comes to assuring payment for their services from insurance providers. The data must be documented efficiently and stored for future use. Accuracy and perfection are crucial here.
Trained Professionals in a Transcription Company
The transcribers in a professional medical transcription company are thoroughly trained in medical terminologies and specializations. They can grasp medical procedures, disease symptoms, diagnostic procedures and other technical jargon. Moreover, each transcribed work is thoroughly checked by experienced editors and proofreaders. As a result, 99% accuracy is ensured with each transcribed file.
Sophisticated Dictation and Security Options
The toll-free number and digital dictation machine are options provided to physicians for dictating their files. In both cases, the files safely reach the secure servers of the transcription company so that they can be accessed for transcription. Security and confidentiality are of paramount importance in medical transcription service. Sophisticated encryption technology and other security procedures are employed by experienced transcription companies to ensure the vital data does not fall into the wrong hands.
Other technological features such as the document flow management system can help physicians monitor the transcription process and make changes. So, ultimately medical transcription service by an efficient company can be the single biggest factor in streamlining the functioning of healthcare practices, ensuring higher revenue, and cultivating patient satisfaction.