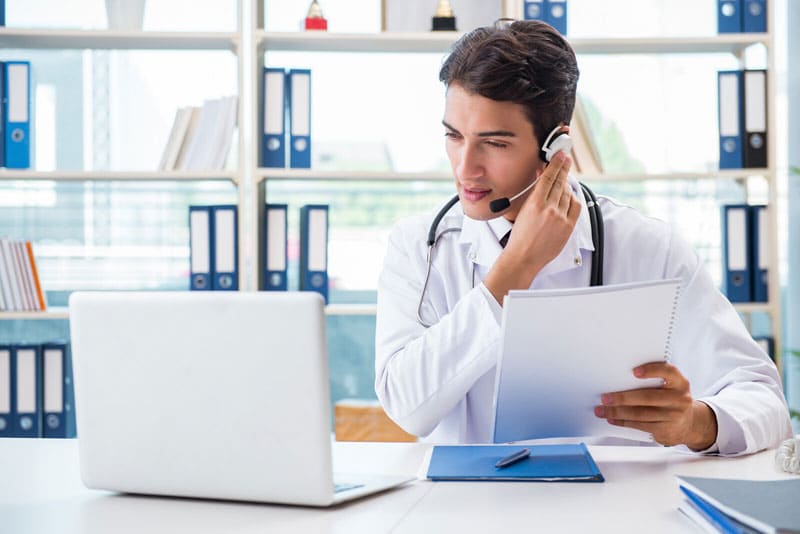 Telehealth is the delivery of health care services, diagnostic testing and clinical assessment through telecommunications technology. It can be used to connect patients to health specialists, provide continuing education for doctors, and connect people in rural areas with the necessary healthcare options. It is an ideal option for medical practices that are looking to cut costs and improve convenience by reducing travel time and increasing access. Telehealth involves the use of paperwork and audio recordings or video meetings that need to be transcribed and filed in the patient file. This means that the future of healthcare features both telehealth and medical transcription service.
Telehealth services have been around for decades but have gained in popularityonly recently, mainlydue to the pandemic. With telehealth, a physician can connect with a patient via phone or video, and perform certain procedures that would normally require the patient to either go into the clinic or hospital to receive treatment. For example, if an elderly patient needs medical attention but cannot travel to the hospital due to mobility issues, telehealth allows them to receive treatment at home. Telehealth procedures are also great for patients who suffer from chronic diseases or cancer and need regular checkups without having to take time off work every time. The technology allows physicians and nurses to connect with patients from anywhere using computers and other advanced devices. Let us look at how telehealth helps to connect with patients and how medical transcription solutions can support telehealth.
Get ready for telehealth visit
There are many tools that enable physicians to stay connected with the practice, patients and the care team. HIPAA-compliant and secure messaging solutions allow secure communication with fellow clinicians about a patient or a particular aspect of their case. Secure texting can help alleviate the need for back-and-forth phone calls when the time comes to communicate follow-up instructions or transfer information between different clinicians on a case. Secure texting helps to co-ordinate referrals, facilitates real-time consults with other healthcare providers, minimizes spending time on staff calling out patients, allows easy collaboration with patients' families and pharmacies, and enables proper exchange of information with patients both before and after appointments.
Online check- in is also available today that helps patients to complete intake forms before their appointments and eliminate any use of paper. To use this facility, patients should schedule their appointments from a valid email ID.
Telehealth with video
Telehealth is possible from anywhere using your browser. It is easy to use, requires no apps to be downloaded for patients or doctors, provides group call facility up to four participants, and ensures comfort and ease of use. Telehealth helps in creating digital documentation and the documents can be saved in PDF format, which can later be added to the patient's file. The patient records can be medications, diagnoses, allergies and immunizations, lab tests and results, care plans and upcoming and past appointments.
Telehealth is an excellent solution but it won't work for all medical needs, especially for any emergency care. Since the outbreak of the pandemic, telehealth has become popular. This facility is useful for patients who are immuno compromised and for patients who have difficulty accessing healthcare. There are also many situations in which patients have shown greater benefit from telehealth care than from face-to-face healthcare alone.
How Medical Transcription Service Can Help Telemedicine
In today's busy world, it is increasingly difficult for individuals to stay on schedule. Fortunately, many medical practices are turning to telemedicine to help ease the stress of a busy day. Telemedicine allows patients and doctors to connect remotely and discuss treatment options, test results, and other details. Treatment through telemedicine requires a substantial amount of documentation so that the patient can be properly monitored and the doctor can remain within legal and privacy requirements. With medical transcription, the process of generating accurate medical records becomes faster, affordable, reliable and easier for everyone involved. Telemedicine requires a change from paper records to electronic medical records (EMRs). Once a medical transcriptionist converts an audio file into an electronic text file, they can upload their completed file into the correct EMR system, freeing up the doctor's time.
Medical practices have to deal with a lot of documentation. Doctors fill out charts, write prescriptions, and record patient data. Medical transcription companies help to keep this process as efficient and effortless as possible. Medical transcriptionists are professionally trained in effectively and accurately transcribing conversations between doctors and patients. They can also ensure that the information is properly aligned with legal and privacy requirements.
Medical transcriptionists ensure that the information fits on a computer screen. They also make sure that the text is easily searchable. In addition, they help eliminate miscommunication when converting audio files into text and ensure that everything is interpreted correctly and appropriate medical terms are used.
With the advancement of internet technology and the ubiquity of mobile devices, it's now possible to deliver health services via phone, email, chat, and video. These audio and video recordings can be transcribed into error-free medical reports with the assistance of medical transcription providers, and it also makes it easier for healthcare professionals to find what they need quickly in an electronic file. So,from the above-mentioned points, it is clear that telemedicine and medical transcription service have a significant role to play in the future of healthcare.