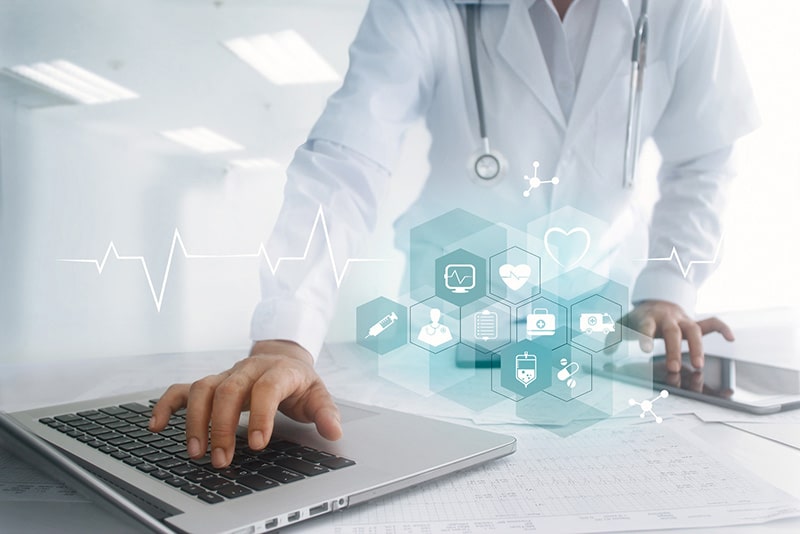 The electronic health record (EHR) is designed to reduce risk of errors and help physicians make better decisions about patient care. When it comes to EHR documentation, medical transcription service providers deliver the necessary support to ensure that patient records have all the relevant information for physicians to render safe, appropriate, timely care. Clinical decision support (CDS) includes a wide variety of tools that are built into the EHR to help providers find the right information to make clinical decisions and provide the best possible patient care.
The amount of digital patient health data is increasing exponentially, leading to significant data management challenges for healthcare entities. Researchers estimate that healthcare data will grow at a CAGR of 36 percent through 2025 which this is much faster in manufacturing, financial services, or media, according to a Healthcare Analytics report. CDC tools are designed to sift through this data and provide clinicians with the information needed to make effective and reliable decisions to deliver value-based care.
Clinical decision support tools provide physicians, nurses, support staff, patients, and other caregivers with information relevant to a specific person or situation. These tools are meant to:
Improve the quality of care
Prevent errors/adverse events, and
Improve the efficiency of the care team
HealthIT.gov states: "Clinical decision support (CDS) provides clinicians, staff, patients or other individuals with knowledge and person-specific information, intelligently filtered or presented at appropriate times, to enhance health and health care. CDS encompasses a variety of tools to enhance decision-making in the clinical workflow. These tools include computerized alerts and reminders to care providers and patients; clinical guidelines; condition-specific order sets; focused patient data reports and summaries; documentation templates; diagnostic support, and contextually relevant reference information, among other tools".
How CDS Tools Work
Computerized Alerts and Reminders: EHR alerts such as admission, discharge, and transfer (ADT) notifications or screening reminders quickly provide clinicians with critical patient information through the EHR interface to streamline clinical efficiency and care coordination. Here are three ways EHR alerts can improve care quality:

Admission, discharge, and transfer (ADT) notifications help to keep care teams updated during these times to improve care coordination and reduce hospital readmissions.
EHR alerts can also help providers monitor the patient's health status which can help improve chronic care management.
Alerts can also help providers reduce redundant testing and minimize patient safety risks. Medication errors can be prevented when an alert pop-up appears when submitting a prescription.

Clinical Guidelines: Computerized guidelines as decision support systems (DSS) in the EHR are documents that facilitate and regulate diagnosis, management, and treatment in specific areas. EHR can display standardized clinical guidelines based on diagnosis entry. EHR decision support tools can also alert clinicians about treatment plans and orders that are not in accordance with the latest clinical guidelines.
Condition-Specific Order Sets: EHR order sets allow providers to enter and send medication, laboratory, and radiology orders and other treatment instructions. Order sets or templates are tailored for specific diseases. By ensuring providers produce standardized, legible, and complete order, this CDS tool can improve patient safety. Computerized orders also save time and improve efficiency. Computerized order sets flag orders that require pre-approval from payers, and help reduce claim denials.
Focused Patient Data Reports and Summaries: Focused patient reports and summaries that medical transcription companies help physicians create are an important clinical tool that benefit both providers and patients. Providers can easily access these summaries of data reports for reference and review. Patients can access these individualized reports in the comfort and privacy of their home and get a clear understanding of their own medical condition.
Documentation Templates: EHR documentation templates are designed to facilitate the collection, presentation, and organization of clinical data elements. These templates come with prompts that alert the provider to specify required or missing documentation. Well-designed templates capture specific information needed for patient care and accurate reporting of the patient encounter, thereby promoting delivery of quality care and the completeness of documentation.
Diagnostic Support: EHR clinical decision support tools can also help physicians provide a proper diagnosis faster. By retrieving the medical history through the EHR, physicians can get a comprehensive picture of the patient. EHR clinical decision support tools can analyze patient data, suggest additional diagnoses, and recognize diagnostic errors, helping physicians make more accurate decisions.
Relevant Reference Information: Links to reference information for both clinicians and patients are another important CDS tool built into the EHR system. Examples of this intervention provided by digital.ahrq.gov include: Direct links to specific, pertinent reference information for clinicians, link from medication order screen to display of side effects and/or dosing for that medication, link from problem-list entry to latest evidence-based treatment overviews for that problem, link from immunization flowsheet to table of standard immunization intervals, and link within patient-messaging application to relevant patient drug information leaflets.
Medical Transcription Support for Documentation Accuracy
According to CMS, with efficient CDS tools, pertinent information would be delivered to the entire care team and patient through the right channels (EHR, mobile device, patient portal) in the appropriate intervention formats for decision making or action. Outsourcing medical transcription can ensure the documentation accuracy required to support clinical protocols.